Your jnAccount:
Log In
or
Register
| New to Jellyneo?
Click here!
Roo Island Merry Go Round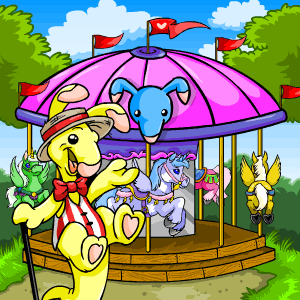 Hop in the Merry Go Round for lots of fun!
You see how happy your pets are right now? Well, that's the effect of the Roo Island Merry Go Round. For a small fee of 50 NP, paid to the friendly Blumaroo, you can increase your pet's happiness. Sure, it might take a long time to cheer them up but it's worth it JUST to see their smiling faces.
Each ride will increase your Neopets' mood by about half a level.
Your Neopet may say any one of the following phrases when riding:
Again, again!
Its not fair, I wanted the pink Uni!
Ooh err.. maybe I shouldnt have eaten so much before...
Oooh... I feel dizzy!
Wheee that was fun!
Wow! That was great. Can I go again?

Weehoo, that was so much fun!
Help us improve!
Did you find what you were looking for on this page?
This article was written by: Terry