Your jnAccount:
Log In
or
Register
| New to Jellyneo?
Click here!
MAGAX: Destroyer II
MAGAX: Destroyer II Information
World:

Trophies:

Neopoint Ratio:

9.09 Points =
1 NP

Our Difficulty Rating:

30%

[Send in a Game Tip] - [Return to the Game Guide Index]
Hubrid Nox is back, and this time he's brought his undead army of slaves with him! Can MAGAX beat back his former master, redeem himself, and save Neopia?

"You can't hide from me forever, Nox! I'll find you!"
How to Play
For each of the game's ten levels, MAGAX must destroy the displayed number of Scorchios at the top of the screen. Once the last Scorchio has been slain, he will automatically be whisked away to the next level.
Enemies can only hurt MAGAX by running into him, and MAGAX can take five hits with a full health meter before he is killed. This game does not have any extra lives, so if you lose once, it's game over! The levels in this game are unique in that they wrap around to the beginning if you fly to the end. If you have difficulty finding that last Scorchio, you should run into it eventually if you keep flying in one direction.
Controls
Use the arrow keys to choose the direction you want to fly; hold down the key to fly faster. Press the spacebar to fire your laser from your hands. Firing your laser uses up power; you can see how much power you have left on the bar at the top of your screen. Your power is replenished over time, so if you run out, wait a few seconds for the bar to refill.
Enemies and Items
Each level is populated with several kinds of enemies, including Hubrid Nox himself! Even though you only need to defeat the Scorchios to progress, the other enemies are worth points and need to be defeated if you want to get a high score. As the levels progress, the amount of hits each enemy takes to defeat increases.

Enemies and Items

Scorchio
(10 points)
Scorchios can breathe fire to shield themselves from your laser. In earlier levels they only take one hit to kill; in level 8 this increases to two hits, then three hits in level 9, and by level 10 you'll need to hit them five times to defeat them.

Cybunny
(20 points)
Cybunnies have a chance of transforming into Hubrid Nox! Hit them four times to defeat them.

JubJub
(1 point)
JubJubs randomly appear on all levels and can be dispatched in one shot.

Hubrid Nox
When Hubrid Nox appears, he will shoot a flame that will disarm your laser temporarily before reverting back into a Cybunny. He is impervious to your attacks and cannot be defeated! Touching Nox while he is charging up will result in an instant game over, so be careful.

Skull
This may look like an enemy, but it's actually an item! When collected, it will refill your health meter.
Strategy
Be careful and take your time while playing this game. When fighting the undead, you should always keep a safe distance from them. The easiest way to do this is to fly back and forth in one spot while shooting, picking them off one by one. Keep a close eye on your "Destroyed" counter, you don't want to clear a level before you've defeated everything else first. When fighting Cybunnies, keeping them just off-screen will prevent them from turning into Hubrid Nox, saving you some headache. Make sure you zap all of the JubJubs you see, these are the only randomized enemies in the game and they make the difference for the high score table. If you want to get a trophy, you'll have to get lucky!
Quick Tips
Use the code xagam to replenish your health meter. This can only be used once per game.
Keep the Cybunnies just off-screen to prevent them from turning into Hubrid Nox.
Pass by one Scorchio per stage and come back for it later to ensure that you defeated everything else in the level first.
If your health is full, don't collect the skulls. You can come back for them later if you need to.
If you clear all of the enemies in each level, you will have enough points for the avatar around the beginning of level 10.
Level Scores
Use this handy table to keep track of how many enemies you need to defeat and how many points you should have per level. (Thanks Daniel!)
Level Scores
Level
Scorchios
Cybunnies
Score
One
8
5
180
Two
10
6
400
Three
12
7
660
Four
14
8
960
Five
16
9
1,300
Six
20
11
1,720
Seven
24
13
2,220
Eight
28
15
2,800
Nine
32
17
3,460
Ten
40
21
4,280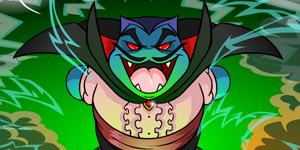 Mwahahahaha! *poof*
Magax: Destroyer / Guide
Send a score of 3,500+ points in MAGAX: Destroyer II.
When activated, the 2019 Charity Corner perk, More for Less, decreased the score needed to 2,800+ points.
Released: December 12, 2003
Help us improve!
Did you find what you were looking for on this page?
This game guide was written by: Mac