Your jnAccount:
Log In
or
Register
| New to Jellyneo?
Click here!
Journey To The Lost Isle
Jellyneo's Journey to the Lost Isle Coverage
May 10th, 2007 - Lock, Stock, and Barrel!
Before you begin, you might want to [read the Chapter 3 comic]!
1. Head to [Mad Tongue Murphy's Diary]. From there, click on 'To The Puzzle,' which will bring you to the [Mysterious Stone Temple].
2. When you get to the Mysterious Stone Temple, doesn't it seem oddly familiar? That's because it's just like the game Time Tunnel! (Click [here] for the game guide!) On Level 1, you get 4 "wheels" and you move your way up to Level 3, which has 6 "wheels." You also get a specified number of tries, which you can keep track of by the number in the pretty red button in the center. However, if you get down to zero tries, your whole level will reset with a new combination, so think hard!

Basically, you click on a wheel in order to rotate it to a different symbol. Once you have the desired combination of symbols, click on the center red button to see if you guessed correctly. Different colours at the top mean different things. Scroll down to see a sample puzzle as well as the colour key!


The following table explains how the colours work and how you know if your combinations are correct:
| | |
| --- | --- |
| Lights | Explanation |
3. If you have finished, it means that you have finally managed to get into the Mysterious Temple! (If you are redirected to a Level 4 with 0 tries, try refreshing or going back to the journal page and then going back to the puzzle.)


Looks like you've done it. With a soft hiss, the door slides open and allows you to enter. A gleam of metal on the floor catches your eye, and you quickly pocket the object.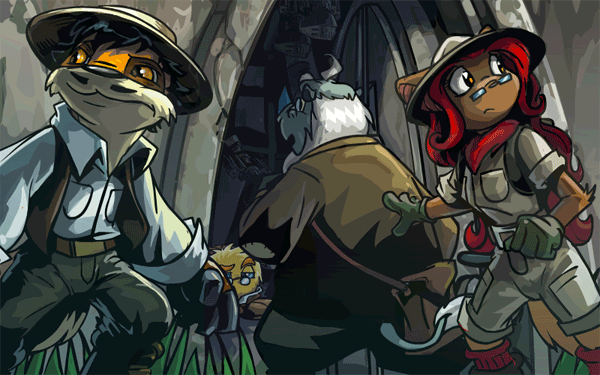 Congratulations! You are done this part of the plot.

[Proceed to the next puzzle!]