Your jnAccount:
Log In
or
Register
| New to Jellyneo?
Click here!
Mystery Island Kitchen Quests
While touring the shores of Mystery Island, you may come upon a frightened (yet oddly composed) Flotsam working in a tropical kitchen. This is the Underwater Chef, and he needs your help to find ingredients for his latest recipes. So, what are you waiting for? If you help him in time, he might reward your efforts!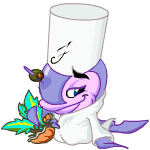 "Bon appetit!"
We're collecting data!
We need data points on both item requested as well as item prizes from completing quests. Whether you complete a quest or not, please let us know which items are requested and if completed, your prize result:
Submit Now »
The Story
Before Maraqua was destroyed by a pirate's curse, the Underwater Chef worked for the Royal Family. Now, he is forced to prepare meals for the ferocious volcano god Mumbo Pango, who rules over the natives of Mystery Island. Mumbo Pango also has a ferocious appetite, requesting meal after meal from the frightened Flotsam. If our poor chef doesn't make the meal quickly, he may be turned into soup! Your job is to deliver the ingredients needed for the recipe within the time limit given. You won't let our friend be made into a broth, will you?


Flotsam Fin Soup? Oh, no...
The Quest
Kitchen Quests are located on Mystery Island. Unlike Faerie Quests, which are given out randomly, you can choose to receive a Kitchen Quest at any time. When you visit the page, the Underwater Chef will give you the name of the recipe that he needs the ingredients for. The name of the recipe is random, and you can generate a new recipe name by refreshing. However, the name of the recipe will not affect which ingredients the Chef asks for. Once you accept the quest, the Chef will show you three or four items that you need to bring him before time runs out (usually less than three hours). The items will be randomly selected from any of the food categories in our Item Database (including Food, Spooky Food, etc.) except for Aquatic Food.
Note: You cannot start on a Kitchen Quest if you have 60 or more items in your inventory.
Completing a Quest
Just like Taelia and Edna quests, the Underwater Chef allows you to use the Shop Wizard to search for his ingredients. You can turn in an item as soon as you get it, even if you don't yet have the other items needed to complete the quest. This is especially useful if you're worried about the item getting stolen by a Random Event. However, make sure that you know the prices for all the items before doing this. You wouldn't want to purchase the first item only to discover that the next item needed is 80,000 NP. Once you have given the Underwater Chef all of the items required within the time limit, he will give you a special reward. After you complete the quest, you are able to go back immediately for another. However, please note that you may only complete up to 10 quests per day, including Taelia and Edna quests. There is no penalty if you choose not to complete the quest or if you run out of time. Simply go back to Kitchen Quests once the timer runs out and ask for another quest.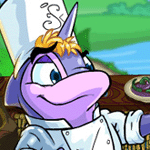 It looks like the king is going to be in for a treat... and its all thanks to you :)
The Chef waves his hands, and you may collect your prize...
Prizes
After completing his quest, the Underwater Chef will reward you with Neopoints, an item, or a stat increase for your pet.
Note:
The pet that the stats are given to is randomly selected.
The odds of receiving each prize category are:
Stat Increase-38%
Item Reward-32%
Neopoint Reward-30%
If you're really lucky, the Chef may give you one of these exclusive prizes:
Worth It?
Whether or not a Kitchen Quest is worth completing is ultimately up to you! If you have a low stat pet that is still being trained with dubloons, it probably isn't worth the Neopoints to complete a Kitchen Quest in the hopes of receiving a stat increase. However, if training your pet is very expensive, a Kitchen Quest may be worth it for you. While you're slightly more likely to receive a stat increase than an item or Neopoint reward, keep in mind that the stats might be awarded to any pet on your account. Therefore, you're more likely to get a favorable result if the only pet on your main account is the pet that you want to train. Neopoint rewards are often less than the amount spent on the Quest, and item rewards can range from junk to exclusive prizes. Keeping this information in mind, you can decide whether or not you think a Kitchen Quest is worth your time.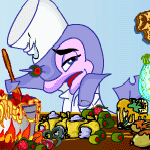 "Yeah, maybe it's worth it to YOU..."
Recipes
The recipe that the Underwater Chef needs help with is randomly generated and is not related to the items he asks for or the reward you receive. One word is randomly chosen from each column, then combined together to make the recipe!
Possible Recipes
Baked
Boiled
Broiled
Caramelised
Cheesy
Creamy
Curdled
Eggy
Fried
Frothy
Lumpy
Pesto
Pureed
Runny
Spiced
Steamed
Stuffed
Whisked
Anemone
Aubergines
Avocado
Chicken
Cress
Eggs
Eyeballs
Kippers
Melons
Neggs
Octopus
Olives
Potatoes
Seaweed
Spinach
Tomatoes
and
with
Beef
Chervil
Curried
Custard
Fishy
Lime
Mustard
Scallion
Spicy
Yeast
Mash
Meatballs
Omelettes
Pancakes
Pie
Samosas
Sauce
Sprouts
Tortillas
Wraps
Chef's Sayings
The Underwater Chef has a couple pieces of random dialogue when you complete quests for him.
While waiting for you to turn in items, he will say one of the following:
He is SO greedy!
I hate this job :(
If only he would buy me more ingredients!
My work is never finished :(
Oh he never stops ordering food!
Why can't he just order pizza?
Why did I ever become a chef?
Work work work...it's all I do.
If you fail a quest by letting the time expire, she will say one of the following:
I hope I keep my job after this…
I'm gonna get fired for this!!!
Never mind, life goes on.
Oh well, Mumbo Pango is going to go hungry!
Out of time :(
Thanks, but never mind :(
This is an OUTRAGE!
Help us improve!
Did you find what you were looking for on this page?
This article was written by: Anna