Your jnAccount:
Log In
or
Register
| New to Jellyneo?
Click here!
Kiss The Mortog
Kiss The Mortog Information
World:

Trophies:

Neopoint Ratio:

5.00 Points =
1 NP

Our Difficulty Rating:

10%

[Send in a Game Tip] - [Return to the Game Guide Index]
While taking a stroll in Meridell, you happen upon a small pond full of Mortogs! In the middle of them sits a warty Grundo wearing a paper crown. He croaks loudly in greeting, "Kiss the Mortog is all the rage in Meridell! If this is your first time, don't fret, you can't get warts from them."

Pucker up for neopoints!
How to Play
Hidden among the Grundo's subjects are magical Mortogs that can turn into princes or princesses. To find them they must be kissed - that's where you come in! Each game costs 50 NP. To play, simply pick one of the two Mortogs placed in front of you and give it a smooch. Each time you correctly guess the magical Petpet, you'll be given a choice to either stay and keep playing or quit and take the current jackpot. For each consecutive round that you guess correctly, another Mortog will be added to the lineup. If at any point you choose a non-magical Mortog, it will explode and you will lose the jackpot and have to start over. Eww...
Strategy
Since there is no way to discern the magical Mortogs from the regular ones, winning is completely based on luck. If you're curious about the odds of picking the correct Mortog for each round and the prize payout per round, the table below can help. Probabilities are based on consecutively picking the correct Mortog for each round preceding it.

Probability Table
Kisses
Mortogs
Winnings
Probability
1
2
100
50%
2
3
300
16.67%
3
4
1,150
4.17%
4
5
5,900
0.83%
5
6
35,000
0.14%
6
7
250,000
0.020%
7
8
2,000,000
0.0025%
8
9
18,000,000
0.00028%
Thanks to Eleven for providing information on round 8.
If you are kissing Mortogs for the avatar, you must quit after you complete level 4, when there are 5 Mortogs to choose from. Going beyond level 4 and quitting will not award the avatar. If you are trying for a trophy, the minimum requirement is usually higher than this, so check the high score table before you start playing. Remember, it's always best to play during the beginning of the month when the tables have been reset!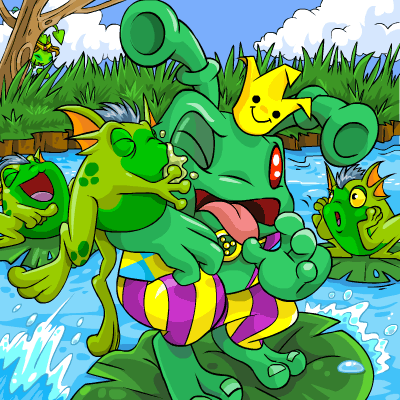 I don't want to play anymore!!
Mortog Smooch / Guide
Correctly choose four Mortogs in a row at Kiss The Mortog and collect the 5,900 NP.
Released: August 1, 2005
Flee! / Guide
Awarded if you are in the top 50 on the Kiss the Mortog High Score Table when trophies are awarded daily.
Released: September 29, 2018
Help us improve!
Did you find what you were looking for on this page?
This game guide was written by: Mac