Your jnAccount:
Log In
or
Register
| New to Jellyneo?
Click here!
Igneot's Cavern
In the depths of the Moltara Caves, a sage Gnorbu named Igneot has his own Cavern where you can visit him and ask questions of this living Magic 8 Ball.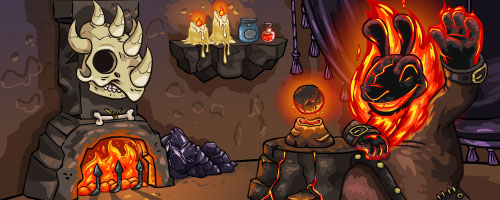 Ah.. I see you have a question for Igneot. What is it that you wish to ask?
Responses
Regardless of what you type to him, Igneot has 6 different pose options you will receive in response, and each comes with its own set of corresponding texts. Typing the same thing within a given hour window will yield the same pose and text, and will change to a new pose response upon a new hour. Capitalization and punctuation do count as different entries, so entering "hi", "Hi", or "Hi!" will each have different reactions.
Yes
An affirmative response from Igneot appears as one of the following texts with this image: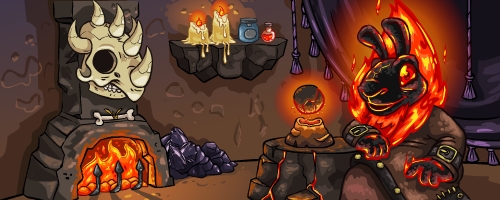 It has been forseen.
The fires say it will be so.
---
Likely
A slightly less-positive reply from the hot Gnorbu comes with one of the following texts and this very similar image: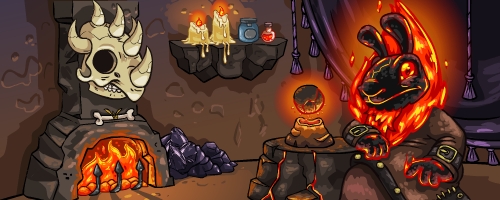 The coals burn brightly in favour of this.
Like the darkness this can be overcome.
---
Maybe
Now you've set him off pondering your thoughts. His feedback of possible yields one of the following expressions along with this pensive pose: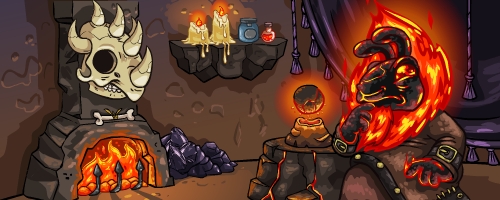 The coals become colder, but there is a chance...
The solution lies in your hands.
---
Can't Say
Either you stumped him, or maybe Igneot just wasn't quite paying attention. When he's at a loss for words, he'll still say one of the following: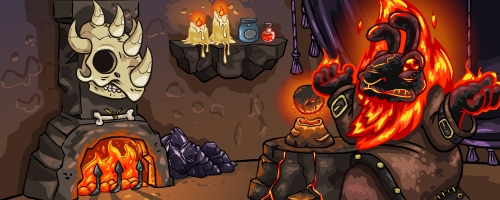 *Cough* the cave is too smokey. I cannot see the answer.
*SNORE* Eh... I am too sleepy.
It is as clear as the day.
The answer is before you.
The darkness is settling in, but the light still burns.
The fire is dimming and so is the chance of this.
The mists pervade everything.
Until the smoke clears, the answer will not be clear.
---
Not Likely
For when Igneot doesn't quite have the heart to reject you outright, you'll hear and see: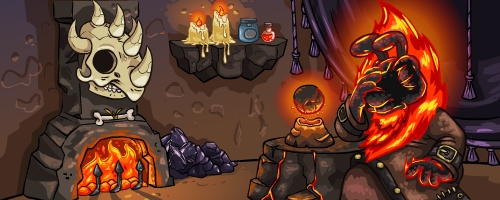 The ashes blow away like your chances.
This is hard to read, however it seems unlikely.
---
No
You may not have angered him like King Skarl, but Igneot's annoyance at your suggestion is starting to show: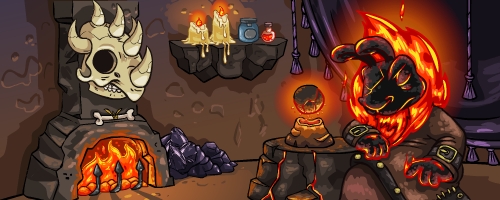 The darkness is here and will not be overcome.
The fire has gone out, the answer is no.
---
Magma Pool Permanent Access Tie-In
In the Fall of 2020, there was a push from users to try to discover the secret to unlocking permanent access to the Magma Pool before Adobe Flash support was set to be discontinued in February 2021. Neopets staffer van Doodle left a series of clues throughout his account, and when translated and assembled, they formed a poem. The sixth of the seven verses is:
and when you feel that hope is lost
and your future is uncertain
seek counsel from the warm and wise
to pull away the curtain
This verse is believed to possibly mean that one of the requirements is to visit Igneot and receive a Yes response from him, but this is unconfirmed. If you happen to receive a Yes response from Igneot and you don't have permanent access to the Magma Pool, it's recommended to record and save what you typed to receive this response and during which hour of the day this occurred - just in case. Find more about the believed requirements here.
Help us improve!
Did you find what you were looking for on this page?
This article was written by: Quail