Your jnAccount:
Log In
or
Register
| New to Jellyneo?
Click here!
The Haunted Shootery
The Haunted Shootery Information
World:

Trophies:

Neopoint Ratio:




Our Difficulty Rating:

30%

[Send in a Game Tip] - [Return to the Game Guide Index]
This game has been retired! Due to its glitches, you may no longer play it any form.
In a dark corner of the Haunted Woods (well, a darker corner), a mysterious mechanical Lutari has set up a shooting gallery loosely based on the Tale of Woe, handing passersby a cork gun and inviting them to give his rather unique retelling of the events a try.


So I'm in this game, right?
...Right?
How to Play
The goal of The Haunted Shootery is to earn as many points as possible by using your mouse to aim and shoot down targets, each usually requiring multiple shots. Unlike the Cork Gun Gallery, The Haunted Shootery is a more traditional shooting gallery, with targets popping up and sliding along tracks. The game consists of three stages, each more difficult than the last, with targets that move more quickly or pop up for a shorter amount of time. Each play session lasts a little over four minutes, with between 120 and 150 targets appearing. Stage 1 averages 40 seconds, with around 30 targets, while Stage 2 tends to last 1 minute 30 seconds with 40 targets. Stage 3 will usually be two minutes long, with between 50 and 70 targets. At the end of Stage 3, you will engage in a 'boss battle' with the Blathering Beech.
Your total points, along with the number of targets you've shot, is displayed in the bottom-right corner of the game screen; as the "targets hit" display is only two digits, if you manage to hit over 99 targets the display will roll over to 90 rather than 100. When hitting targets after this point, the number following the 9 will be at an angle.
When faced with multiple targets, aim for the stationary ones first. While you may get a sense of urgency from the moving targets, this is a psychological trick: the stationary targets are on screen for the same amount of time, with the exception that you can't tell when they're about to leave. In addition to this, the Crokabek and moving tombstone are worth less points than the stationary targets. Exceptions to this are the Ghost Meepit, which is worth the most points (though it moves very quickly), and Reginald, who will cost you 5 points if you hit him. The first shot you score on a target will gain you 2 points, while the number of points you get for knocking it down varies with target type, shown below.
Targets
Target
Movement
Points
Stationary
2, 7
Right to Left
(bottom)
2, 5
Left to Right
(top)
2, 2, 4
Stationary
2, 7
Random
(near bottom)
15
Stationary
-5
The Blathering Beech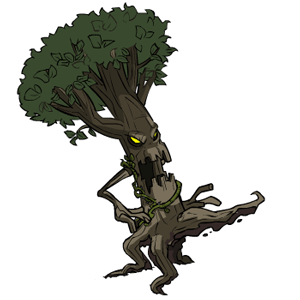 At the end of Stage 3 you will face the Blathering Beech, a large tree that will shamble forward and attack. If the Beech gets too close, it will attack in a flash of red light, disabling one of the three light bulbs in the bottom-left corner of the screen. If all three bulbs go out, the game will end. To avoid this, aim at its arms and legs first; while they're difficult to hit, with its limbs disabled it will have a harder time attacking you.
Each of the tree's four limbs will need to be hit ten times in order to knock them off, and the main body requires another ten, totaling fifty shots. As each successful hit on the Blathering Beech is worth 2 points, you will gain 100 points while fighting it.
Once you've defeated the Blathering Beech, you will receive an additional 100 bonus points. Congratulations, you've beaten the game!
Help us improve!
Did you find what you were looking for on this page?
This game guide was written by: Chesu