Your jnAccount:
Log In
or
Register
| New to Jellyneo?
Click here!
Guess the Weight of the Marrow
Guess the Weight of the Marrow Information
World:

Trophies:

Neopoint Ratio:

5.00 Points =
1 NP

Our Difficulty Rating:

10%

[Send in a Game Tip] - [Return to the Game Guide Index]
Every day, Neopians flock to Meri Acres Farm to participate in the greatest game since potato counting... marrow weighing! Once daily, a marrow, which is a green zucchini-like vegetable, is put on display in Meridell by a proud farmer, with the opportunity to win a prize by guessing its weight.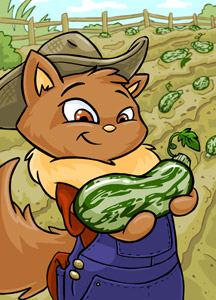 Wait, why don't we guess the weight in kilos?
How To Play
To play Guess the Weight, simply travel over to the Meri Acres Farm, or visit the Marrow directly. Once there, type your guess into the box and click the "Guess!" button. You can only guess once per day.
The weight of the marrow differs each day and is completely random. It will, however, usually be between 200 and 800 pounds (although it has been over 1,000 before) and be a whole number. (In other words, no decimal weights, such as 300.5 pounds.)
Strategy
Unfortunately, there are no known patterns for what the weight ends up being each day. As long as your guess is a whole number typically between 200 and 800 pounds, you have an equally possible chance of winning as anyone else.
One possible strategy might be to consistently guess the same number each day. It doesn't increase your odds, but it may give you some peace of mind when guessing.
Competition Closures
If the competition has not yet started for the day, you will see the following message:
Sorry, today's competition has not started yet!
Marrows take a while to grow, so why not check back in a few hours to see if today's game has started!
The competition starts on the hour at a random time each day. If you've already checked during an hour and it hasn't started yet, start checking back at the start of each subsequent hour until the time to guess has started. We've seen the marrow start at any hour from 1 AM through 10 PM (in NST) - it's not certain if it can start at midnight (12 AM) or 11 PM, which may be intentional given potential issues with the time change for daylight saving.
If you have already submitted a guess for the day, you will see the following message:
Sorry, you have had your guess for today!
Please try again tomorrow!
If the competition has already finished (meaning that 10 people have guessed correctly), you will see the following message:
Sorry, today's competition has already been won :(
Try again tomorrow!
Incorrect Guess
If you choose incorrectly, you'll see this message:

WRONG!

Oh well, don't worry too much, you can try again tomorrow. Shame really, because I had all these super cool rare items for you if you had won... oh well!
Prizes
If you are one of the first ten correct guessers, you will see this message:

RIGHT!

Aye, you certainly have an eye for me marrows! I've given you one of me special super-cool rare marrow items for winning the competition! Please check back tomorrow and remember to play again!
And you will win one of the following prizes:
Help us improve!
Did you find what you were looking for on this page?
This game guide was written by: noileh