Your jnAccount:
Log In
or
Register
| New to Jellyneo?
Click here!
Grundo Warehouse
The Grundo Warehouse, located at the Space Station, is a massively large warehouse that contains virtual items waiting to be claimed by Neopians. Most real life Neopets merchandise comes complete with a Rare Item Code (often referred to as RICs). These codes can be entered into the Grundo Warehouse and you'll get an item in return! Most of the item prizes are only available from codes, so they can fetch a nice amount of Neopoints.
Grundos Warehouse is for merch codes, but not TCG codes!
To redeem a TCG code, you need to go
here
. KeyQuest merch codes were also redeemed elsewhere, but the ability to redeem KQ merch codes is offline.
Finding Rare Item Codes
Rare Item Codes are printed on the tags of Neopets merchandise; to check what merchandise is available in your area then take a look at the official Merch Shop and the list of merch partners. (Older merch is also listed on the Product Catalogue, but nothing listed here remains available for direct purchase.)
Codes can also come from some very old Mystery Capsules from the NC Mall. To see which ones offer a code, click here.


A Rare Item Code can only be redeemed once and once only. Occasionally, there have been scams where users would try and "sell" Rare Item Codes to others in exchange for Neopoints or cash. In some of these cases, the scammer had already redeemed the code themselves and claimed the item from it, thereby making it useless, and the hapless Neopian who "bought" the code from them was left with nothing but a string of random letters and numbers and the feeling of being cheated.
So Are All People Giving Away Codes Scammers?
Not all of them, no. Some people do genuinely give out codes to other users who can't purchase one for themselves (usually because the merchandise isn't sold in their country); this is most commonly seen on the Avatar & Neosignatures Board. However, these people usually won't ask you to pay them for the code. They will, though, ask you to send them the item you received from redeeming the code, which is just good manners really since they paid for the merchandise the code came with. Why would you want to redeem a code if you don't get to keep the item? Read on and all will be revealed!
Prizes
For every code you redeem, you will receive a random prize. You can see all items ever awarded only as a Rare Item Code prize in our item database. Some codes will only give specific possible prizes, particularly from modern Neopets merch; for more info on this, check out the Rare Item Codes guide in our Merch Database.
For the first code that you redeem, you'll get the Space Faerie as a Battledome challenger in addition to your prize! This is the only way to get her as an opponent, and you definitely want her because defeating her earns you a spiffy avatar as well.
Unfortunately, as of a few years ago, there is a glitch where redeeming your code may lead to a page with a gateway error. When this happens, you do receive your item prize (simply go to your inventory to see it!), but you do not unlock the Space Faerie challenger. Based on the experience of Jellyneo staff, this happens quite often (~80% of code redemptions) and is completely random.

Promotional Rare Item Codes
Neopets will sometimes have special promo codes that can be entered into the Warehouse. Since these codes are not attached to purchase of Neopets merchandise, you cannot get the Space Faerie challenger from them. But you can get some cool items.
The most notable promo codes are from Neopets' Facebook page, given out as a reward for reaching a certain number of fans. Other special occasions (the Altador Cup, San Diego Comic-Con, etc.) might also prompt the giving away of codes.
To view the prizes and their codes, use this Item Database search.
The following promotional codes are still active:
If any new promotion codes are found, or any of these promotions go inactive, please let us know!
Avatar
The avatar directly available from the Grundo Warehouse can be achieved by entering the code A384J-228P1 into the Virtual Prize Code box.
Once you have entered the code, hit "Get your Virtual Item!" and you will receive the avatar. The code comes from the Grundo Warehouse TCG card: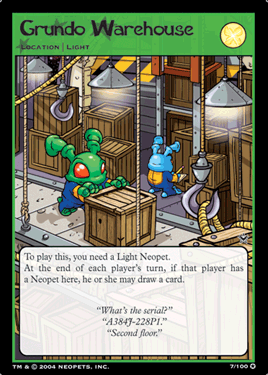 Grundo Warehouse
Visit the Grundo Warehouse and submit the code A384J-228P1.
This avatar was also obtainable from the 2019 Charity Corner perk, In a New Avatar.
Released: May 1, 2004
Professional Omelette Flipper - Avatar
Visit the Grundo Warehouse and submit the code NEOPETSCOOKBOOK.

This avatar initially did not increase the avatar count on your user lookup, but was later updated to give +1.
Released: June 5, 2023
Help us improve!
Did you find what you were looking for on this page?
This article was written by: Weepit