Your jnAccount:
Log In
or
Register
| New to Jellyneo?
Click here!
Grumpy Old King
Grumpy Old King Information
World:

Trophies:

Neopoint Ratio:




Our Difficulty Rating:

10%

[Send in a Game Tip] - [Return to the Game Guide Index]
Well, I suppose having your neighboring countries belittling both your army and your intelligence would put you in a rather bad mood. Though really, you'd think a king would have better things to do than having a bunch of random people attempt to make him laugh. Oh well, just means more potential Neopoints for you!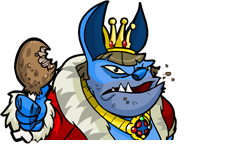 "You'd better not disturb me during lunch though."
Put in your best effort to amuse King Skarl, the grumpiest of kings, and if he's entertained you may be rewarded!
You can attempt to make Skarl laugh twice per day.
Outcomes
It seems that King Skarl's sense of humor is rather strange. In fact, it's completely random which reaction he'll have to your attempts of entertainment and the points he awards as a result. The joke doesn't even have to make sense and he can be in hysterics! Below outlines the possible responses and any awards from him pondering your joke.
Hysterics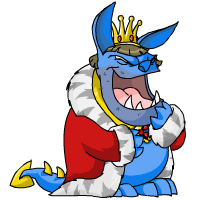 Flavor Text: You've done it! King Skarl is in hysterics!
Skarl: *hehehehehe* That was a really great joke! I give it a [751-1000] out of 1000.
You're brilliant! You must take this gift from me.
Reward: This is most difficult reaction to receive from the greedy tyrant, but he'll reward you nicely. For your humor you will receive one of the following exclusive items and normally between 200-800 Neopoints. Sometimes, you will also receive one of the Chuckle items, and you may also randomly be awarded the Blumaroo Court Jester avatar if you tell the right joke.
Hysterics Prizes

Bowl of Yuck

Chicken Leg Wing

Exotic Fruits Pie

Golden Stalk

King Skarl Candy

King Skarl Erisim

King Skarl Erisim Plushie

King Skarl Quiguki Plushie

King Skarl Royal Flag


(wearable)


King Skarl Snowbunny Plushie

King Skarls Robe


(wearable)


King Skarls Snowbunny

Legacy of the Skarl Royal Crown

Morris Plushie

Royal Cheese Bread

Skarl Collectable Charm

Skarl Fruit

Skarl Kebab

Skarl Royal Crown

Skarl Royal Flag

Skarl Royal Shield

Skarl Royal Shield Balloon

Snargan Plushie

Tail Bone
Blumaroo Court Jester / Guide
Awarded randomly when you make King Skarl laugh by telling him the following joke: "What do you do if *blank* fierce Peophins *blank* has eaten too much *blank* tin of olives?" (The answer can be anything).
Released: January 27, 2004
---
Chuckle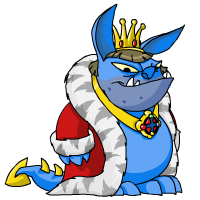 Flavor Text: Well looky there... You got a chuckle out of him.
Skarl: *heh* That was a pretty good joke. I give it a [600-750] out of 1000.
Here, have a little something from my kitchen. I hope you like it.
Reward: Here he'll reward you with something from the kitchen, and approximately a third of the time he'll add a few Neopoints to your prize (typically between 40-200 NP). The items you can receive are shown below.
Chuckle Prizes

Baked Rye Loaf

Basket of Gross Berries


(wearable)


Blackened Honey

Blancmange

Bucket Of Slops

Bullseye Pie

Bunch of Tomatoes

Carrot Stuffed Pepper

Corn On The Cob

Cranberries

Designer Blackened Potato

Durbage

Fried Courgette

Ixi Hoof Soup

Meat and Beans

Mouldy Potato

Pea Stuffed Pepper

Pease Porridge

Potato Stuffed Pepper

Symol Dirt Pie

Turkey Cane

Twisted Bread

Vegetarian Stuffed Courgette

Yellow Courgette
Prior to a prize pool update on January 25, 2018, King Skarl handed out a different set of food items.
---
No Effect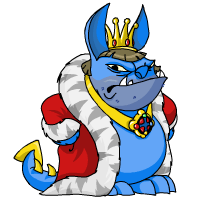 Flavor Text: Drat! It looks like your joke had no effect on the Grumpy Old King.
Reward: No items, but maybe up to 100 Neopoints if you're lucky:
Skarl: Well, thanks for trying...
I'll give you XX Neopoints for the effort.
It is presumed that the score range for receiving this outcome is 301-599, but since there is no score messaging and scores under 751 do not appear in your High Score list, it is impossible to verify.
---
Worst Joke Ever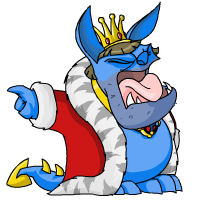 Flavor Text: Uh Oh... Now you've done it!
Skarl: That was the worst joke ever! I give it a [200-300] out of 1000!
Leave my kingdom now! *Grrrrrrrr*
Reward: Skarl may be angry, but the first time this happens you will be awarded the Skarl - Moody avatar.
---
Bonuses
Occasionally you can get lucky and will randomly be awarded a 10x bonus of Neopoints. (Thanks to sahransoot for this tip.)
Flavor Text: He also gives you XXX Neopoints (including a 10x bonus)!
This bonus is possible for any outcome other than a Worst Joke Ever response.
Breaks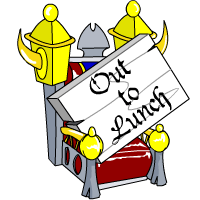 There are certain times during the day when you won't be able to bother amuse King Skarl. He will be out to lunch every day at:
8:00 - 9:00 AM NST
12:00 - 1:00 PM NST
7:00 - 8:00 PM NST
If you try to visit him during those times you will find an empty throne with a sign on it; just pop back during the next hour to try your luck.
Help us improve!
Did you find what you were looking for on this page?
This game guide was written by: DragonBeak & Quail