Your jnAccount:
Log In
or
Register
| New to Jellyneo?
Click here!
The Golden Dubloon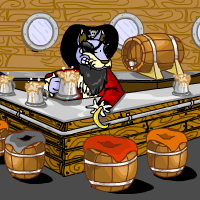 The Golden Dubloon is a restaurant, located off the coast of Krawk Island. To enter, you must have some Dubloons in your inventory. The restaurant has a limited seating capacity, however, so you may need to try multiple times before being able to enter.



Golden Dubloon Strategy
One advantage to eating the Golden Dubloon is that you may occasionally be able to receive food to take "home" with you, which can sell for a high number of Neopoints due to them all being Gourmet Foods. To even be eligible for taking food home, you must eat something from each of the 4 categories on the menu.
The cheapest way to do this is to select the cheapest foods from each category, which will cost you 8 Dubloons:
Starter Courses: Tropical Breeze
Main Course: Baby Bloater
Desserts: Chocolate Joy Fun Pop (the Krakuberry Cove is listed as 1 Dubloon on the menu, but will cost 2 Dubloons when checking out)
Cocktails: Land Lubber
You need not buy the specific items listed above, as long as you still buy one item from each section. Any of the cheapest items from each section of the menu will suffice.
If you enter the Golden Dubloon with a higher denomination Dubloon than the cost of your food, you will receive change when you pay. For example, if you choose 8 Dubloons worth of food off the menu and pay with a 10 Dubloon Coin, you'll receive 2 Dubloons back.
What you end up bringing home will be one of the items you selected to eat. So if you don't want to receive any of the cheap items, you'll need to pay more to receive something different.
As a note, your pet will not receive Gourmet Food Club points for eating at the Golden Dubloon. Your pet must instead consume the leftovers via your Inventory to get the credit.
The Menu
Below is a full menu, with the associated prices in Dubloons: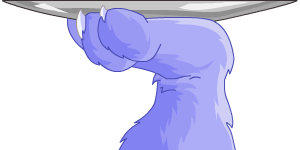 Help us improve!
Did you find what you were looking for on this page?
This article was written by: Dave