Your jnAccount:
Log In
or
Register
| New to Jellyneo?
Click here!
Giant Omelette
Where there are dinosaurs, there are giant eggs...and where there are giant eggs, there are giant omelettes. It may sound silly, but it's true: the sun-baked rocks of the Tyrannian plateau are hot enough to cook an egg, a fact which Neopians take advantage of every single day!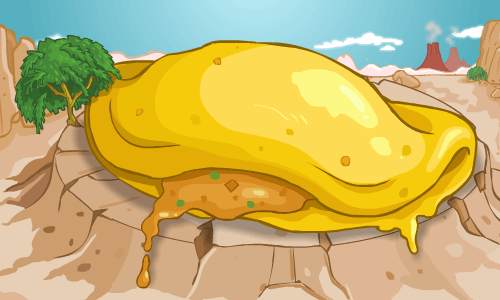 Similar in function to a rumored "Giant Jelly" in somewhere called "Jelly World," the Giant Omelette provides food for all who visit. It is guarded by Sabre-X of Tyrannia's Strategic War Division (he has to do something between skirmishes, I suppose).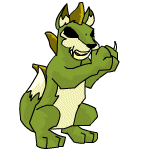 No jumping or bouncing on the Giant Omelette.
Despite the omelette being the size of a rather nice Neohome, thousands of hungry Neopians pass through the Tyrannian Plateau on their way to the Concert Hall or Battleground every day, so the entire thing can be eaten quite quickly. When the omelette runs out, Sabre-X will be forced to turn away anyone who comes looking for it, but a new omelette will appear before long. Sabre-X is known for being good with faces, however, so don't be surprised if he stops you from trying to take more than one slice of omelette per day.
Eating Omelettes

Similar to jellies, omelettes can be used to feed your pet more than once. When fed to your pet, a whole omelette will become 2/3 of an omelette; 2/3 of an omelette will become 1/3 of an omelette; and when 1/3 of an omelette is fed to your pet, it will disappear. You may want to avoid giving your pet even one bite of a Rotten Omelette, however, as it could give your pet the Ugga-Ugga disease, requiring you to cure it.
Giant Omelette Prizes
While all of the omelettes listed below are available from the Giant Omelette, some are rarer than others. While they're unlikely to fetch a very good price (even rare omelettes are fairly common), you should consider yourself lucky to have gotten one of these treats.
Omelette has Gone
Randomly during the day, the Omelette may disappear, seeming to have run out. Fear not, as it will reappear later in the day. The timing and duration is unknown.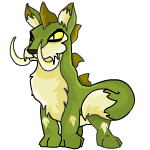 Try again later.
In the past, a few Tonus would become available at the Create-a-Pet page whenever the omelette ran out. However, this mechanic seems to have been broken or removed several years ago; Tonus are now only available for creation on Tonu Day (February 21).
Help us improve!
Did you find what you were looking for on this page?
This article was written by: Chesu & noileh