Your jnAccount:
Log In
or
Register
| New to Jellyneo?
Click here!
Get a Lutari
Lutaris are the mysterious habitants of Lutari Island, a now-defunct Neopian land connected to the also defunct Neopets Mobile service. The island seems to be doomed to remain shrouded in mist. Lutaris mostly act like any other limited edition species these days, although they have their little quirks.
Create a Lutari
Often, on Lutari Day (19 April), you can obtain a Lutari through Create-A-Pet. A few thousand may be released throughout the day in intervals. This is the simplest and cheapest way to adopt one, although patience is required as you may be refreshing at Create-A-Pet for quite a while.
There may be threads on Neoboards like the Pound Chat and Premium's Charter to notify the public when Lutaris are being released this way, to make it easier for people looking to adopt one.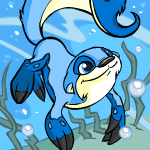 Zapping a Lutari
You can also, with the help of the lab ray, zap an existing pet into a Lutari! This is the chanciest way to obtain one if you already have the lab ray, but if you do not already have it then it is actually expensive for just a slim chance. You should, instead, read the next section to learn how to put your Neopoints toward a less random approach.
Morphing and Transmogrifying
Using a magical potion on an existing pet is another way to get a Lutari. Kauvara has concocted several different morphing potions for you, and some strange entity has developed a transmogrification potion if you fancy a mutant Lutari instead.
The bother of the previous hit-or-miss methods: banished!
Lutaris and Abandonment
Lutaris cannot be sent to the Pound (and thus cannot be adopted out of there).
If you attempt to send a Lutari to the pound, it will instead run away. If this happens, the Lutari will be gone forever, permanently unavailable to you or any other user. So be careful when visiting the pound with a Lutari on your account!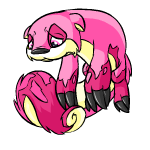 Prior to December 20, 2021, Lutaris could not be transferred between accounts. Although they would not run away like they do when abandoned, they would refuse to leave the account. However, Lutaris are now available to transferred and traded between accounts like any other species.
Dream Neopet Giveaways
The Dream Neopet Giveaway is a site-wide event that allows users to enter for a chance to transform one of their pets into a pet of their choice, free of charge. A very small number of extremely lucky players are selected to have one Neopet changed into their dream pet, of any species and colour, including Lutari. This event is usually held every year in December. It was moved to July in 2014, but has since returned to being held in December.

Help us improve!
Did you find what you were looking for on this page?
This article was written by: Weepit & Riley