Your jnAccount:
Log In
or
Register
| New to Jellyneo?
Click here!
Get a Krawk
Four months after the discovery of Krawk Island, a new species of Neopet was introduced: the Krawk. Unlike most other pets, Krawks cannot be created via Create-A-Pet, not even on April 16th (their annual festival day). There are a few different options available to create a Krawk, each with its own pros and cons. Before jumping in, consider your end-goal and determine which option will help you reach it as time- and cost-effectively as possible.
Krawk Petpets and the Fungus Cave
Tucked away in a northwestern cove of Krawk Island lies the Fungus Cave. To most, this cave appears useless. However, visiting the cave with certain Krawk Petpets attached to your active Neopet will give you the option of turning your beloved Petpet into a Neopet itself.

It's only hidden if you don't know where to look…
Transforming a Krawk from a Petpet is the least common method of obtaining a Krawk, as it is generally the most expensive. The rarity of the Petpet itself keeps the cost much higher than the alternatives. If you choose to transform a Petpet into a Krawk, choose carefully! The colour of the Petpet that you transform will determine the colour of the Neopet you end up with. Consider whether it would be cheaper to buy an already-painted Krawk Petpet, the Petpet Paint Brush to paint the Petpet before transformation, or the Neopet Paint Brush to paint your new Krawk after the transformation is complete. The gender of your new Krawk will be random, though it is fairly easy to change a pet's gender.
Not just any Krawk Petpet can be turned into a Krawk Neopet. There are a few requirements you must meet in order to be eligible:
Your Petpet must be a Krawk in its true form. Petpets zapped at the Petpet Lab Ray cannot be transformed.
You must give your Petpet a unique name, untaken by any Neopet.
There must be an empty pet slot on your account for the Krawk.
Robot Krawks and Darigan Krawks cannot be transformed!
Once all of these requirements are met you will be given the option to transform your Krawk at your next visit to the Fungus Cave. After transforming, a Krawk cannot be reverted back to its Petpet form.
Potions and Plushies
The cheapest way to create a Krawk yourself is by using a Morphing Potion, Transmogrification Potion, or Magical Plushie. With these items you're able to change a pet of any other colour or species and turn it into the Krawk you're after. As with the coloured Petpets, the colour of the item you use will determine the outcome of your Krawk. Most of the colours are self-explanatory except for the Transmogrification Potion, which will turn your pet into a Mutant Krawk. All of these items are one-use and will disappear from your inventory after working their magic.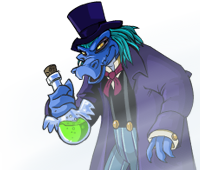 Don't worry, this won't hurt a bit…
If you're on a budget, it may be in your best interest to first use a Pirate Krawk Morphing Potion or Magical Pirate Krawk Plushie and paint your new Krawk the colour you want afterward. Since these items are given out through the Forgotten Shore and Anchor Management dailies they are far cheaper than their other-coloured counterparts.
Trading and Adoption
As with any other species (well, most other species), trading for or adopting a Krawk is always an option. Since Krawk morphing potions and magical plushies are given out by dailies and the overall cost of creating a Krawk has gone down considerably, it is now more common than ever before to see Krawks up for trade or to find one in the Pound.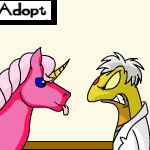 Dream Neopet Giveaways
The Dream Neopet Giveaway is a site-wide event that allows users to enter for a chance to transform one of their pets into a pet of their choice, free of charge. A very small number of extremely lucky players are selected to have one Neopet changed into their dream pet, of any species and colour, including Krawk. This event is usually held every year in December. It was moved to July in 2014, but has since returned to being held in December.

Help us improve!
Did you find what you were looking for on this page?
This article was written by: Kait