The Games Master Challenge - November 2013

Introduction
AAA has returned for another exciting Games Master Challenge! This year's showdown has brought two new challengers to Roo Island - Siyana for Team Sun and Princess Lunara for Team Moon. The challenges begin on November 25, 2013 (midday). The first challenge will last for 1.5 days, giving everyone time to complete the challenge. The next challenge will start at 12:01am NST on November 27th. All remaining challenges will last for 24 hours. The Games Master Challenge will end at 11:59:59 pm on December 2nd.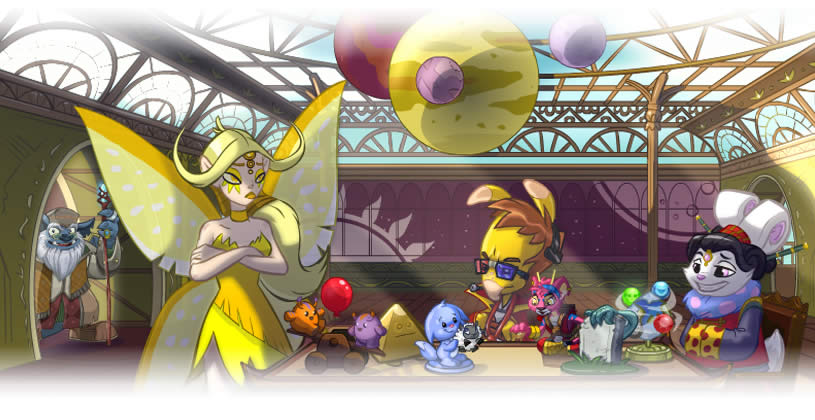 Audience participation is encouraged so step up, join a team (Sun or Moon), and complete challenges for prizes and a trophy on your user lookup! Pamphlets on Frequently Asked Questions are available at the entrance. Here is a summary:
Once you choose a team, you cannot go back and change it, so choose wisely!
Earn points for your team by completing challenges and bonus challenges daily. The meter keeps track of your team's progress.
Bonus challenges are optional and do not count towards your trophy tier, they only add to your team's score.
Although there is some overlap, some challenges are unique to the team you choose. Both teams have the same amount of challenges, however.
Some challenges are timed and must be completed in 12 hours once they have been activated. If you fail these challenges, you will not win any points for your team or receive your prize, and you won't be able to complete the bonus challenges.
Clicking the progress button will show your progress by day. If you have a gold checkmark, it means you completed the challenge the day it was issued. If you complete the challenge before the end of the event but not on the day it was issued, it will be green. This is not to be confused with bonus checkmarks, which will always be green.
The Challenges
When you've completed a challenge, click on the coloured box on the challenge page to receive your prize!
The last day to complete any challenges you have remaining is 11:59pm NST on December 2nd.
Day 7: December 2nd
Day 6: December 1st
Day 5: November 30th
Day 4: November 29th
Day 3: November 28th
Day 2: November 27th
Day 1: November 25th - 26th
Bonus Play Prizes
You may complete each challenge an additional 4 times to receive a random bonus prize. A list of bonus prizes you can receive is below: