Your jnAccount:
Log In
or
Register
| New to Jellyneo?
Click here!
April Fools' Day - 2021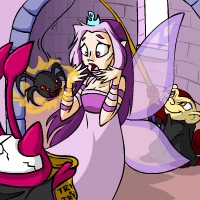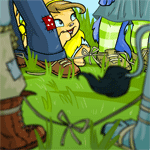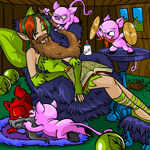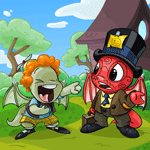 Neovision+
In 2021, Neopets, never one to lag behind in mass media trends, announced its own proprietary streaming service: Neovision+. With subscription plans starting at just one Neopoint per month*, the service boasts a variety of premium features, as detailed below.
Free Sports Bundle
Neovision+ premium subscribers will have access to a variety of on-demand content through our Free Sports Bundle. Enjoy some of Neopia's most popular sporting events such as The Altador Cup, The Gormball Championships, and The Krawk Island Deckball Championships from the comfort of your living room! This bundle also comes with daily livestreams of Battledome Brawls, Food Club, and the Dice-A-Roo Tournament Hall.
An Advertisement Free Option
Neovision+ premium subscribers will have the option to watch all our content without delightful advertisements from our sponsors interrupting their programs every two and a half minutes!
Team Stream
Neovision+ premium subscribers will also be able to use our new Team Stream feature! Now you can have virtual movie nights with your neofriends no matter how far away you may be, provided they also have a Neovision+ premium subscription that is...
Access to New Shows and Movies Before they are Even Available!
With the Wheel of Extravagance payment plan, you will have access to new feature films and programs before they are available to all Neovision+ subscribers. That's right, all premium subscribers will be able to watch livestreams of active sets while new content is still in the process of being filmed!
*Please note that all Neovision+ subscription plans include perpetually increasing rates that will incrementally but inevitably bankrupt you.
Original Premium Content
The main draw of Neovision+ is, like any other streaming service, its exclusive video content. Neovision+ offers a wide variety of Neovision+ Originals, series both new and old (which, having obtained the rights to, it can somehow claim as "original").
Defenders of Neopia: End of Flash
After Heermeedjet and Meerouladen make off with the wand of the Dark Faerie, the Defenders of Neopia are dispatched to retrieve it! However, the team of heroes quickly find themselves ambushed by deadly foes like Lady Frostbite, Iron Skeith, and Khan the Unstoppable. Will Judge Hog be able to keep the Defenders together, or will the team fracture and fall apart as they are overwhelmed by villains? More importantly, could this all truly be the work of Malkus Vile as Lightning Lenny suspects, or is someone else pulling the strings from the shadows?
Doctor Roo
When a mechanical-negg loving inventor unintentionally creates a time machine out of an old phone booth, he finds himself trapped in the past, and then the future! Follow along as this eccentric blumaroo scientist stumbles through comic misadventures that take him to the farthest corners of time and space!
The Kreludorian
Five years after the fall of Sloth, lone spacefaring Techo Captain Telhan is travelling across the galaxy as a deliveryman. Little does this solitary Captain know that his voyages have set him on a collision course with the most precious cargo that he will ever carry...
Spookynatural
Brought back for season 41, Spookynatural revolves around the exploits of brothers Corbin and Kell. As second generation monster hunters, these two siblings will encounter all sorts of ghouls and increasingly convoluted storylines as they continue to follow in their father's footsteps!
Cobrall Kai
Twenty years after his defeat to Ryshu during the Year 3 Mystery Island Training School Tournament, Sevarin finds himself at rock-bottom with no job coupons or neopoints to his name. However, after Sevarin rescues a timid Meturf from the depths of a Cobrall den, he becomes inspired to start his very own Cobrall Kai Training School.
Ghoulcatchers
Together, Brave Bren, The Professor, and Glyn are the Ghoul Catchers! After this team of scientists lose their cushy jobs at Haunted Woods University, they decide to put their technological knowhow to use fending off the paranormal. These courageous Neopians must band together and utilize their ingenious inventions if they are to protect their home from a supernatural evil that threatens to consume all of Neopia
Healing Springs
A water faerie, Marina, goes missing near the Healing Springs... As Faerieland searches for answers, a group of young faeries are drawn into an extraordinary mystery involving Faerieland royalty, top-secret towers, frightening supernatural foes, and one very strange little Harris.
Neofriends
Set in Year 1, this nostalgic comedy revolves around the personal and professional lives of six inseparable Neofriends. Follow along as this close-knit group navigates the ups and downs of life in Neopia Central together.
Gossip Grarrl
Try as they might, these privileged Neopians living on the upper East Tyrannian Plateau can hide no secret from the ruthless Grarrl blogger who is always watching... X0X0, Gossip Grarrl.
Neohome Improvement
Experience the daily trials and tribulations of forewoman Lania Cragg as she labours to rebuild the remote island of Dacardia, one NeoHome at a time!
Pssst! Want to see what we at Jellyneo did for our prank? Then click here. ;)
Help us improve!
Did you find what you were looking for on this page?
This article was written by: Chesu