Your jnAccount:
Log In
or
Register
| New to Jellyneo?
Click here!
April Fools' Day - 2020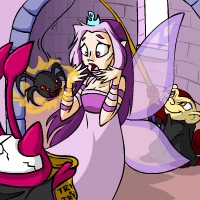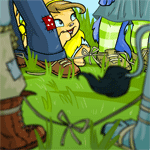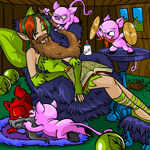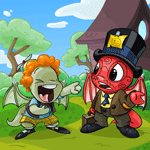 Year 22 Redesign
In April 2020, the beloved classic Neopets character Nick Neopia made his return, and with him came a long-awaited redesign to bring Neopets into the Web 13.0 era! As he began tinkering with the site, users would notice pages rotating and flipping upside-down as Nick rearranged things behind the scenes.
To have Nick try again, click 'Uh... no?':
The new design is promised to be spontaneous, sophisticated, and abstract. While the specifics of what exactly this entails are as of yet unknown, a clue can be found in one of the new features detailed: the randomisation of all links across the website.
The full press release has been reproduced below, but it's worth noting that by viewing it in its original, Nick-tastic context, you received 5,000 NP and a shiny new avatar.
Forever Loading
This avatar was awarded for visiting the Y22 Redesign preview, presented by Nick Neopia, on April 1, 2020.
Released: April 1, 2020
Press Release
GREAT NEWS!
I somehow talked my way into another gig with Neopetz... I mean Neopets. Nick Neopia coming at you live with a massive overhaul of Neopets. Don't get me wrong I love Neopets (my last name is Neopia after all!), but the site was in desperate need of a style redesign. After listening to focus groups it was clear you guys wanted a more spontaneous and inventive layout. Which is why the Neopet Team wisely called for my expertise! Even though I'm working from home I've already started to revamp the entire site. We're getting younger. Sleeker. And we are bringing an air of sophistication to Neopia. So sit back, relax, and scroll through some of the spectacular design changes I've instituted to make Neopets more abstract and fascinating. Just don't send us too many messages praising my genius and the new look. Our servers can only handle so many compliments! If you just can't get enough, here are some more design changes I will be implementing in the near future...
Backwards text
Who wants words that are easy to read? Boring people! That's why all of the text on our website will soon be reversed, meaning the only way to read it will be by holding a mirror up to your computer screen. What fun!
Mystery Links
Who wants to know exactly where they are going? There's no mystery in it! Which is exactly why I will be changing every single link on the site to randomly redirect users to click on them. Next time you want to play a game of Cave Glider you might have to navigate your way through hundreds, maybe even thousands of random links before you find it! Sounds like an adventure to me!
13D Games
Speaking of games, I had the fantastic idea of revamping all the existing Neopet games. Some focus groups talked about how much fun a 3-d or VR game would be, so I went above and beyond! I instructed the tech team to modify our games so that they can be played in 13D. That's 10 more D's than 3D! This project might be in the pipeline for awhile, since the tech guys keep hounding me with unrelated questions like "How do you expect us to do that?" or "What does 13D even mean?", but rest assured it is coming soon!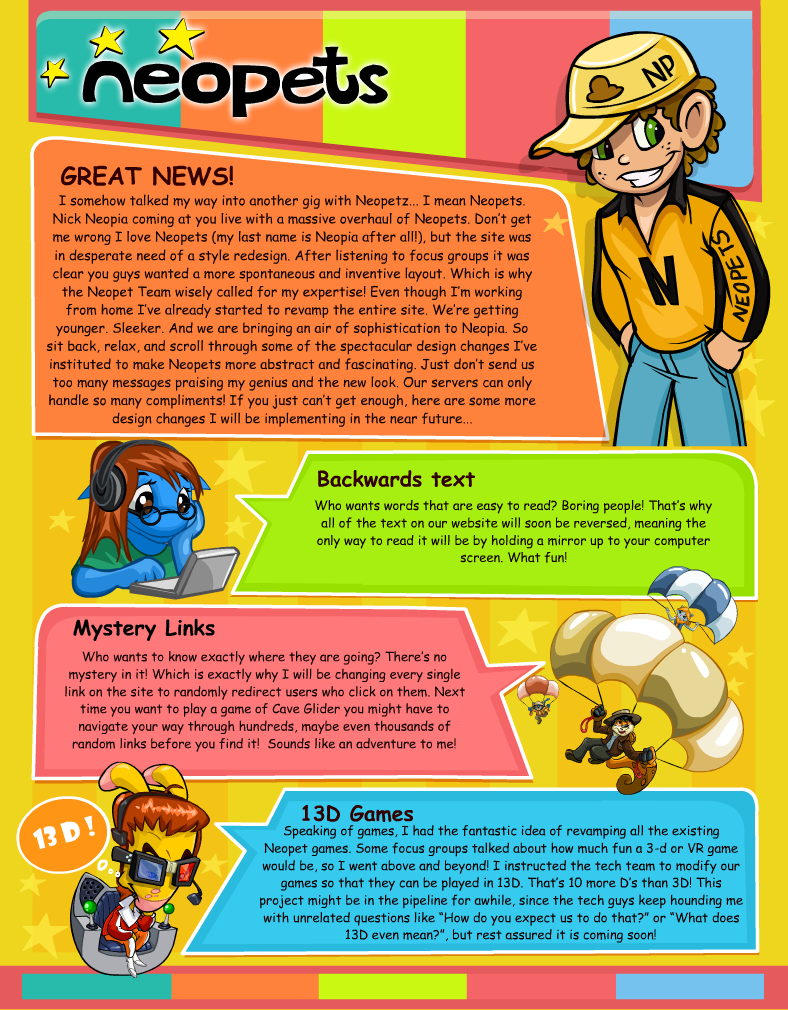 Help us improve!
Did you find what you were looking for on this page?
This article was written by: Chesu