Your jnAccount:
Log In
or
Register
| New to Jellyneo?
Click here!
April Fools' Day - 2018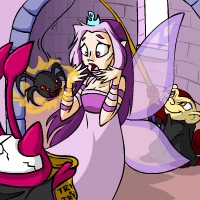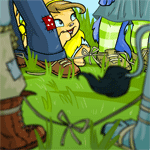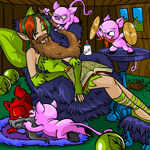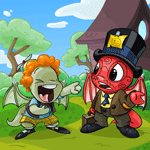 NeopiaLand ®
Opening in 2020, NeopiaLand is a brand new theme park planned to be built in China! Details below:
Neopets is thrilled to announce the commencement of construction for NeopiaLand, a theme park in Mainland China. NeopiaLand will be based on the land and lore of Neopia, and will feature an outdoor amusement park, a dining and commercial district named "Neopia Central" and a five-star luxury hotel we call "AstroVilla". The park will feature 32 rides in five themed areas, 'The Haunted Woods', 'Kiko World' 'Mystery Island', 'Roo Island' and 'Faerieland'. Our construction manager also enjoys telling anyone who is willing to listen to him about plans for a sixth land, but we assure you that no such land exists. The park is expected to be open to the public by the second half of 2020.
The following concept art was posted, along with a description of what they depict:

Tubular Racing
Navigate your Kiko tube through a not-so-lazy river. Watch out for the sudden drops, and the laser-guided arrows that may suddenly puncture your tube! (Only experienced swimmers are allowed on this ride.)

Terror on Techo Mountain
This ride features a 400 ft drop, a loop and a barrel roll around a bubbling volcano that's billowing smoke.

Voyage on Virtupets
Get aboard the Virtupets space station and voyage through the stars in this magical indoor ride that runs on magnetic rails. Watch out for Evil Fuzzles!

Cyodrake's Gaze
Ride on the mysterious flying ship that introduced the rest of Neopia to Shenkuu. You may ride with a faint heart, but not a weak stomach. Oh, and watch out for Bonju!
In addition to the concept art above, the following attractions were teased:
Other rides/attractions include:


Faerieland Drop Tower - Enjoy the free fall ride of your life...from the clouds. Just like Faerieland did.
The Games Room - A state-of-the-art gaming arena where you can play arcade versions of Kass Basher, Igloo Garage Sale, Rink Runner and other popular mini-games!
Temple of 1000 Traps - Find your way through this ancient tomb, but beware - there are one thousand different traps that you may get caught in.
Jelly Bounce - Now this sounds like a great idea, but of course no such feature exists.
And finally, a photo of the actual site where the groundbreaking is occurring was posted:

© CEphoto, Uwe Aranas
NeopetsTV
To accompany NeopiaLand, a new TV station was also announced, with various programming already greenlit to enter production:
Also launching in 2020 is NeopetsTV - a TV station devoted exclusively to all-new Neopets programming! Planning and production is already underway for five shows:


The Tiara: A young Fyora rises to the occasion and accepts the reigns of a magical kingdom that is up in the clouds amidst many challenges. One of them is a dark force looking to bring her down.
Neovia Falls: Twin Shoyrus are sent to spend the summer with their great-aunt Graunty Stacy in the mysterious town of Neovia Falls.
Shenkuu Valley: Reizo, Kaia and three of their friends have capitalized on Kaia's Sight to launch a start-up in Shenkuu Valley that deals in foreseeing and preventing misfortunes.
Altered Kougra: The year is Y300. A Kougra has been brought back from the dead and faces a mission that can prove terrifying.
Cheeky Yurbles: An audacious street gang of Yurbles. A harsh Gelert appointed to stop them and their actions. Tears will be shed.
The planned TV shows above are parodies of the following real life shows:
Neopets Movie Poll
Last, but not least, a #NeopetsPoll was also posted across the various Neopets social media accounts, asking which of the following movies were your Neopets' favourite:
I'm freezing! *hugs my Neopets* ah, much better. Now excuse us, we're going to watch one of these completely uncategorized movies! #Neopets #NeopetsPoll
The joke being that everyone uses the Neopets social media pages to ask about frozen accounts. ☃️
Pssst! Want to see what we at Jellyneo did for our prank? Then click here. ;)
Help us improve!
Did you find what you were looking for on this page?
This article was written by: Dave