Your jnAccount:
Log In
or
Register
| New to Jellyneo?
Click here!
April Fools' Day - 2012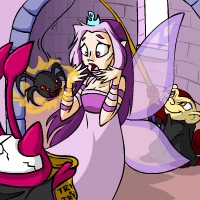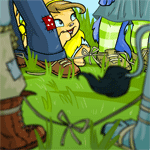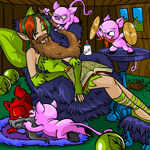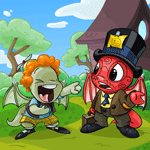 Neopians woke early on the morning of April 1st, wallets filled with Neopoints, in excited anticipation of playing silly tricks on each other. Some set out to buy firecrackers and cans of fake Wadjets to scare their friends, while others planned to pick up a cream pie or twelve to toss at peoples' faces. When the shops around Neopia Central ran out of stock, everyone turned to our old friend...
The Shop Wizard
Unfortunately, the Shop Wizard was a bit out of sorts. As he insisted that he could work, however, the shoppers of Neopia tried to continue as if everything were normal.
Everything was not normal. With the Shop Wizard out of commission and thousands of people still looking to prank, they next turned to...
The Trading Post
As it turned out, Jhuidah the Island Faerie had important business elsewhere, and left the Trading Post in the "capable" hands of Hoka. While the Tyrannian Kacheek seemed friendly enough, he was easily confused and couldn't count very high, limiting the offers you could make to dung items and up to 1,000 NP. Unfortunately, even that proved too difficult for Hoka, causing him to slightly mix up your offer.
Most people weren't exactly happy to trade all of their on-hand NP, all of their pets, and the entire contents of their Safety Deposit Box for something like a Furry Table, and were quick to cancel the trade.

Does anyone here speak Tyrannian...?

Happy as Hoka may have been about many Neopians inadvertently accepting the trade, due to his ineptitude most were able to successfully withdraw their offers. Tired of dealing with the hairy oaf, people moved on to their last hope of finding that perfect prank item...
The Neopian Auction House
Upon arriving at the Auction House, it was immediately apparent to everyone that something was amiss. Dung, dung, everywhere dung! While Hoka would have been overjoyed, the prank-seeking populace was less so. With resigned sighs, many began to bid on the dung items; dropping a smelly Dung Rug in front of their sister's door would be better than nothing. Much to their aggravation, however, Nigel the stockbroker Chia was bidding on everything in sight.
Fed up with the odd series of events, many gave up and went about their daily lives, some taking their pets for treatment at the Secret Lab, some checking up on the latest news.
The Laboratory
While people were at first thrilled to have their pet change into a Custard Kau, Darigan Grundo, Maraquan Poogle, Darigan Quiggle, or Strawberry Mynci, they quickly realized that a horrible mistake had been made: the crazy scientist had zapped the wrong pet! Some thought that he had shared the Shop Wizard's Swill Pudding, but most insisted that his eyes had always looked like that. Those who had gone to read the news were in for an even nastier surprise.
New Features
As if UC Plushie Draiks across the land turning into a Darigan Quiggles wasn't bad enough, owners everywhere were now forced to choose which of their four beloved Neopets would be deleted permanently. With the clock ticking down, thousands rushed to...
The Pound
As could be expected, the Pound was immediately filled to the bursting point with abandoned pets, taking the choice of which pet would be purged out of the hands of their owners. Distraught and frustrated users trudged back to their Neohomes as day turned to night, wearily checking their Neomail...
Neomail
By the end of the day, tired Neopians sat down to open their Neomail. They were greeted with a number of random messages. Any attempts to block this mysterious spammer, would result in another account sending more random messages!
These deeds were done by the following users:
malkusvile1110
malkusvile1111
malkusvile1112
malkusvile1113
malkusvile1114
malkusvile2791
malkusvile4932
malkusvile5253
malkusvile8164
malkusvile1095
malkusvile8790
malkusvile4991
malkusvile3212
malkusvile6813
malkusvile5554
And the messages received are below:
Patiently M. Entomological
Have you always wanted a degree from Brightvale University but you have no time to travel there? Earn a degree that fits into your busy schedule from Brightvale Desert College, a prestigious establishmant endorsed by King Hagan himself. Reply to this neomail to receive your application.
you are my hero
I am trying to convert my dubloons into Neopoints but the pirates are after me you are my only hope.my neophobia prevents me from leaving my hiding place.but if you send me 1000np to secure passage to Maraqua Fyora will bless you and I will give you half of my wealth once i can convert it safely.faeries watch over you.
Congratulations!
Your name was randomly chosen in a lottery for a cruise to Mystery Island! You may have already won a round trip for two to the sunny island paradise of your dreams. Complete this questionnaire to enter for your chance to proceed to the final round of selection. 1. Do you or have you ever participated in a
Tax troubles?
Is Snargan visiting your castle too often? Does your Petpet no longer bark at the Tax Beast? Find out secret ways to reduce, defer, and evade payments! Learn strategies from tax evasion masters like Mr. Krawley and other esteemed pillars of the community. Pay no more Neopoints!
Congratulations! You have won...
Your Name was drawn in the Coltzan Appreciation Fund Lottery and you have now won a Special super Award prize now. A Large sum of Neopoints is Waiting for You to pick it up. However, the NP must be Released at a cost of 30,000 NP otherwise Substantial taxes may be incurred.
Treasure
warm greetings, i am looking from some help There is a lot of treasure in the forgotten Shore and i have a medal detector but I need you to pay my transportation. I will utilise this np wisely if you decide to send it. u will be very rich because i will find the treasure and i will give it to u as i have no use for it.
Get rich working from your Neohome
Tired of slogging all the way to the Games Room to earn your NP? Bored of the Stock Market commute? Earn Hundred Dubloon Coins working right from your Neohome. Send only 700 NP to receive your exclusive training materials. Supplies are limited, so hurry now!
REdUcE sTrEsS
Try our new exclusive Rooga exercise program, available for a limited time. Visit Roo Island today and start your new life with the Rooga Bouncing Technique, a sure path to a stress-free life in Neopia. Lessons start at 1600 NP! Act now!
New Wonder Codestone
Your codestones are weak compared to the Wonder Codestone being developed by Virtupets Industries right now. Scientists are researching this awesome new technology that YOU can benefit from. Be the first to try it! Send 3.1415 NP to Otto B. Weiser at 117234 Dictator Way, Virtupets Space Station. Act fast!
Tired of Losing NP?
If you have experienced negative NP, you may be eligible to participate in a survey. Help scientists find out where Neopoints go and move science forward. Please come to 879615, Tombstone Road in the Haunted Woods and bring 1000 NP for processing fees.
Cheap Gwontek Syrup!
y pay too much at the Pharmacy when u can get top-strength Gwontek Sirup the easy way We support a healthy Neopia. u can b healthy too.
Want more Random Events?
yeah me 2 but i found a way to get them fast u just have to send some np to cover the cost of me getting it to you oh say 100 np maybe and then i will set you up and u will be as rich as amira that aisha in the desert with all the riches so yeah really rich so what do u say?
check this out N00b-B-Gone sweet deal
Fast-acting N00b-B-Gone spray available for a short time! Order now to prevent missing out on special deals. Contact this neomail for a free sample. Offer expires in one hour.
pl3s send help
I am in distress i was walking by this scorchio with crazy hair and now i am invisible. all i heard was a loud zap and now my paws are seethru. i cannot get money from the bank becuz they cannot see me. if u send me 1,750,000 NP i will pay you back when i buy my pb again. iwas royal b4. pls believe me.
Your Baby Neopet Can Learn To Read
Is your Baby underfoot all the time? Whining and drinking up all the milk? Do you want the candy for yourself? Send your Baby Neopet to a friendly, supportive daycare centre today! Visit 20548 Sakhmet Slums to begin the education of your Baby.
Is the Battler in your Family Getting Old?
Does your Battler walk more Slowly lately? Do they seem pensive and Sigh a Lot? They may be experiencing War Withdrawal Syndrome, a Dangerous and Expensive condition. Fortunately the Boochi Method is available for a Limited Time at a special discount. Reply now to receive your Exclusive Offer.
find savings in Moltarra!
Are you hungry? Get bargain deals on Triangle of Ham shipments fresh from the factory! Cheap source of protein! Very full of nutritious! Pay no taxes! Reply to this neomail to learn more!
Dear Friend,
i made 500000 NP today check out how i made it. stop by 39275 desolate circle, darigan cittadel after dark and ask for tony. accomplish all ur goals get draiks krawks u name it. easy np. Y wait? but come after dark ok?
Plz help
My friend is trapped in the Darigan citadul. I am raising np to bribe the gards. If u send me 500np i will make sure that king Skarrl gives you a reward. my friend is very important at skarls court but dont tell anyone I said that.its a secret. You are very kind.plz reply soon.
Congratulations!
Message: You have won an all-expenses paid trip to Faerieland! Pack your bags and get ready for a week of sunshine, sparkles, and smiles! Free quests offered every day (Fountain Faerie not included). Sightseeing morning tour of Faerie City and continental breakfast available daily. Send only 2000 NP to reserve your tickets!
Facebook
When all else failed, venturing to the Official Neopets Facebook page, the users were, naturally, surprised by what awaited them: a poll to determine the appearance of the first male Faerie in Neopets history. Uncertain but starting to feel optimistic, they voted in droves for #5.
Pssst! Want to see what we at Jellyneo did for our prank? Then click here, and here. ;)
Help us improve!
Did you find what you were looking for on this page?
This article was written by: JN Staff