Your jnAccount:
Log In
or
Register
| New to Jellyneo?
Click here!
April Fools' Day - 2004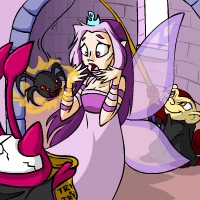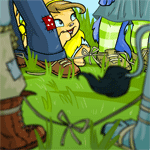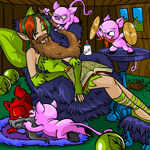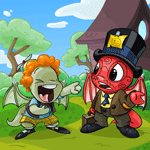 The Neopets Team likes to pull pranks to hopefully fool many unknowing users to believe some extravagant new feature. This year was no exception! They announced the "next" expansion set for the ever growing trading card game. The name? Quiguki Armageddon.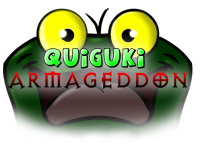 TNT really pulled out all the stops and the whole day's news was centered on adding Quiggle related things and showing some sneak peeks of the upcoming cards. Some of this new content included cards, an avatar, some buddy icons, a How-To-Draw featuring a character from the set and a Neopedia entry (which had been deleted, but was restored with the June 27, 2014 news).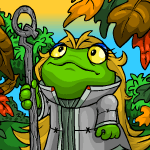 The Cards
Some of the fake cards that TNT whipped up included Quiguki Warrior, Quigara, Quiguki Spellmaiden, Quiguki Blacksmith, and Sword of Quiguki Power.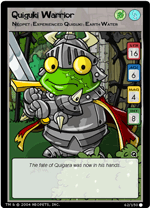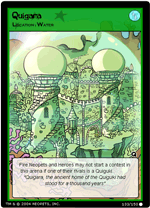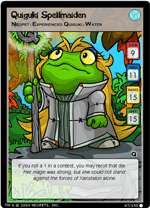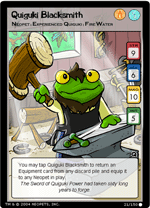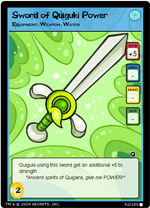 Buddy Icons
Here are the icons that were released.




How-To-Draw
The How-To-Draw featured the Quiguki Blacksmith, one of the characters from the above cards.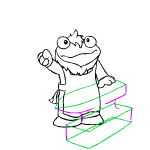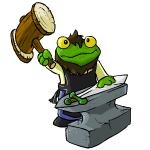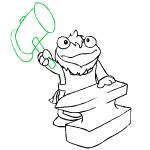 The Avatar
Of course, TNT never does things anymore without an avatar. ;) Once the joke news was taken down, all you had to do was refresh the news page. This avatar can be obtained every April Fools' Day by doing the same thing.
Quiguki April Fools Avatar / Guide
Refresh the news page on April 4th, after the April Fools prank has been taken down.
This avatar was also obtainable from the 2019 Charity Corner perk, In a New Avatar.
Released: April 1, 2004
The Neopedia Entry
The long-lost Neopedia entry, The Story Of Xanstalon, which was removed from the site when the April Fools' joke was over, was returned to the Neopedia in Y16. Because the story takes the form of a fairy tale and alludes to humans, this entry may well simply be a noncanonical fantasy tale like Treasure Keepers.
New Language Support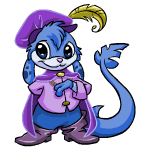 Euge! Euge!
In some languages, it was announced that TNT would stop updating the site in French, Italian, Spanish, Korean, Japanese, and Chinese. Instead, they would focus on a brand new language - Latin! If you were unfamiliar with Latin, they felt it would be a great opportunity to practice... or play the site in English. The following day they reassured everyone that it had been a prank.
Help us improve!
Did you find what you were looking for on this page?
This article was written by: JN Staff