Your jnAccount:
Log In
or
Register
| New to Jellyneo?
Click here!
The Witch's Tower
Inside the Witch's Tower lives Edna, the residential sorceress of the Haunted Woods. However, as the five Meercas she accidentally turned into Meerca Pie can tell you, she's not very good at casting magic. But that's why you're here, right? To help Edna collect the correct ingredients for her latest spells!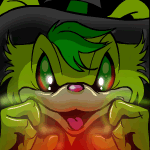 "You wouldn't be cruel to an old woman would you?" *snicker*
Starting a Quest
Edna will request 1 to 3 items of rarity 40 through 70 from the categories Candy, Clothes, Coffee, Faerie Food, Food, Gardening, Grooming, Healthy Food, Island Merchandise, Magic Item, Medicine, Toy, or Tropical Food. Click here for a full list of items that may be requested.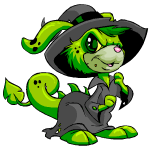 "You mustn't disturb me during the witching hours. I have...things that I must attend to."
Edna will give you a random amount of time between 90 and 180 minutes to return the items. Note that Edna is away from 12 to 1 AM and PM NST; during this time you cannot start a quest from her, and you also cannot turn in items for a quest already started. If you miss your deadline due to this, you will fail the quest. Edna has no leniency!
You may complete up to 10 quests a day (including Kitchen and Taelia Quests). You cannot start one of Edna's quests if you have 60 or more items in your inventory. You are allowed to use the Shop Wizard.
Rewards
As a reward for completing her quests, Edna will award the following:
A small amount of NP, averaging ~150NP but ranging from ~100 to ~225NP.
A random Spooky Food item with a rarity of 82 or lower.
When you complete your first quest for her, you'll also be able to unlock her as a challenger in the Battledome.




Guess having mad potion skills leaves little room for cooking...
Avatar
Edna - Cackle! / Guide
Randomly awarded when you complete an Edna Quest that asks for three items.
When activated, the 2019 Charity Corner perk, Avatar Goldmine, increased the chances of obtaining this avatar.
Released: October 28, 2003
Since quests that only ask for one or two items do not have a chance of awarding the avatar, you can let the quest timer expire to not fill up your daily limit of ten completed quests and allow more chances of three-item quests.
Quest Bonus
Complete a quest for each of the Haunted Woods' quest giving residents - the Brain Tree, Esophagor, and Edna - for a bonus prize: Tales of the Esophagor.
Spells
The spell that Edna needs help with is randomly generated and is not related to the items she asks for or the reward you receive. One word is randomly chosen from each column, then combined together to make the name of the spell!
Possible Spells
Bubbling
Glowing
Magic
Rainbow
Amulet
Egg
Potion
Scroll
Spell
Wand
of
Aisha
Chia
Cybunny
Jetsam
JubJub
Kacheek
Kiko
Lenny
Negg
Techo
Charming
Frazzling
Shrinking
Stretching
Transforming
Edna's Sayings
While waiting for you to turn in items, Edna will randomly say one of the following:
Fire burn and cauldron bubble!
Hubble Bubble, Toil and Trouble
I must remember to have my spare broomstick mended.
Neopets... *YUCK* ... how horrible... I mean how lovely :)
Now where HAS that cat gone?
Oh, for a delicious JubJub sandwich!
Oh, for some delicious frogs eyes!
Trick or Treat... Bring me something nice to eat...
Where did I leave those bats wings?
You would not be mean to a helpless old woman would you?
Help us improve!
Did you find what you were looking for on this page?
This article was written by: DragonBeak