Your jnAccount:
Log In
or
Register
| New to Jellyneo?
Click here!
Neopian Times Editorial Database
The Neopian Times Editorial is a (usually) weekly column hosted by The Neopets Team that answers questions direct from Neopians. Unfortunately, these Q&A's are not easily searched on the Neopets site, so we've created our own searchable database. Convenient for looking up past answers!
To search, just type something in the box below! (The fewer words, the better... usually.)
There is 1 result for you search.
---
Hello! I was wondering, what might be the judging criteria for the poetry gallery? A number of people I've noticed have been submitting multiple poems only to get TMGE's for all of them, and they're left confused on how to improve. Are poems chosen purely on quality, and if so what might distinguish a publishable poem from a TMGE one? Or are other factors involved like number of previous poems published or time submitted? Thanks! ~~twillieblossom
This is a great question I often see pop up! Poems are judged on a variety of criteria including:
Writing Quality - The quality of the work is the first thing we look at. Poems can of course be more surreal and less linear, but they should still be easy to read/follow. Putting some emotion into your writing, whether they are silly poems that make the judge laugh or cute poems that tug at the heartstrings, always helps improve your chances.
Theme - Since most poetry galleries are themed days, how users write about the theme is important. For example, if there are a plethora of poems about the same character for a pet day, then chances are only one or two poems about that character will be chosen. So coming up with different/uncommon themed poetry ideas can help!
Rules - Following the rules is another big one. These are the same as the site rules, so the major things to stay away from are romance, violence, and real-world references
Grammar and Punctuation - We try not to be too strict about these since English is not everyone's first language, however if there are a multitude of errors and mistakes, your entry will be less likely to be chosen when compared to others who put in the time and effort to polish their writing.
Length - Haikus are fun, but a single one is not enough to win a poetry contest. If you chose a shorter style format such as a Haiku, make sure to include at least a few so that your submission is long enough to be considered.
Previous wins/activity - Although the above rules are the most important, when it comes down to choosing between poems of relatively equal quality we tend to give more chances to users who have never submitted before (or at least not in a long time). Although it may seem trivial to someone who has won countless poetry prizes, receiving a trophy recognizing you for your writing can be monumental for new writers who have never received any positive feedback on their work before. This validation might inspire them to write more entries for the poetry competition or even branch out into other creative contests/projects! At the end of the day, the Neopian Times is all about fostering the tremendous creativity found in the Neopian community!
I hope this all helps! Please keep in mind that we receive so many poetry entries for each pet day that unfortunately we are not able to accept everyone, even if they do submit multiple poems. ~~Aesop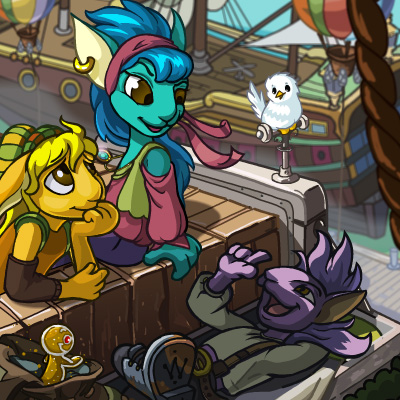 From Neopian Times, Issue 950. JN Editorial ID: 20908
---