Your jnAccount:
Log In
or
Register
| New to Jellyneo?
Click here!
Neopian Times Editorial Database
The Neopian Times Editorial is a (usually) weekly column hosted by The Neopets Team that answers questions direct from Neopians. Unfortunately, these Q&A's are not easily searched on the Neopets site, so we've created our own searchable database. Convenient for looking up past answers!
To search, just type something in the box below! (The fewer words, the better... usually.)
There are 11,815 results for you search.
---
Hi! Are we allowed to participated in the nc portion of charity corner on our sides? I have some nc junk there I'd like to get rid of and I'd like to use the nc prizes on my side pets.~~emaciate
Yes you are but only the nc portion of the event.
From Neopian Times, Issue 913. JN Editorial ID: 20618
---
Hi TNT! It's been awhile since you announce that a new Mutant Pet was on his way. We all get excited, but still we wonder where is it? We know is the Mutant Vandagyre, so please can you tell us when is coming or if the Pet still coming? Thanks in advance.~~paco_39
Yes it's still on its way! Sorry for the delay, we had some other things we had to prioritize before releasing but it should be very soon. Thanks for your patience!
From Neopian Times, Issue 913. JN Editorial ID: 20617
---
I was looking through old screenshots that I took when the Magma Pool guard was sleeping several years ago and I noticed something odd: All of my screenshots circa 2012-2014 indicate a certain time period... and then the one other screenshot I have (from 2017) has a completely different time. What's up with that? Do I have two times when the guard is asleep? Did the times change at some point in the past? If someone at Neopets noticed I was logging in at stupid AM (well, it's stupid AM in my time zone, at least) to re-paint my Xweetok and moved me to a more forgiving time, then thank you, but also I think that's probably not the case. I guess I just want to know what's going on is all. If anyone actually remembers, I mean. But thank you either way.~~harryandpirates
Yes, at one time the times were reset so you don't have two times, just your new time. Glad your new time does work better for you though. :)
From Neopian Times, Issue 913. JN Editorial ID: 20616
---
Hey TNT, I have been playing Neopets off and on for about 16 years now and I just wanted to give my continued thanks for all you do! Neo has always been a safe space for me and I'm glad it's remained that way for so long. I went premium again this year for the bday sale and I just want to send as much positive energy y'alls way for the upcoming ending of Flash as I can. Thanks for keeping a site that acts as a retreat for so many of us active for long! Sites like this are a rarity anymore and I really appreciate it! ~~fizzobob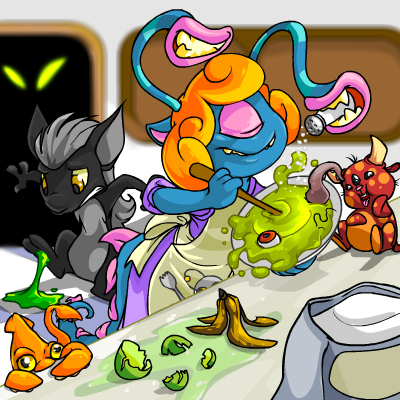 From Neopian Times, Issue 912. JN Editorial ID: 20576
---
Today I bought a Flotsam Beach Ball from another users shop. I have been collecting these little round things that bounce in my Gallery. When I put it in to my Gallery, I noticed I had another one with exactly the same name, though they look different. Is this just an oversight? .. or have the meepits been up to mischief. Hope you can sort it. Both items are in my Gallery under "Bounce " ... Hope you all have a great day. Thanks. ~~maxina__53 Flotsam Beach Ball
Those meepits are at it again. Thanks for letting us know we will come up with a different name!
From Neopian Times, Issue 912. JN Editorial ID: 20575
---
Hi TNT! My Neopets and I absolutely loved the Usukicon event and the new items that came out this year!! All my neopets want a turn wearing the Usuki Doll Packaging Foreground. :D My question though is, how long will the Y22 Usukicon Goodie Bag (neopoint item) be available for? This owner here needs that Caffeine Overload Usuki Bobblehead very badly, as it totally encapsulates my life (and probably someone else's at TNT!). It's probably one of the funniest items I've ever seen. Thanks!! ~~Neopian experiencing caffeine overload
So happy to hear you enjoyed the new items! :) And The Y22 Usukicon Goodie Bag (NP) will be available from now up until the next Usukicon!
From Neopian Times, Issue 912. JN Editorial ID: 20574
---
Hey. Noticed Meat and fruit Kebab doesn't capitalize the word Fruit in the item name. ~~sixlets1
Good catch! Should be fixed now.
From Neopian Times, Issue 912. JN Editorial ID: 20573
---
Hey TNT! Had a question about relationships between characters. Is it still not allowed? I understand there have been important characters that I came accross in the Neopedia that mention romance and love interest (example - King Jazan and Nabile). Is it okay to have our characters be moms and dads for story or maybe a tragic Romeo and Juliet story? Im 100% behind you on characters "dating" between players because that could go so wrong so fast. Please remove my username if you could please.
Sorry to say this but none of those rules have changed. You would not be able to have any romance or love interests, however you can say they are related to one another (just no overly graphic details). So no a tragic love story wouldn't really work within those rules.
From Neopian Times, Issue 912. JN Editorial ID: 20572
---
Some time ago you guys said you were updating the prize pool of the art gallery so people wouldn't get items that have become basically worthless with the pass of time. But I still see people saying they got a codestone, or a dubloon and personally I lost count of how many cheap petpets I've got (acko, apis, etc). Did this update actually happened? I don't expect to win stuff worth millions or anything, but it feels kinda underwhelming to spend a lot of time in a piece, getting picked and getting a prize worth what, 10k? Please remove my username, thanks.
Hi, yes the prize pool for some creative contests (Art Gallery, Caption Contest, Poetry Gallery, and Storytelling Contest) were updated in the Fall of 2018. This does not mean prizes were removed so there is still a chance to get codestones, dubloons and petpets but newer items were added.
From Neopian Times, Issue 912. JN Editorial ID: 20571
---
Hey! It seems like King Skarls Snowbunny is still not appearing anywhere, and I was wondering if you could look into this. Thanks!
I have looked into this and checked with our programmer and he said it is active but it is a very rare drop hence why it is very difficult to find. But it is active and working.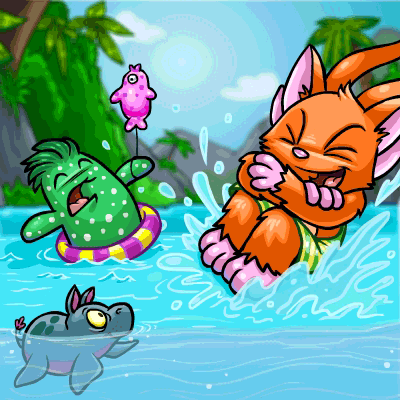 From Neopian Times, Issue 911. JN Editorial ID: 20570
---
Hey TNT! i recently created a new account zombieghosts as my new main but i am regretting doing this is it okay if i switch back to my old main when my Premium runs out? Promise i wont switch again!~~zombieghosts
Sure, you would be able to switch back after your Premium on zombieghosts runs out.
From Neopian Times, Issue 911. JN Editorial ID: 20569
---
Hi! Could you possibly consider making a new Retired Baby Capsule in the NC Mall please? There are very limited options when it comes to dressing Baby Neopets and rereleasing the old items in a capsule would be really fun! Thanks!~~cherry_25
This is great idea, we will definitely try to add this to schedule.
From Neopian Times, Issue 911. JN Editorial ID: 20568
---
Underwater Maraquan Markings are so amazing!! Thank you TNT! But when my maraquan wears clothes the markings hover over the clothes and looks so awkward! Can they be rezoned to marking instead of static?~~_sissiy_sis_369
Yes, they will take a cool minute to sync, but they will be up shortly.
From Neopian Times, Issue 911. JN Editorial ID: 20567
---
Hello! I'm very sad because the yellow, green and blue bruce morphing potions were mistakenly given a rarity of 101 and therefore do not show up in Kauvara's, making them impossible to find. Could a hero come and fix this? I'd be so pleased!~~floons
Donny has gone ahead and adjusted the rarity of those three.
From Neopian Times, Issue 911. JN Editorial ID: 20566
---
Hi! Can you fix the issue that Pirate Marafin and Christmas Sunutek in petpet puddle are unpaintable? These petpets are in the puddle as painted colors aren't set with a base color for the original petpet, so they cannot be created currently. Thanks!~~zackattackplayspkmn
You're totally right, Donny has gone ahead and set those up so they should be able to be made now.
From Neopian Times, Issue 911. JN Editorial ID: 20565
---
HAPPY THOUGHTS:

Just wanted to send a little love your way to thank you all for everything you're doing for Neopia, Neopets, and the fanbase. It brings me (and I know for others too) tons of joy to be able to log in each day, do my dailies and see my pets. I've been here for 13 years, and Neopets is certainly ingrained in my day-to-day.~~flare_baroshi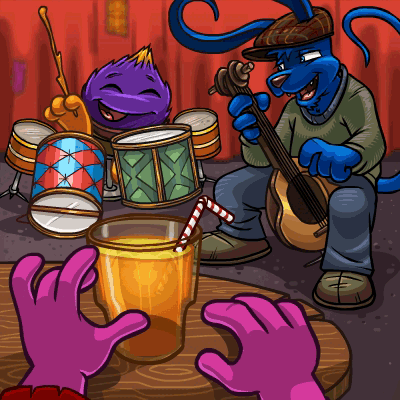 From Neopian Times, Issue 910. JN Editorial ID: 20564
---
Hello! Just letting you know the item "Yoooyuball Pen" has more than the recommended number of O's in it :)~~mopsihog
You're totally right Donny has gone ahead and fixed it!
From Neopian Times, Issue 910. JN Editorial ID: 20563
---
Hi. I was surprised to see a "Random Poetry" round in the Poetry Contest. This hasn't been done in a very long time. Will there be more of these? I was only submitting for Neopian Holidays.
Yes we will definitely try to these more as we can!
From Neopian Times, Issue 910. JN Editorial ID: 20562
---
Hey TNT! Do you think Donny could fix Maractite Dimensional Trap? Its estimated price is set to zero so it's a r99 item that doesn't stock. Thank you!~~acara_575
Woah weird, okay we have now priced this item!
From Neopian Times, Issue 910. JN Editorial ID: 20561
---
The new Garins Collectors Outfit eliminates all hand held items when you put the outfit on. Please add this to your to-do list. ~~only1bocelli
You're right poor zone choice, Donny is going to change it to belt, this change has to sync then it should be available!
From Neopian Times, Issue 910. JN Editorial ID: 20560
---
Hello, around the years 2011-2012 we had NC cards available in Mexico, I was wondering if you plan on bring them back to that country, I think there's quite a lot of players that would benefit from it, I hope you do, thanks for being awesome :D~~principe
Yes we are actually working on restocking them so keep an eye out!
From Neopian Times, Issue 910. JN Editorial ID: 20559
---
Hi TNT! Thank you guys for clearing up the BC. Also loving this month's collectible. We have recently been seeing Unconverted pets being deleted, and their lookup says the pet's name has been deemed inappropriate. However, all of these pets were made at a time where their name WAS appropriate, and these pets were stated to be grandfathered in, as the rule was not in place then. Why are these pets being deleted now after so long? Thanks so much! ~~mindy_rocks_socks
Unfortunately our filtering system is not perfect. It's a living filter that we have added to and removed from over the years. Some names have been created to circumvent our filters and have escaped our notice. Every once in a while one of these situations is brought to our attention and we then have to take some kind of action. This is due to the fact we are an all-ages site. If a name is deemed to be inappropriate, it must be removed. There's no way around this. If it is in a grey area and can be grandfathered, that is of course always preferable!
From Neopian Times, Issue 910. JN Editorial ID: 20558
---
hey, just a quick lil question. if I accidentally submit a piece for the art gallery on my side, am I allowed to resubmit it on my main without getting in trouble? ~~calicotabbies101
Sure, you can submit the entry from your main account. If the wrong entry is accepted, please open a ticket and they can pass on any messages to the contest judge to get them changed. :)
From Neopian Times, Issue 910. JN Editorial ID: 20557
---
Hi TNT, may you please let us know when the next Premium Sale is on? Thank you!~~bubbles150
Yes it is currently live as of today! This will be available till the 8th of September!
From Neopian Times, Issue 910. JN Editorial ID: 20556
---
BC contestants can post on a board with our BC link in our signature, and we can only create a boards that advertise our BC entry in Art, Spotlight, and Premium. But I have seen users create boards with their BC link in their signatures outside of Art, Spotlight, and Premium. These boards are offering SSW searches for quests and offering a VWN or UC neopet up for adoption with their BC link in the original post. I feel like this is a Quid Pro Quo and violates the spirit of the rules. Is this allowed? Will I need to buy premium or put an UC UFA if I want to win BC gold? ~~ere173
HI, You are right, you can only create a board with the sole intent of advertising on the Art, Spotlight and Premium Boards. On those boards you can talk about your entry in any part of your post, NeoHTML, main body of the board, subject line, and of course in your NeoSig.
Now outside of those boards, you can only have a link in your NeoSig, nothing in the subject line, NeoHTML or body of the message discussing your BC link or entry. That includes on the Avatar board!!
Those boards (trading pets or offering quest help) are fine as long as they keep the BC link in their NeoSig only and do not discuss it any other part of their posts and are actually trading or giving out help.
If you see posts outside of the Art, Spotlight or Premium boards that link to or discuss their BC entry anywhere but in the NeoSig please report the boards so we can get them removed and keep things fair!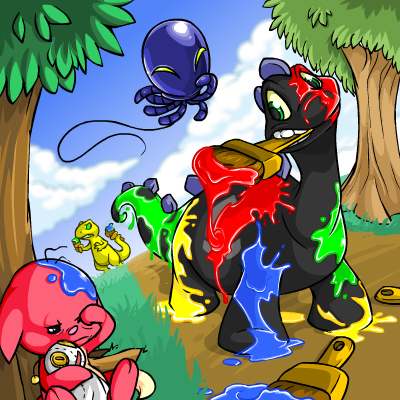 From Neopian Times, Issue 909. JN Editorial ID: 20555
---
I was wondering if we could have a Mutant Vandagyre for Mutant day next month.
This is something we are considering so...i guess we will see when the day comes...
From Neopian Times, Issue 909. JN Editorial ID: 20554
---
Hello! There are currently two items with the name Yooyuball Cake Pops, one of them is from last year's Altador Cup, and one is from this year. Could the one from this year please be renamed to something slightly different?~~ lucky3005pig
You're right we have gone ahead and changed the newer one to classic yooyuball cake pops.
From Neopian Times, Issue 909. JN Editorial ID: 20553
---
Hey TNT! I know you guys have been really busy with the mobile beta, site events and everything else that's going on, but can we expect a new round of the Random Contest still this summer? Having at least one edition of it per year would be really helpful for us Avatar Collectors! Thank you~~acara_575
Yes we are hoping to do a contest soon, not sure exactly when but we really want to do another one!
From Neopian Times, Issue 909. JN Editorial ID: 20552
---
Hi! There was recently a Daily Puzzle question that stated: "What board can you NOT create a post on with the sole purpose of advertising your BC entry?" The correct answer was, "Avatar Board." Why is this the case? Earning a trophy in the BC gets you an avatar, so it's at least somewhat related. Or, does this just mean that you can't make a board solely for that purpose? There's been so much back and forth over what is and isn't allowed in BC advertising. It would be really helpful if there was a complete guide containing the rules to prevent confusion. Thanks. ~~redturtlegirl12345
Right, you cannot make a board strictly for advertising your entry on the Avatar Board. However, you can have a BC Link in your NeoSig and chat on the Avatar Board.
So let's do this:
Boards specifically made to bring attention to your BC entry can be made on the Art Board, Spotlight Board or Premium Boards ONLY.
Your Neosig, with a link to your BC entry, can be posted on any board as long as you contribute to the conversation. Now, since the Quest board does not really have conversations that bring up questions about having the link there, let's get this out there. You are welcome to keep your Neosig while helping with quests on the quest board (meaning as long as you are providing links to members who ask for help).
To answer the next question about the quest boards that you might be thinking, you do not have to have been a long time poster on the quest boards to post there even with our BC link. To make it fair to everyone, anyone who is willing to help, can help!
One more thing, please keep your advertising outside the Art, Spotlight and Premium boards in your Neosig, this means nothing in the body of your message and nothing in the NeoHTML.
Kikocat is working with some others to get a list of rules up, although right now there isn't a timeline for that. Hopefully this helps in the meantime!
From Neopian Times, Issue 908. JN Editorial ID: 20551
---
Hi TNT! So I was lent a few pets over the past week or so to obtain avatars by this really cool person. She has a whole page dedicated to her pet lends, but no buttons to link back. As I love a reason to design, I thought I'd create one for her. But before I do, I figure I'd better check in with you guys. Would this be considered a "tip" and therefor be against the rules? Please remove my username.
Hello! That sounds like a great gift. It would not be viewed as a tip so you would be fine!
From Neopian Times, Issue 908. JN Editorial ID: 20550
---