Your jnAccount:
Log In
or
Register
| New to Jellyneo?
Click here!
Neopian Times Editorial Database
The Neopian Times Editorial is a (usually) weekly column hosted by The Neopets Team that answers questions direct from Neopians. Unfortunately, these Q&A's are not easily searched on the Neopets site, so we've created our own searchable database. Convenient for looking up past answers!
To search, just type something in the box below! (The fewer words, the better... usually.)
There are 11,830 results for you search.
---
Hi TNT, when will we be able to spin the Wheel of Extravagance again?~~mabi1234
This is now available with the new update!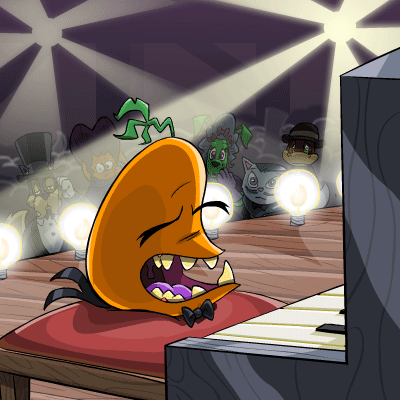 From Neopian Times, Issue 926. JN Editorial ID: 20724
---
The Dazzling Fireworks Gift Box Mystery Capsule is so cute!! I love that the "box" is a different shape than the usual standard cube. So creative!
Glad you like it, I like it as well we might try to do it more!
From Neopian Times, Issue 926. JN Editorial ID: 20723
---
Hi TNT! I was wondering if we could get a Valentine's Day Retired Mystery Capsule this year? We haven't had one since Retired Valentine Mystery Capsule in 2015 and I'd love the chance to be able to get more Valentine's Day items! List of RR items on /~Mekera. Thank you :)
Hi there, this is a great idea! However, we have actually decided to release a Sweetheart Grams Retired Mystery Capsule! But we will definitely try for this next year!
From Neopian Times, Issue 926. JN Editorial ID: 20722
---
Hi. When will the Random Contest be judged? I'd like to know if I won.~~_brainchild_
The contest has been judged! Now we are just trying to get the winners posted which takes some time but we are working on it! Should be up soon!
From Neopian Times, Issue 926. JN Editorial ID: 20721
---
With the ongoing craziness in the world, I've noticed that RL topics are pushing their way onto the site, specifically things like politics. My question is this; Are discussions concerning politics permissible or should it be kept in other, more appropriate forums offsite? Please remove my Username if you choose to answer this question. Thank you!! ~~Anonymous
Sorry but the discussion of politics is not allowed on the boards under any conditions so if you see any boards about politics please let our monitors know by using the abuse report form and those boards will be reviewed.
From Neopian Times, Issue 926. JN Editorial ID: 20720
---
Hey TNT, I'm venturing into the world of professional journalism (just got my first check!) and the excitement of seeing my name in print has been immense. I looked at my profile today and remembered the very first place I ever got published was right here in the Neopian Times, all the way back in Y12, and how excited I was to be in here. Thanks for keeping the site going and for being such a part of my adolescence! ~~qgqg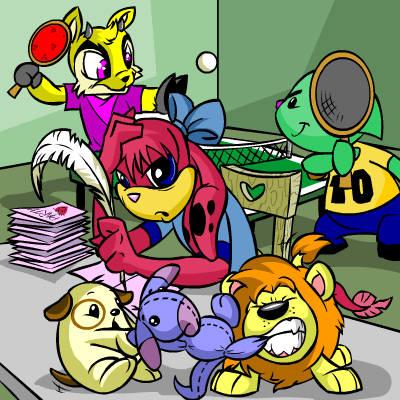 From Neopian Times, Issue 925. JN Editorial ID: 20719
---
If a user sends in multiple captions for the Caption Contest, how do you choose which one to use? And are you allowed to send in multiple captions? ~~anonymous
Yes users are allowed to send in multiple captions. And if we come across multiple high-quality captions from the same user, we try to pick whichever caption we think fellow Neopians would find the most relatable/humourous.
HAPPY THOUGHTS:
From Neopian Times, Issue 925. JN Editorial ID: 20718
---
Will there be an option to switch between Classic Mode and Beta Mode when the site overhaul is finished? ~rocket91__h_h
Unfortunately, no. We just can't feasibly maintain two completely different site layouts, so once a page has been converted to the beta, the classic version will no longer remain. ~~gutterfoot
From Neopian Times, Issue 925. JN Editorial ID: 20717
---
Is this the final version of the inventory? It is missing vital links such as to quick stock and SDB and my active pet is reduced to a partial image, which, when clicked, doesn't give its stats. As a user, this page simply doesn't function well. ~jaydeed
We are actually updating the inventory to include these links in our next release! This won't be the final version either, as we are planning future changes as well. ~~gutterfoot
From Neopian Times, Issue 925. JN Editorial ID: 20716
---
Hello TNT! Would it be possible to restore the old shop wizard while the new one gets fixed? Not being able to refresh the results is really annoying, and the old wizard doesn't need Flash anyway, as far as I am aware. Thank you for considering! ~~ petitehirondelline
We actually have a fix for this coming next week! Sorry to keep you all waiting. ~~gutterfoot
From Neopian Times, Issue 925. JN Editorial ID: 20715
---
Do you think after the flash conversion there could be an "I survived the flash conversion of 2021" avatar? It would be quite the milestone for us old-neopians. ;) ~~juliadoglover11405
10000% yes. Hard agree. ~~gutterfoot
From Neopian Times, Issue 925. JN Editorial ID: 20714
---
Hi TNT! I've been trying to get my customization on my main to work. I've been taking out alot of items from closet from about 6500 to 3000 but it still does not work! However it does work on my side where I only have about 1300 items. Is it a limit on how much the new version can have in the closet for it to work? Can you please give us a update? Also are you working on updating the new version so we can have more items in it? Alot of us can't customize anymore and I hope that you can fix this soon please! ~~greyfever
This bug has not been easy to identify, but we're working our hardest to try to fix it. It doesn't seem to be related to closet size, as this is happening with accounts that have both small and large closets, but we aren't completely discounting it either. We do recommend having a maximum of 650 items in your closet though, as noted in your preferences. We also just posted up a survey to try to gather more user information here: https://www.surveymonkey.com/r/BMW7DT8 ~~gutterfoot
From Neopian Times, Issue 925. JN Editorial ID: 20713
---
Hello TNT! I've been hearing a lot of rumors concerning an upcoming conversion that will affect the coding of petpages, pet lookups, and userlookups. I've even heard rumors that petpages will be done away with entirely! There are all these rumors, but I can't seem to find any set-in-stone facts. As someone who loves working on my petpages, and who knows many people who love building petpages for their pets as well, I was hoping you could offer up some information concerning this and may be put some of our fears to rest. Thank you so much!! ~~josephinefarine
We are absolutely not getting rid of petpages, pet lookups, or user lookups! They are an integral part of what makes Neopets Neopets and encourages people to learn to code and show their creativity, which is so important. ~~gutterfoot
I thought I put this rumor to bed, but its woken up in the middle of the night for a glass of water. Fear not! We want to give you access to CSS3 features for all these pages, but can't promise everything will make it in, just in case some of the new code options present security risks. Customizable pages won't be going anywhere, nor do we plan on getting rid of your existing code. However, because we'll be providing tools for making pages mobile friendly, and wrapping them in the mobile friendly site template, some of your old layout code might look broken when viewed on smaller devices. I know for me the fun of coding is in problem solving, so I hope you'll be willing and excited to update and adapt old page templates with the new flexible layout tools when they're eventually rolled out! To read more on the subject, check out the editorial in issue 917! ~~van Doodle
From Neopian Times, Issue 925. JN Editorial ID: 20712
---
Hi everyone! I know you all are busy with the end of flash, and getting everything done. But will there be more pet slots in the foreseeable future? I think with everything going on, it'd get more users, who have been playing less due to the change, like myself, to come back. Trading for a new pet, working towards saving for a new pet, making an outfit(s) for the new pet, it may give us something to do C: pretty please, I need more space haha. Have a great day! ~~pinkpuppies
Adding more pet slots is definitely a goal for this year. We want to make sure we have everything fixed with customization and have the beta in a better state before moving onto pet slots though. ~~gutterfoot
From Neopian Times, Issue 925. JN Editorial ID: 20711
---
Thank you so, so much for the filter change, TNT! I'm so glad you're willing to listen. Here's to a bright future for all identities!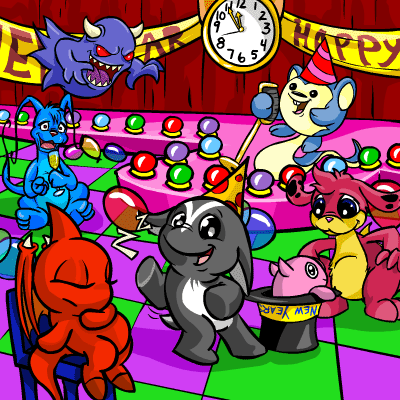 From Neopian Times, Issue 924. JN Editorial ID: 20710
---
HAPPY THOUGHTS:
From Neopian Times, Issue 924. JN Editorial ID: 20709
---
Hi. Has the new Kacheek color for Kacheek Day (Jan. 29th) already been drawn? If not, I'd like to see an Oil Paint Kacheek. (One that isn't primarily blue because I have so many blue-looking pets already) Right now, only 10 species can be painted Oil Paint, so I'd like to see more. Thanks. ~~_brainchild_
New pet day outfits and colours are usually submitted at least a month in advance so our artists have enough time to make them look amazing. That being said, I think you will be very happy with the colour that was chosen for the upcoming Kacheek Day...
From Neopian Times, Issue 924. JN Editorial ID: 20708
---
Hi TNT, with flash coming to an end, what are the tentative plans for NC Games? I have quite a bunch of tokens in game. Do I need to spend and use them all before flash ends? or will they still be around for the conversion? ~~prada_prince
Shenanigifts actually does not run on flash, so it is still totally playable! As for the others, we are still working on converting them soon as we can but until then you can still play them on classic.
From Neopian Times, Issue 924. JN Editorial ID: 20707
---
While I applaud your change in the board rules, in less than 24 hours, I have noticed a slew of harassing messages. Not against gay/trans people, but against straight people. These messages are rarely getting deleted, and I find it be very hypocritical of the rules you posted about using someones gender/orientation against them. These changes should not allow hate of any kind onto the boards. ~~anonymous
Harassment can go both ways and should NOT be done to anyone regardless of who they are. Please do not use the new rules as a reason to harass anyone.
From Neopian Times, Issue 924. JN Editorial ID: 20706
---
Hello! I'm so happy to finally be able to be out on Neopets! I was wondering if this will also extend to guilds? It would be nice to have aLGBTQIAP+ Guild to call home. ~~iheartcorn
Yes, those rules go to the entire site so having a guild would be fine, in fact I have seen a few already around.
From Neopian Times, Issue 924. JN Editorial ID: 20705
---
Hello TNT! I noticed that the National Neopian Bank teller says "Good evening, sir.", despite my gender being set to 'Other'. Given the changes you've made recently for the LGBTQIA+ community, is it possible to remove the 'sir' part for accounts with genders set to 'Other' or something like that? ~~cressling
Hi, this should be updated on the new Beta version that is out now. However, if you notice there are some places that still need updating because of this please be sure to let us know!
From Neopian Times, Issue 924. JN Editorial ID: 20704
---
Happy new year to you and the rest of TNT! I am fortunate enough to have a setup to play Flash games after the 12th of January, and so I was wondering: Is it against the rules to send scores for, say, both the Flash and HTML5 versions of a game? I was assuming it was and avoided doing so to be safe, but I, and many others, would enjoy the clarification. Thank you so much, and I hope you enjoy your Y23! ~~doctor_marie
Yes, sorry but this would fall under the same rules as playing mirror games. Please be sure to only play and send your score on either the HTML5 version or classic version, but not both since that would be cheating.
From Neopian Times, Issue 924. JN Editorial ID: 20703
---
Season Greetings from Aesop
Happy Holidays Neopians! I wanted to thank you for your wonderful submissions for the Holiday Edition of the Neopian Times. We received some phenomenal articles, touching stories, and some of the most hilarious comics I've ever seen! Due to the upcoming holidays, this will be the final Neopian Times released until next year. Hope you all enjoy this time with family, friends, and your neopets. See you next year! ~~Aesop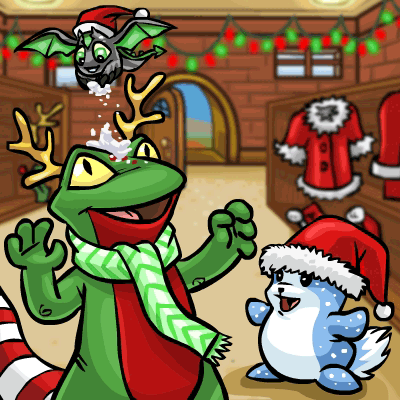 From Neopian Times, Issue 923. JN Editorial ID: 20702
---
So I like using beta because it doesn't lag as much because of ads trying to load every five seconds (no google, i don't want to buy a car -no tags here-:C) but I noticed that the non-existent "Jelly World" hasn't been converted like the other worlds, which makes sense because it doesn't exist, but if it isn't too time consuming, could you put it on your list of things to convert? I mean it doesn't exist so it would be hard to convert, but still. I think you know what I mean :P ~~mnvt9_
Jelly World doesn't exist. But yes, we'll be converting the Jelly World pages as well. We've already converted Giant Jelly, and the map as well as the remaining pages will be converted as well. We won't be losing it! But then again, we can't lose it if it doesn't exist... ~~gutterfoot
From Neopian Times, Issue 923. JN Editorial ID: 20701
---
Now that flash deadline is over shortly, will we be focusing on other things like a much needed purge and reimplementation of pound_release? When pound_release is turned back on do you still plan on speeding up the releases? Thank you! ~~ xxkittyphyrexx
Although the flash deadline is over, we're still far from completing our general flash goals. There's a lot of work that still needs to be done, but luckily the updated Pound is something that's coming soon. As we work on converting that, I'll have the team take another look at pound_release. ~~gutterfoot
From Neopian Times, Issue 923. JN Editorial ID: 20700
---
Hi TNT, thank you for all the hard work that has gone into the site for the conversion in the past year. I was wondering if when concert hall gets an upgrade, can we also get some new bands? my Neopets love the usual line up, but my they also think its time for some fresh talent. :) ~~meaty_pies
I love this idea as much as I love your username. Yes, I think it would awesome to add new bands. Can't think of a single reason why not! ~~gutterfoot
From Neopian Times, Issue 923. JN Editorial ID: 20699
---
Customization in beta won't even load for me on my main here! If it does load then I can't see my items and if I click ANYTHING the whole page breaks and goes white. Will the customization page get converted too even though its broke??? Or will it be left optional since not everyone can use it??? I need to know that way I can dress my pets with my fav outfits before then so that way they're stuck look great lol ~~_sissiy_sis_369
We've heard about this issue from a lot of users and are hoping to get it fixed early 2021. Because of the bugs within the new version of customisation, I did talk with the team about keeping the existing customisation page similarly to how we are planning to do with the old games room, where we'll just move it to a new URL that users can still access. Again, we hope to fix this ASAP! ~~gutterfoot
From Neopian Times, Issue 923. JN Editorial ID: 20698
---
Hello TNT! I just watched your video on Youtube. Thanks for all the info! You don't talk about what will happen about the languages and their forums, though and we don't have the button to switch language when in beta... Now I know foreign languages haven't been supported in years and switching language is full of bugs anyway, so I understand you might not have plans to convert that feature. However I would really like to be able to have a place for my French-speaking friends and me to go to chat, where we don't get drowned in the English-speaking majority. Do you have plans for the other languages? If not, may I suggest that you add boards for other languages? Like, we could all use the English version of the site, but in the list of boards, you could add one board for each foreign language? Just so we have at least one place we can all gather? It would be great! Thanks again. ~~petitehirondelline
Hi! I know languages haven't been a priority for a while now and it's something I personally want to make sure we tackle as soon as we can. Neopets has always been a worldwide game that should be able to be enjoyed by everyone, in any language. We don't have any concrete plans right now because conversion has taken over our world that last few years, but it isn't something we have abandoned permanently. Especially as we continue to grow Neopets as not only the site, but also a brand, we want to make sure we can reach everyone who wants to be reached. :) Wish I had a more concrete answer for you in terms of timing, but wanted to let you know that at the very least we're talking about it! ~~gutterfoot
From Neopian Times, Issue 923. JN Editorial ID: 20697
---
MORE MOBILE QUESTIONS
From Neopian Times, Issue 923. JN Editorial ID: 20696
---
My cybunny can't wear her queen of the forest fantasy antlers with her elegant holiday tree dress! How sad! She's just doing her best. Can you help her out?~~ heyaurora
Oh dear that's not okay she needs her perfect outfit! Donny made a few snips to the dress and it should be all good now!
From Neopian Times, Issue 923. JN Editorial ID: 20695
---