Your jnAccount:
Log In
or
Register
| New to Jellyneo?
Click here!
Neopian Times Editorial Database
The Neopian Times Editorial is a (usually) weekly column hosted by The Neopets Team that answers questions direct from Neopians. Unfortunately, these Q&A's are not easily searched on the Neopets site, so we've created our own searchable database. Convenient for looking up past answers!
To search, just type something in the box below! (The fewer words, the better... usually.)
There is 1 result for you search.
---
Hey, TNT! You're all so lucky to be working for such an awesome site. Any chance you can end this Editorial with a picture of a Cybunny wearing a silly hat? ~pinkprincess899
Here you go!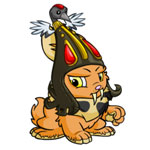 Doesn't he look THRILLED?
**Community Notice**
We discovered a glitch this morning with the new avatar, which was causing it to be granted in ways that were not intended. If you got it already, no reason to worry or write in, but we have also fixed the glitch so it will no longer be given out in this unintended manner.
From Neopian Times, Issue 532 · Published February 10, 2012 · JN Editorial ID: 14985
---