Your jnAccount:
Log In
or
Register
| New to Jellyneo?
Click here!
Dubloon-O-Matic
Off the shore of Krawk Island, lies a very strange machine that allows you to combine your Dubloons into higher denominations.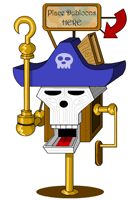 So, yer in need of exchangin' some Dubloons, eh? You've come to the right place!
Combining Dubloons
Dubloon exchanging can help you organize a large collection of Dubloons. Here at the Dubloon-O-Matic, you can exchange several of your Dubloons for one of a higher denomination. For example, you may combine two Five Dubloon Coins into one Ten Dubloon Coin.
With the Dubloons in your inventory, check the boxes underneath the Dubloons you wish to exchange, then select the Dubloon denomination that equals to the same amount in the drop down box. Note: You cannot go the opposite way and split any high denomination Dubloons into lower denominations with this machine!
Dubloons
Here's a list of all the Dubloons currently available. In the table below, you can click on the item images to view more information about them in our Item Database!
This list doesn't include Dubloons that have no denomination or worth, like the Toffee, Clay, and Platinum Dubloons. They may look cool or be extraordinarily expensive, but they're actually useless.
Worth It?
Exchanging your Dubloon coins for a higher Dubloon denomination is usually not a good idea, as the lower denominations are usually worth more Neopoints when sold individually. (For example two Five Dubloon Coins may be worth more Neopoints than one single Ten Dubloon Coin.) Check the price ranges for each Dubloon denomination before you make your exchange, unless you don't mind the Neopoint value difference.
Splitting High Denomination Dubloons
There are two ways you can split higher denomination Dubloons for lower denominations. However, both involve receiving change for a purchase with your Dubloons, so you will lose Dubloons in the process.
The Golden Dubloon
When you purchase any meal from The Golden Dubloon with a Dubloon of a higher value, you will receive the appropriate Dubloon 'change' in your inventory, which will be a lower denomination.
Little Nippers
When you purchase a petpet from the Little Nippers with a Dubloon of a higher value, you will receive the appropriate Dubloon 'change' in your inventory. Most of the petpets in this shop require a lot of Dubloons, so buying one of the cheaper petpets would be best.
Using Dubloons
Dubloons may be used around Krawk Island. You may spend them at the following locations:
Help us improve!
Did you find what you were looking for on this page?
This article was written by: Terry