Your jnAccount:
Log In
or
Register
| New to Jellyneo?
Click here!
Deckball
Deckball Information
World:

Trophies:

Neopoint Ratio:

0.24 Points =
1 NP

Our Difficulty Rating:

20%

[Send in a Game Tip] - [Return to the Game Guide Index]
Long ago, in the now faraway past that is Year 3, the Neopets Staff had a competition between themselves in the Krawk Island Deckball Championships. It lasted two weeks, with Mr. Roboto eventually emerging as the winner.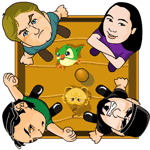 Game Types
There are three difficulty levels: Swabby (easy), First Mate (medium), and Captain (hard). You'll only be able to make Neopoints if you play on the "Captain" difficulty level of any of these games.


In this game, you can choose to play as either a Mirgle or Pawkeet in a match of ship deck soccer. Using the arrow keys to control your player, you basically try to bump the deckball into the other petpet's goal. Sounds easy right? Sure...
Survival
In Survival mode, you have to score as many goals as you can before your opponent scores a goal on you. There is no time limit, and so in theory this is the mode you can get the highest possible score, but I think of this as the most difficult mode because the amount of time it takes the computer to score can be less than thirty seconds. Each goal you make is worth 20 points at the end of the game.
Timed
You have three minutes to beat the computer. Not too difficult, as you have plenty of time to make up for points as the computer scores against you as well. Each goal you make is worth 20 points at the end of the game.
Points
Here, you have to score five goals before the computer does to win. If you earn all five goals in under 360 seconds, you will earn 50 points. If the computer scores five goals before you do, or you take 360 seconds or longer to score your five goals, you earn 0 points.
??? seconds to 360 seconds: 50 points
In-Game Events
Like the random events that TNT loves so much, there are random happenings in a game of Deckball as well. Power-ups don't appear all that often, and depending on the type it may stay for a whole round or only for a few seconds.
Power-Ups
| | |
| --- | --- |
| Image | Effect |
| | This will slow down your petpet, not the other petpet. |
| | This will speed up your petpet. |
| | Sometimes a Mynci will appear in a lookout in the middle of the deck, blocking the ball and the petpets. This stays for the whole round after it appears. |
| | Walls and trap doors can appear briefly in front of a goal. Walls block the ball and petpets from going in, while trap doors will respawn the ball in the middle of deck moving slowly towards the opposite goal! |
Strategy
If you are playing on Survival mode, always play defensively. Stay on your side of the field and try to keep the ball away from your goal, as the Mirgle is faster than you when playing on the hardest difficulty.
In Points mode, try to play offensively as there is no penalty if the Mirgle makes less than five goals.
When playing on Timed mode, keep in mind that the Neopoint prize depends on how many goals you score: one goal equals twenty points. Avoid the anchors, as well as crackers if you have steering issues with the higher speed.
Help us improve!
Did you find what you were looking for on this page?
This game guide was written by: DragonBeak