Your jnAccount:
Log In
or
Register
| New to Jellyneo?
Click here!
Better Than You
Better Than You Information
World:

Trophies:

Neopoint Ratio:

1.00 Points =
1 NP

Our Difficulty Rating:

50%

[Send in a Game Tip] - [Return to the Game Guide Index]
As of February 4, 2021, Better Than You has been discontinued. Due to the end of Flash, there are not many games to choose from, so BTY has gone on an indefinite hiatus. It is unknown when (or if) it is planned to return.
Better Than You is a weekly "game show" which tests your ability in various Neopian games. Every Wednesday, a new challenger is announced in the New Features and you have to beat a certain score in the chosen game to get a prize. The challenge is not only about how good you are at a game, but also about how fast you can beat the game after the challenge is announced. It's a combination of luck and skill.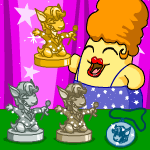 It can be a matter of waiting for it to be a game you're good at, but you also have to be aware of how many other players on the site will be good at that game too. Getting the score may not always be the most challenging part. Only the first 500 people to achieve the set score are eligible for a prize, and if you're not in those first five hundred you get nothing. The prizes are as follows:
Winners #1-10: You get a gold trophy, 20,000 Neopoints and an item relating to the game you played for (featured on the page along with the challenger's score to beat).
Winners #11-50: You get a silver trophy, 10,000 Neopoints and the same item as first place.
Winners #51-500: You get a bronze trophy, 3,000 Neopoints and the same item as first and second place.
Winners #500+: The only thing you get as a runner-up is a Better Than You medallion.
All 500 winners also get the Better Than You avatar for use on the Neoboards.
If you happen to win multiple Better Than You contests and receive a higher trophy, it will replace your old trophy on your userlookup. Your lookup will only ever show one Better Than You trophy at a time, though gold trophies stack: if you get gold multiple times, it will be reflected on your lookup! If you get a certain trophy in one round and in a later round qualify for a lower level trophy, your trophy will not be demoted.
Strategy
There aren't many tips that you can give for this kind of challenge as it varies from week to week. You just have to hope that you'll be good at that week's game, or wait until the game of the week is one that you're good at. If you want to improve your speed, however, there is a slightly sneaky way of trying to get a heads up about what game it will be in advance.
Each week, TNT uploads the Better Than You image that corresponds with the challenge a little while before the contest is actually updated. If you change the number at the end of the image URL for the current challenger to the next number, you may be able to see the next challenger who will step up to the plate. Since the challenger usually has some relation to the game, you should be able to have an educated guess at what the next challenge will be and so will have some extra time to practice. Remember, however, there's no guarantee that the score you get will be the score TNT wants, though it at least gives you a fair warning as to what game you may have to play.
Further, the Better Than You page will update a little bit before the New Features are updated, so you can also get a headstart by refreshing that page on Wednesdays. With this, you'll at least know for sure the game and the score you need, but if you're not rapid then the gold trophy could easily slip through your fingers!
Challengers
The Better Than You challengers are usually already-known characters from around Neopia or from Neopian history. However, occasionally the challenger is a brand new character! To see a list of Better Than You-exclusive characters, head over to its category in the Book of Ages.
Even when the challengers are an existing character, they are often presented with new artwork. To see all Better Than You challengers' pictures, head over to its category in Dr. Sloth's Image Emporium.
Better Than You
Win the Better Than You competition.
Released: August 29, 2003
Help us improve!
Did you find what you were looking for on this page?
This game guide was written by: Sirius