Your jnAccount:
Log In
or
Register
| New to Jellyneo?
Click here!
National Neopian Bank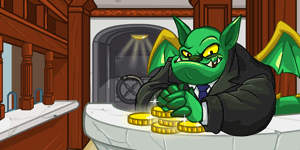 The National Neopian Bank is a place where you can safely keep your Neopoints. They cannot be stolen or affected in any way by random events. (By contrast, some random events do steal Neopoints from your cash on hand!)
Opening an Account
When you visit the bank for the first time, you'll be asked to fill out a form to create a new account:
What you put for name, address, current employment, and annual salary don't matter. Feel free to put something silly if you'd like! However, we'd recommend you do not use your real address when filling out this form.
When choosing your account type, you'll want to choose the highest category that you can afford, so you can maximize your daily interest (we'll discuss interest later in this article). Your initial deposit will need to fit the minimum required Neopoints for the account type you've selected.
For example, if you have 12,000 Neopoints on hand, you can select "Super Gold Plus". Then you'll make an initial deposit of at least 10,000 of your Neopoints.
Deposit/Withdraw
Deposit
To put Neopoints into the bank, enter the amount of Neopoints you want input into the "Amount" box within the "Deposit Neopoints" box. You cannot deposit more Neopoints than you have on hand. Once you press the "Deposit" button, a pop-up box will display, asking you to confirm the deposit. If you would like to then select "OK", if not select "cancel".
There is also a secret avatar available by depositing Neopoints on your Neopet's birthday.
Good Day at the Bank / Guide
Deposit Neopoints into your bank account on your active Neopet's birthday. You will receive a Neomail notifying you of receiving the avatar instead of seeing an event. As a shortcut, you can create a Neopet, as the day its created will also count as its birthday.
Released: August 29, 2018
Withdraw
To take Neopoints out of the bank, you will need to enter the amount of Neopoints you want to take out in the "Amount" box within the "Make a Withdrawal" box. You cannot withdraw more than what you currently have in your bank account. If you have a 4 digit PIN setup, you will need to enter that code and the amount of Neopoints to take out before you press the "Withdraw" button. After the button is clicked, a pop-up box will display, asking you to confirm the withdraw from your bank. If you would like to then select "OK", if not select "cancel".
You may withdraw Neopoints from your bank account up to 15 times per day. After you have withdrawn 15 times in a single day, you will be given an error when attempting to withdraw.
Collecting Interest
At the National Neopian, there is an interest program set up for all Neopians to take advantage of that allows you to collect a daily sum of Neopoints. As the amount of money you have in the bank increases, you can bump up your interest rate, which is good for you! You must collect your interest everyday in order to receive the Neopoints, and this needs to be done before you deposit or withdraw any Neopoints. It's a great way to make some extra money by doing nothing!
Interest Rates
Below is an outline of each account type and the percentage of interest you would get with that account. You may upgrade your account type whenever you reach a new balance threshold. If you ever dip below your current account's minimum balance, you can still keep the existing interest rate.
Available Interest Rates
| | | |
| --- | --- | --- |
| Account Name | Interest Rate | Minimum Balance |
| Junior Saver | 4.5% | 0 NP |
| Neopian Student | 5.5% | 1,000 NP |
| Bronze Saver | 6.0% | 2,500 NP |
| Silver Saver | 6.5% | 5,000 NP |
| Super Gold Plus | 7.0% | 10,000 NP |
| Platinum Extra | 7.5% | 25,000 NP |
| Double Platinum | 8.0% | 50,000 NP |
| Triple Platinum | 8.5% | 75,000 NP |
| Diamond Deposit | 9.0% | 100,000 NP |
| Diamond Deposit Plus | 9.5% | 250,000 NP |
| Diamond Deposit Gold | 10.0% | 500,000 NP |
| Millionaire Platinum | 10.5% | 1,000,000 NP |
| Millionaire Double Platinum | 11.0% | 2,000,000 NP |
| Millionaire Mega-Platinum | 11.5% | 5,000,000 NP |
| Neopian Mega-Riches | 12.0% | 7,500,000 NP |
| Ultimate Riches! | 12.5% | 10,000,000 NP |
Random Event
If you're really lucky, you might get the following random event which will allow you to collect your interest for a second time in one day!
Good afternoon, sir or madam. It seems we may have made a slight error with your account. Nothing to worry about, though; everything is just fine now. We've even reset your daily interest for today, so please stop on by to collect it. Please accept this Virtupets Toaster with our compliments.

Effect: Bank interest is reset for the day and a Complimentary Virtupets Toaster is added to your inventory.
Battleground Boon
It is possible to increase your interest rate by other means. Certain factions give the opportunity of activating the Bank Bribery boon if you side with them and they emerge victorious from the Battleground of the Obelisk. This boon allows you to temporarily increase your daily interest rate by 3% for the duration of the week-long truce. After that it will revert back to what it was before.
Interest Calculator
You can use this calculator to figure out how many Neopoints you need to reach a certain daily interest amount. Simply select your current interest rate and type in how many Neopoints you have in the bank to get your current interest rate. You can then play around with the numbers to figure out what amount of NP you may need to get a certain daily interest. For example, you need 29,197,080 in the bank to get 10,000 NP in daily interest at the top interest rate!
Interest Calculator
Account Type:
Battleground Boon?
+3% interest
Neopoints in the Bank:
NP
Daily Interest:
NP / day
Note: When going from daily interest to NP in the bank, due to rounding errors, there is a small margin of error.
Maximum Neopoints
The maximum amount of Neopoints the bank can store is 2,147,483,647 NPs. While this may seem like a very random number, it is actually a common integer limit in many games due to technical reasons, equal to 231 - 1. Your on-hand NPs and Shop Till also have separate limits at this same amount.
If you attempt to deposit Neopoints above this amount, any extra Neopoints above the limit will simply disappear. After depositing, the bank page will display a number above the limit as if the deposit were successful; however, upon refreshing or returning to the page, the extra NPs will not be maintained.
The same disappearance will occur when withdrawing enough Neopoints such that your on-hand total will exceed the limit.
Help us improve!
Did you find what you were looking for on this page?
This article was written by: Dave