Avatar Collecting
On August 5, 2003, TNT introduced an overhaul to their message system, known today as the Neoboards. Included in this update was a new feature: 50x50 pixel pictures, known as avatars, that accompany your posts. Since then, collecting avatars has become one of the most popular activities on Neopets!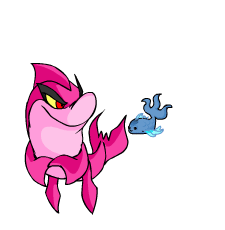 That's one way to collect them, I guess...
Avatar Collecting
The foundation of your avatar collection is your Neoboard Preferences page, the top of which includes a dropdown with all the default avatars plus any secret avatars you have unlocked. Every user lookup also includes a space that publicly shows your current avatar just above the total number of secret avatars the user has unlocked.

An example of a user's avatar count on their user lookup
For most (but not all!) avatars, you will be informed when you have unlocked an avatar either in a pop-up or somewhere on the page, always in the same format as the example below.
Secret Avatars
Secret avatars are those that do not come standard with any Neopets account. Some action must be taken by the user in order to unlock them, and thus form the basis of avatar collecting. The required action varies widely for each avatar and are discussed in the below sections.
Clickables
The easiest type of avatar to unlock, Clickable avatars can be unlocked simply by visiting a specific page on the site. The most straightforward have no further conditions beyond visiting the page. Others will have some extra requirement, such as viewing the lookup of a specific type of pet.
Pets/Petpets
Avatars in the Pets/Petpets category require you to meet some condition with your own pets or their petpets.
Expensive/Items
Expensive/Items avatars require you to do something specific with one of the many items on Neopets.
Perhaps the most coveted and certainly the most expensive subcategory of these are the Stamp Collector avatars, which require you to fill all 25 spots in specific pages of your Stamp Album.
Battledome
The Battledome avatars require you to complete a specific action in the Battledome.
Games
The Games avatars involve achieving some kind of feat with one of the Neopets games, such as achieving a certain score, earning a certain spot on the high scores table, or advancing to a certain point in the game.
If you get the score needed for an avatar with a score requirement, you will be informed you are awarded the avatar via a pop-up after submitting your score. If your score is sent for review, the avatar will be awarded if/when your score is accepted. There is no notification for avatars awarded through a high score table.
Other
Several other avatars have unique requirements that don't fit into any of the above categories.
Annual
Some avatars have requirements that would fit in to one of the above categories, but are only available annually by doing the action on a specific day.
Retired
Unfortunately for newer collectors, Retired avatars are no longer obtainable. Usually are from participation in a one-time sitewide plot or event or from a discontinued site feature.
Uncounted Avatars
There are three secret avatars that do not count towards your secret avatar total.
Default Avatars
Every account starts with their avatar set to one literally known as "Default" which includes just a Neopets-brand star with a yellow background.

The original (left) and current (right) Default avatar
In addition to this, every account starts with immediate access to 59 other avatars without having to do anything at all. These include:

A sampling of the many default avatars available
In addition to these, all Premium accounts have access to a Premium Space Faerie avatar for as long as their membership is active.

The Premium avatar
None of the default avatars count towards your avatar total or your score on the high score table.
Tracking Your Collection
Jellyneo offers a checklist tool to check which avatars you are missing. It even includes the ability to filter out retired avatars and/or avatars that are difficult for new accounts to achieve. It can also produce petpage-friendly code to display which avatars you still need.
We also provide an Avatar Collector counter that you can display anywhere, such as your user lookup, shop description, or pet page! There are also several counters for goals related to unlocking specific avatars.
High Scores
The Avatar Collector high score table is based simply on the number of secret avatars you have unlocked.
Like all high score tables, it is reset at the start of every month. However, unlike most other high score tables, progress is never lost. To reenter the table each month, a user simply needs to unlock a new avatar during that month. If your avatar collection is large enough that unlocking a new avatar is very difficult, there is a workaround: simply lose and then re-unlock the Emo Usuki avatar.
Because of this requirement to go out of your way to reenter the table each month, you don't necessarily have to be in the true top 17 of avatar collectors on the site to get a trophy—you just need to be in the top 17 that have checked in so far that month. If one of the top collectors doesn't check in during the first few days of the month, that opens up a temporary spot for somebody else!



The Avatar Collector high scores table offers its own avatar as well. How meta!
We have tabulated the average trophy cutoff scores on the 1st, 15th, and 28th day of the month for most of 2020. The scores below represent the number of avatars you must have unlocked to receive a specific trophy on these days. Notice how the scores tend to be slightly lower earlier in the month by a few avatars. Indeed, the cutoff scores are not even necessarily strictly increasing from month to month.
This article was written by: Kenny