Your jnAccount:
Log In
or
Register
| New to Jellyneo?
Click here!
Altador Cup XVI
Jellyneo's Altador Cup XVI Coverage
Altador Cup News and Updates
Altador Cup XVI: Sign-Up Date Announced
Posted by Zelda
Posted on May 21, 2021, 4:42 pm NST
Now that the
pre-tournament press
has been released for all teams, sign-ups for the Altador Cup are due to begin shortly.
TNT announced today that the sign-up period will begin June 1st—a little later than usual to ensure the converted games run as smoothly as possible.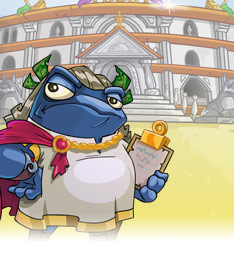 Which team will you be joining this year? Let us know in the comments!
Altador Cup XVI: New Players
Posted by Dave
Posted on May 17, 2021, 10:56 am NST
This year's Altador Cup is around the corner, and the current
pre-tourney Press
has revealed some exciting news: two new players will be debuting in this year's Cup!
First up on Team Mystery Island,
Teylor Nix
has been confirmed to be replaced with a brand new player, Tulay Ada, an Island Cybunny.
Second, and perhaps even more exciting, Team Faerieland will be gaining a new player, and the Altador Cup's very first Vandagyre player! Their name is
currently unknown
now known as Whimsi Dia! It appears that this new Faerie Vandagyre will be replacing longtime player
Elbin Kroe
.
What do you think of these new players? Is this a sign other changes might be coming to this year's Cup? Let us know what you think (or what you might want to see) in the comments!
Altador Cup Prize Shops Closing
Posted by Herdy
Posted on May 6, 2021, 2:33 pm NST
In today's
New Features
, TNT have announced that the Altador Cup prize shops will be closing soon:
Heads up Neopians, the Altador Cup prize shop will be closing soon in preparation of this year's Altador Cup. So make sure to use any unredeemed points to pick up your favourite Altador Cup XV prizes and Staff Tournament prizes before the prize shop closes on May 13th!
If you still have prize points left from last year's
Altador Cup
or the
Staff Tournament
, now is the time to spend them as the prize shops will be retired on May 13th (a week today). This will also likely mark the beginning of this year's Altador Cup pre-tournament press.
---
Comfort Rock Companion Buying Guide
Looking to use up your Staff Tournament prize points? Not sure what to buy? Some Neopians like to purchase the 1 point prize in the yearly Staff Tourney prize shop to use later on in Charity Corner. If you're up for the grind, you could net yourself several thousand items to dump into the next Charity Corner event.
Here's a step-by-step to save yourself time if you plan on grinding Comfort Rock purchases between now and the close of shop:
1)
Visit this URL, which anchors the page to the prize table:
http://www.neopets.com/altador/colosseum/staff/#prize-item-81405
2)
Click on the Comfort Rock Companion prize.
3)
In the pop-up, click the green "Yes" button to confirm your selection.
4)
Finally, click the (X) in the circle icon in the top right of the pop-up. The page won't refresh, which will save you quite a bit of time and scrolling. Rinse and repeat steps 2 through 4!
We also highly recommend cleaning out your inventory every 50 items or so. If you purchase too many, you may have trouble moving them to your Safety Deposit Box.
As a disclaimer, of course, we have no idea when Charity Corner may return—or even if it will ever return! So hoard at your own risk. You may end up with a bunch of useless rocks in your Safety Deposit Box...