Your jnAccount:
Log In
or
Register
| New to Jellyneo?
Click here!
Altador Cup XVI
Jellyneo's Altador Cup XVI Coverage
Altador Cup News and Updates
Altador Cup Staff Tournament Round 1 Results
Posted by Herdy
Posted on June 16, 2021, 5:57 am NST
The results for the first round of the
TNT Staff Tournament
are now in! You have until June 22nd to select your team for the second round.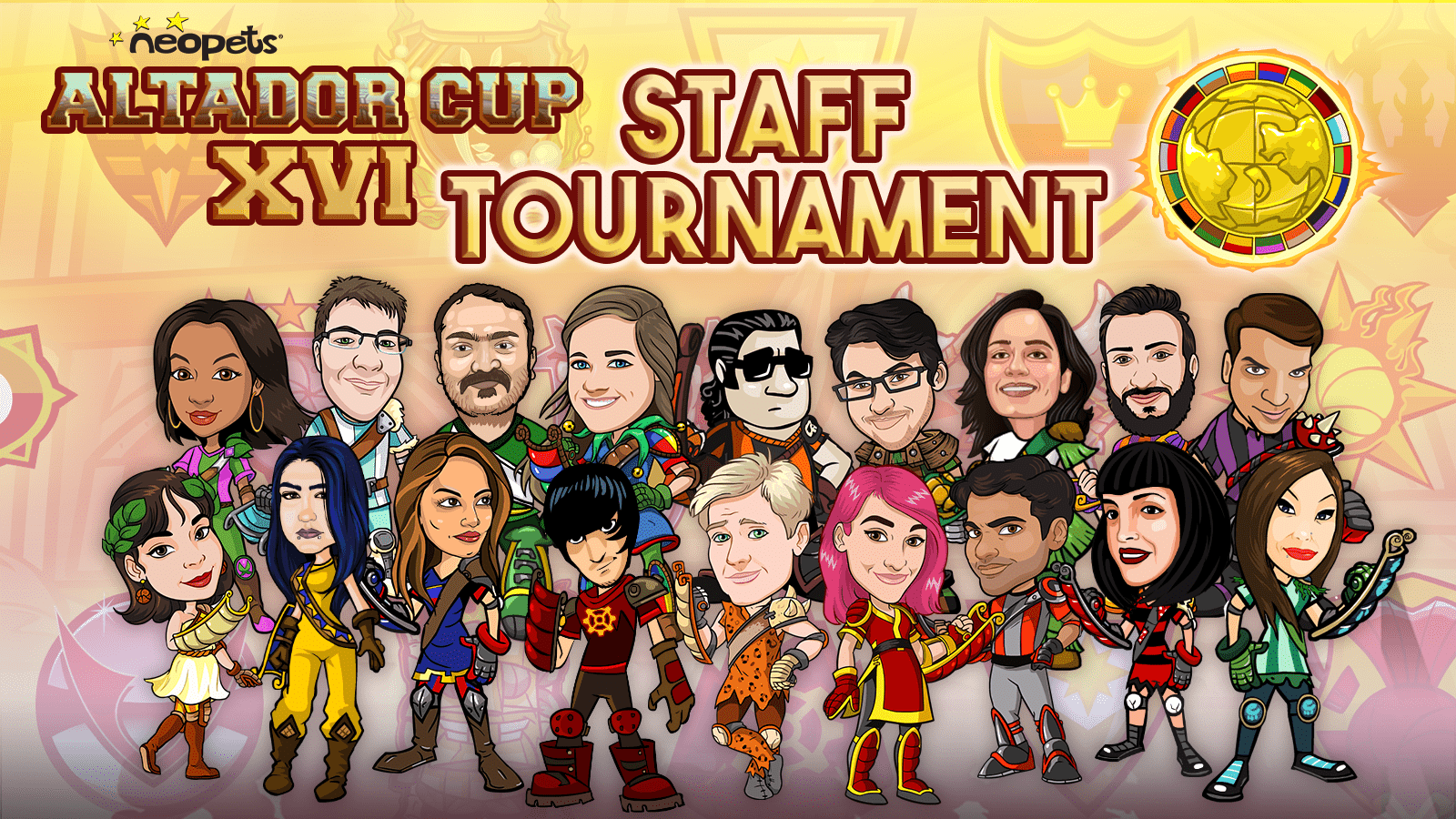 If you successfully guessed Username Redacted as the Star Player for this round, you will be rewarded with the following item:
Altador Cup: Week 1 Recap
Posted by Zelda
Posted on June 14, 2021, 1:38 am NST
Hello, Yooyuball fans! We're now a week into the Cup, and favorites are starting to emerge.
Team Kreludor has had some early success, losing only once so far—to Team Altador. When asked their secret, goalkeeper Jurin T. observed that practice makes perfect. And indeed, Team Kreludor has regularly scored well in Shootout Showdown, thanks to the constant presence of their members at the practice field.
Team Altador has also lost only one round so far, against Team Lost Desert. They, too, have been effective on the practice field throughout this first week's matches. Their cheerleaders have been more inconsistent, but when they are ready to play, they are powerhouses. I've started having to bring earplugs just to attend a match!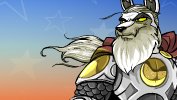 The brother kings have sent competitive lineups to the Cup as well this year. Team Brightvale and Team Meridell also finished last week with five wins a piece, though their wins have been less decisive. While Team Kreludor and Team Altador consistently win with complete shutout victories, the knights and scholars have not always been so lucky. Team Meridell defeated Team Maraqua in a nail-biting fourth round of overtime when right forward Fiorina snuck a lucky shot past goalie Tonie Plessix with a mutant yooyu. Team Brightvale has had even more close calls—against Team Darigan Citadel, Team Krawk Island, and Team Kiko Lake. If they can keep that tenacity through the tournament, however, they may find themselves outlasting their opponents into the finals.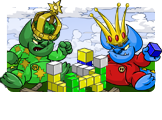 And, of course, if you've been past a slushie stand, cheering match, or practice round duel, you'll know the favorites this year are Team Lost Desert. No other team remains undefeated so far in the tournament, and the desert yooyuballers have dominated every match after a fiercely close day-one fight against Team Kiko Lake. I hear the cheerleading judges have now moved outside the stands for all Team Lost Desert matches and are awarding points to their opponents based on the number of words still audible from their new judging table. I'm sure that's just an exaggeration...

This next week will start to solidify brackets and establish the top contenders for the trophy. It's still anyone's game, but the lowest scorers will need to make up some time, and fast, if they want to have a shot at the trophy. Team Faerieland, Team Haunted Woods, and Team Roo Island each have only a single win from last week—Team Haunted Woods against Team Faerieland, and the others against Team Tyrannia.
Team Tyrannia has had no luck so far this year. With no wins so far, and low scores in their matches, captain Loryche has the team doing some new focus exercises to help keep their energy up during matches. Team Mystery Island has fared even worse so far. After two game wins at the beginning of the week, not a single contest has swung in the islanders' favour since. Goalie Lor Benneveldt is said to be joking about asking for double pay this year because of all the extra energy he's spending trying to block more shots than normal.

Only time will tell if these lower-ranked teams can pull themselves back into the running, or if these early favorites will keep their hold on the Cup throughout. Best of luck to all the players, and we'll see you on the field!
Altador Cup Staff Tournament
Posted by Zelda
Posted on June 9, 2021, 4:12 pm NST
The
Altador Cup Staff Tournament
has begun! The format is the same as in previous years—each week, you'll select two forwards, two defenders, and a goalie to form your fantasy team. Based on how well they play, you'll earn points.
You have
today and tomorrow (until midnight NST, Thursday 10th June)
until midnight NST, Monday 14th June to select or change your team lineup for round 1. Not sure who to pick? Check out
last year's staff tournament
results to see who excelled and who struggled. Not everyone's a returning player this year, though, so ultimately you'll just have to trust your instincts!
Note:
Bonus prizes are once again available for correctly guessing each round's star player. Be sure to select a star player from among your team members each week for a chance at that extra prize.
Re-Release Altador Cup Capsule
Posted by Dave
Posted on June 9, 2021, 2:22 pm NST
A new re-release capsule, featuring items from Altador Cups 4 through 14, has been released to the
NC Mall
!
There are also two bundle options, with the 10-pack below containing a bonus
Altador Cup Enthusiast Gram
in addition to the 2 bonus capsules:
Also, as last year,
beware
when trading! This is the third similarly named AC re-release capsule to be released. Capsules released in 2019 and 2020 contain fewer item possibilities, so be sure you're trading for the correct one if you have specific items in mind from Altador Cups 13 and 14.
If you plan on opening an Altador Cup Retired Mystery Capsule, please
let us know what you get
(along with the category you selected)!
Recap: ACXVI Day Two
Posted by Zelda
Posted on June 9, 2021, 1:20 am NST
The scores are now posted for two days of yooyuballing, slushie slinging, and professional shouting—and this year is shaping up to be quite the Cup!
Underdog Team Faerieland came out swinging on day one, taking Team Tyrannia by storm with new forward Whimsi Dia's precision passing. Only the slushie slingers of Tyrannia could stand against the onslaught of the faeries, leaving fans to wonder if this were finally Team Faerieland's year. It seems their wings are less effective underwater, however, as Team Maraqua's home advantage led them to victory in all four events on day two.

Team Maraqua didn't fare so well on day one, however. Grundo duo Qyldae Wegg and Zenor Kevix kept the Maraquans at bay while team captain Derlyn Fonnet scored goal after goal, leading Team Kreludor to a solid day one victory. Only Team Maraqua's shouts of despair outrang Team Kreludor's celebrations.
Unfortunately, Team Kreludor's luck didn't hold any longer than Team Faerieland's. The hosts are coming out strong this year, with landslide victories across the board against Team Virtupets on day one, and another shutout victory against Team Kreludor on day two. Team Altador's cheerleaders are particularly deafening this year—this is gonna be a team to watch as the matches unfold.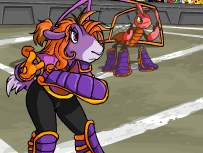 Team Virtupets left the field exhausted on day one, but captain Keetra Deile tells me she gave a pep talk this morning, reminding the team to set past matches behind them and focus only on the moment. The pep talk seemed to work, as their day two losses to Team Krawk Island were narrower—and they even managed to outsling the pirate slushie experts.
Team Krawk Island is another to watch this year. Their first two days have come with smooth, though narrow, victories in three events each—against Team Terror Mountain and Team Krawk Island. They're not showing a consistent weakness, though, so keep an eye out for those pirates. It's tough to ruffle the feathers of players like "Dinksy" Collibridge, who seems to always be near the unpredictable fight paths of the darigan and mutant yooyus on the field.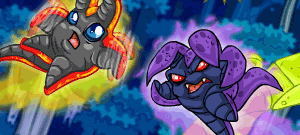 Team Terror Mountain, on the other hand, seems to be off their game a bit this year. Captain Prytarial says the team was pretty concerned after their day one performance, and it seems their worries got in the way against Team Lost Desert on day two. Left forward Vonde Cayle was first to every single yooyu, and the Terror Mountain team just couldn't keep up in the desert heat. The desert cheerleaders became increasingly deafening as the game went on—fans even started walking further up the stands to protect their hearing! It was as if King Coltzan's own voice were booming through the crowd. Certainly a team to watch out for this year.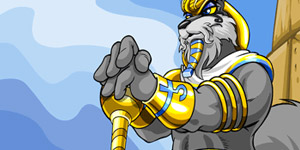 Team Kiko Lake's also doing well so far, though their cheer team has been inconsistent. After a day one draw against Team Lost Desert, they soundly defeated Team Mystery Island, particularly on the practice field. New island forward Tulay Ada showed some promise against Team Brightvale on day one, but she was no match for veteran Holbie Pinnock's rapid-fire goals against that taunting Jelly Chia.
Team Brightvale's offense on the yooyuball field has been weak so far, but they've shown promise in the side game arenas against both Team Mystery Island and Team Darigan Citadel. With two wins under their belt without a single win on the yooyuball field, the scholar-players have the potential to disrupt the hopes of any team that relies only on their yooyuballing skills to win the Cup.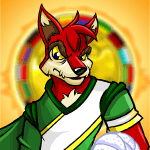 Team Darigan Citadel and Team Haunted Woods faced off on day one in a rematch of the very first Altador Cup, but Team Haunted Woods does not seem destined for a repeat victory this year. After several fumbles from multiple Haunted Woods players, Team Darigan took easy victories in all four games before losing in overtime in their match against Team Brightvale. With no better luck on day two, Team Haunted Woods again lost all four games to Team Shenkuu. Captain Krell Vitor says the team is looking closely at their formations and strategy today and is hoping for a strong comeback.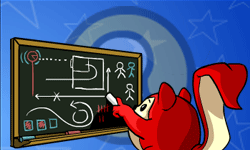 Team Roo Island is also having a rough start to the Cup. Their day one loss leaves Team Shenkuu comfortably at the top of the leaderboard after two complete shutout victories. Day two was no kinder to the Roo Islanders, as Moltaran captain Aldric Beign consistently outpaced Lilo Blumario throughout the day, leaving Roo Island with another complete loss and frequent underdogs Team Moltara with a shutout victory—a huge confidence boost after their own complete loss against powerhouse Team Meridell on day one.
Team Meridell, in fact, completes the list of teams who find themselves undefeated at the end of day two, after a victory against Team Tyrannia in every event. That leaves Meridell, Altador, and Shenkuu as the current teams to beat, while Roo Island and Haunted Woods are in particularly precarious positions.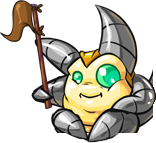 Overall, this is shaping up to be an interesting Cup, to be sure! Let us know in the comments who you think the winners will be for this Cup. Will it be these early frontrunners, or is a comeback victory in someone's future?