Your jnAccount:
Log In
or
Register
| New to Jellyneo?
Click here!
Altador Cup II
JN's Altador Cup 2007 Coverage
Prizes
The Altador Cup avatar and site theme were awarded to participants.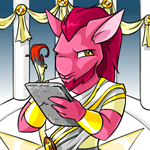 The Altador Cup Coordinating Committee's Prize Shop Subcommittee Chairman greets you as you enter the shop. "Welcome! You've come to spend your Altador Cup prize points, I take it? Well, we've got quite a selection for you here today. Feel free to look around before you decide..."
Prize Shop
Prize Shop Items

Altador Cup
5 points

Altador Cup Altador Keyring
10 points

Altador Cup Brightvale Keyring
10 points

Altador Cup Darigan Citadel Keyring
10 points

Altador Cup Faerieland Keyring
10 points

Altador Cup Haunted Woods Keyring
10 points

Altador Cup Kiko Lake Keyring
10 points

Altador Cup Krawk Island Keyring
10 points

Altador Cup Lost Desert Keyring
10 points

Altador Cup Maraqua Keyring
10 points

Altador Cup Meridell Keyring
10 points

Altador Cup Mystery Island Keyring
10 points

Altador Cup Roo Island Keyring
10 points

Altador Cup Shenkuu Keyring
10 points

Altador Cup Terror Mountain Keyring
10 points

Altador Cup Tyrannia Keyring
10 points

Altador Cup Virtupets Keyring
10 points

Altador Cup Play Set
50 points

Scorchio Referee Bobblehead
100 points

Altador Cup Fan Jersey


(wearable)


250 points

Angry Techo Garden Gnome
500 points

Angry Techo Plushie
800 points

Clockwork Yooyu
1,000 points

Slushie Slinging for Novices
1,500 points

Layton Vickles Action Figure
2,000 points

Sore Throat Remedies
3,000 points

Make Some Noise Noisemaker
4,000 points

Yooyu Celebration Stamp
5,000 points

Darigan Yooyu
7,500 points

Angry Techo Fist
10,000 points

Darigan Paint Brush
18,000 points
Not exclusive

Slushie Slinger Drinking Cap


(wearable)


25,000 points
Trophies


Team Darigan Citadel

Altador Cup II 1st Place (Starting Player)


Team Roo Island

Altador Cup II 2nd Place (Starting Player)


Team Shenkuu

Altador Cup II 3rd Place (Starting Player)


Team Darigan Citadel

Altador Cup II 1st Place (Reserve Player)


Team Roo Island

Altador Cup II 2nd Place (Reserve Player)


Team Shenkuu

Altador Cup II 3rd Place (Reserve Player)


All Star - Beginner

Altador Cup Participant