Your jnAccount:
Log In
or
Register
| New to Jellyneo?
Click here!
Altador Cup II
JN's Altador Cup 2007 Coverage
Altador Cup 2 News
September 18, 2007

Well, roughly two months have passed since we last actually heard about prizes, and now they're released! Click here to claim your prizes!
July 20, 2007

Eleven members of Neopets have made it onto Neopets' Altador Cup MVP List! (You can click here to view the MVP List!
July 17, 2007

Well, we here at JN have found some Altador Cup Prizes!

Altador Cup Fan Jersey | Slushie Slinger Drinking Cap
I say they'll come out on 7/20/07, which is a Friday. Plenty of time for them to set it up. :P
July 9, 2007

The final Altador Cup 2007 results have been released, meaning that prizes shall come soon! Congratulations to Darigan Citadel for winning Altador Cup 2007 after last year's defeat against Haunted Woods. Also congratulations to Roo Island for putting up such a great effort. Shenkuu, the underdogs, also deserve congratulations for making it this far, coming from 9th Place early on to become 3rd, and Krawk Island, who deserve to be congratulated for their great effort.

Thanks for sticking with JN for your Altador Cup coverage, and we'll see you again once the prizes are released! You can take a look at the scores here on our Standings Page!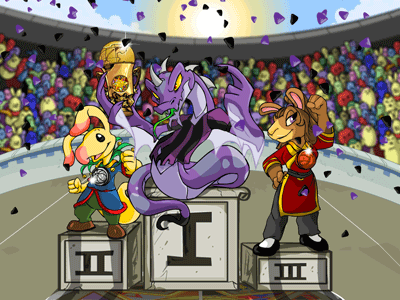 July 8, 2007

Well, the Altador Cup ends in three hours. Four teams remain - Roo Island, Darigan Citadel, Shenkuu and Krawk Island. Good luck to all the teams, and here's to nice prizes! (Hopefully a new sidebar and new avatars. :P)

Our standings page should be updated soon after the results have been released, most likely when the news syncs on Monday... or you know, on a random day a few months after the Altador Cup ends. Again, good luck to all the teams and thanks for sticking with JN for your Altador Cup coverage!

July 5, 2007

Well, the double round-robin phase of the Altador Cup is officially over, and with it comes the Finals! (OOOOH, FINALS! D:)

You are allowed to support another team and play for them (while getting more points for you). You are only supporting them, not exactly joining their team. However many points you get, that number will be added to the final total, determining which team is in which place! (So everyone that is going to play, join Roo Island or Krawk Island :P)


JN's Predicted
Final Matchups
June 29, 2007
Well, it turns out that TNT knew about an issue with the individual scores. Most people knew about it too. (Those that counted, of course.) It was addressed in the Editorial, Issue 298. Here's the Editorial question, for those who do not wish to go all the way to the NT. :P
Hey, I just want to know what's up with the Altador Cup scores. There must have been some problem, and that's obviously what caused the major delay for the 26th's match results. I've seen a ton of KIers claiming to have lost 200-300 games' worth of points against DC. Were they still factored in against DC, even though they weren't updated for the user? ~smallvillefan12225

Correct! We had an issue with the script that calculates individual scores and updates rankings, but all the scores are there and nothing was lost. They were still factored in when tallying tournament results. The script is being fixed, and your personal results will be calculated soon. No worries!

June 12, 2007
Well, it seems as if ranks are changing now! (You should check your Altador Cup Main Page to see if yours changed!)
June 11, 2007
The old Altador Cup Souvenirs have been retired and the new ones have been released... sort of. You can click here for the Souvenir Shop or you can click here for a QuickView of the new souvenirs!





June 5, 2007
Tournament play has commenced! Daily match-ups from now on will begin at 12:00:01 AM NST and end on 12:00 AM NST the next day. Check out your team's match schedule and then start playing!
June 1, 2007
The Altador Cup begins! (The game is a tad bit different but it's generally the same. We'll have a game guide up in a bit!) There are a few rule changes and notes from last year's Altador Cup:


You cannot switch teams once you have selected one. You will be locked into your team until the round-robin is over. At that time, we shall know more about what we do. :)
Some teams got new members this year, and Kreludor is not available anymore.
Once you join a team, you will get some special goodies.
You now play against a different team each day.
You can play games (Slushie Slinger and Make Some Noise) for more points in the Altador Cup.
You will be able to get special trophies depending on how much you participate.
You have until June 4th to select your team. You can click here to start the registration process by looking at the teams as well as taking a quiz. You can also join a team from the same page.