Your jnAccount:
Log In
or
Register
| New to Jellyneo?
Click here!
Almost Abandoned Attic
The Almost Abandoned Attic is back!
When Neopets transitioned to new servers in September 2014, the Almost Abandoned Attic stopped restocking for several years. With the
mobile-friendly beta update v0.4.9
in April 2022, the AAA is functional once more!
Located in a mysterious house in Neovia, the Almost Abandoned Attic is only open to those with accounts over 3 years old. Similar to the Igloo Garage Sale, the Attic stocks certain items at a fraction of the prices found in the Main Shops.
The Almost Abandoned Attic is accessible from the Neovia map but is unlabelled; you need to click on the door highlighted below.
Restocking in the Attic
When the attic stocks, it will stock 24 items in six rows of four. Items are sorted by SDB order, which roughly corresponds to chronological release; this means that newer items tend to appear at the bottom.
Any item r80 through r99 can stock in the attic. They are chosen completely at random, however, r99 items seem to restock much less often than all other items. Notably, this can include some items that don't stock in any Main Shop, such as Petpetpets and Treasure Maps & Secret Laboratory Maps
Items in the Attic are priced at their "Est. Value", which can be viewed in your inventory or the item's official search page. This is usually (but not always!) notably lower than the player market value of the item. There is no opportunity to haggle at all; the price you see is the price you will pay.

The Electro Sword would stock for 31,510 NP, but sells for just a couple hundred NPs.
The Grey Toast would stock for just 88 NP, but sells for several hundred thousand NPs.
Purchasing an Item
To buy an item, simply click anywhere on the item's information: the picture, the item name, the quantity, or the cost. This will bring up a confirmation box:
After approving this confirmation, one of two things can happen: you get the item, or you don't! If you get the item, you will get a warm confirmation:
However, if another player has claimed the item before you, you will receive a consolation message stating, "Sorry, we just sold out of that." When this happens, feel free to go after another item instead!
Restock Times
The Attic has a chance of restocking approximately every 7 minutes. More specifically:
Next Possible Restock = Last Possible Restock Time + 7 Minutes + up to 15 seconds
It's important to note how much time has passed since the last restock; if the Attic hasn't stocked for a long period of time, such as an hour or more, the next restock time becomes harder to predict, as the extra seconds added every 7 minutes can add up. By the time the restock happens, the restock time can have shifted considerably. To avoid missing the restock in these circumstances, it helps to keep refreshing a minute or so past the projected time.
The Attic's restock behavior is random and erratic. It has been known to restock several times in a row, as well as to go several hours without a single restock. There is very often a post on the Site Games Neoboard where players will help each other keep track of the possible restock times.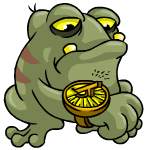 Waiting for the next restock be like...
When the Attic first released, Jellyneo confirmed that each day of the week had a set list of specific stock times; for example, Sunday always had the same times, Monday always had the same times, etc. These times were consistent down to the second! As of August 2013, TNT adjusted the Attic times to follow the less predictable pattern above.
Restock Time Example
Let's say the attic just restocked at 1:22:15 PM NST. This means the next possible time it could restock is 7 minutes plus up to 15 seconds later, between 1:29:15 and 1:29:30 PM NST.
If the attic does not restock at that time, you add another 7 minutes plus up to 15 seconds later. This means the next possible restock time would be between 1:36:15 and 1:36:45 PM NST.
Now let's say the Attic indeed restocks in this window, specifically at 1:36:22 PM. You can now start over as above, but from this time: the next possible restock time would be between 1:43:22 and 1:43:37 PM NST. Because of this, people often attempt to track the exact second that items stock, in order to better predict when they can next stock again.
While this may seem like the window widens greatly (15 seconds!) with every missed restock, in reality it seems that much shorter additions (less than 5 seconds) are much more common. Because of this, it is usually safe to refresh for only about a minute or so after the expected restock time. If the Attic has not stocked in a really long time, you may consider refreshing a bit longer than that.
Restock Bans
There are 3 ways you can get temporarily banned while Attic restocking.
Recent Purchase Ban
You can only make a purchase every 20 minutes. If you try to buy an item sooner than that, the poor old shopkeeper will yell at you and you won't get the item.
5 Items A Day
You can only buy 5 items per day. Once you've reached the limit, you will receive the error message below and will be unable to see any restocks.
Refresh Ban
You can get banned simply by refreshing too much, just like restock bans in the Main Shops.
Unfortunately, there's no way to predict how long they'll last. These bans can last anywhere from under an hour to as long as 18 to 24 hours. Sometimes your ban will end quickly, but if you start refreshing several times, you'll immediately get slapped with another ban. In this case it can be more beneficial to wait it out rather than pushing your refreshes to the limit.
When you are refresh banned, this is the error message you'll receive:
Help us improve!
Did you find what you were looking for on this page?
This article was written by: Kenny, Suzuka, & Ummy