Your jnAccount:
Log In
or
Register
| New to Jellyneo?
Click here!
The Games Master Challenge - November 2007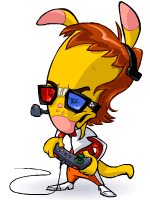 AAA is back, and he has even more daily challenges for us lowly gaming Neopians to partake in!
To start: Check out AAA's "welcoming" speech. Then, visit the challenges page to see today's challenges. For the secret challenges, check back on this page for details on which games are involved!
To collect your prize: Once you finish a challenge, click the gift box icon next to the title of the challenge. It's in the top right corner, and looks like this:

Need some extra help on a particular game? Check out our list of game guides and our Master Cheat List!
Final Trophies
Each Neopian who participated and finished at least 1 challenge received a trophy for their userlookup:
Trophies
| | | | |
| --- | --- | --- | --- |
| Complete 1+ Challenges | Complete 5+ Challenges | Complete 10+ Challenges | Complete 15+ Challenges |
| Complete 20+ Challenges | Complete 25+ Challenges | Complete 30+ Challenges | Complete 35 Challenges |
Day 7 - November 26th
| | | | |
| --- | --- | --- | --- |
| # | Title | Challenge | Prize |
| 1 | Walking Along the Edge of Techo Mountain Barefoot | Send a score on seventy-five different qualifying games. | |
| 2 | It's All About You | Choose three qualifying games from your Favourite Games list and send in scores! | |
| 3 | Aim for the Skies | Get a score of 125 in Shenkuu Warrior. | |
| 4 | Unlocking the Secrets of the Lost Desert | Get a score of 1000 in Sutek's Tomb. | |
| 5 | Demolition Derby | Get a score of: | |
Day 6 - November 25th
#
Title
Challenge
Prize
1
Climbing Terror Mountain During a Blizzard
Send a score on sixty different qualifying games.
2
If You Can't Say Anything Nice
Submit feedback with a score of 10 for any qualifying game.

Click this at the bottom of the page and select 10 to send feedback.
3
Merrily You Roll Along
Get a score of 300 in Turmac Roll.

This challenge is for all non-American users. American users have to play "Workin' in the Workshop."
3
Workin' in the Workshop
Get a score of 1000 in Wal*Mart: Santa's Sleigh.

This challenge is for all American users. Non-American users have to play "Merrily You Roll Along."
4
Mop 'n' Glower
Get a score of 300 in Mop 'n' Bop.
5
Report This Challenge to the Defenders of Neopia
Get a score of:



Day 5 - November 24th
Day 4 - November 23rd
| | | | |
| --- | --- | --- | --- |
| # | Title | Challenge | Prize |
| 1 | Tube-Racing on Kiko Lake | Send a score in thirty different qualifying games. | |
| 2 | A Fistful of Flash Challenges | Test the gaming skills of five more of your friends by sending them Flash Challenges. | |
| 3 | It's a Witch('s Brother) Hunt! | Get a score of 350 in Bruno's Backwoods Breakaway. | |
| 4 | Flip Those Blocks! | Get a score of 800 in Goparokko. | |
| 5 | Please Don't Cuddle This Challenge | Get a score of: | |
Day 3 - November 22nd
#
Title
Challenge
Prize
1
Surfing the Rapids of Shenkuu
Send a score in fifteen different qualifying games.
2
Exploring in the Games Room
Use the Games Room Search to search for a word that yields 10 or more results. We used "ball."
3
Double, Double...
Get a score of 100 in Sophie's Stew.
3
Swim For It!
Navigate through the water to reach a score of 150 in Sony's The Water Horse: Crusoe Cruiser!

This challenge seems to only work for users in the United States. If you are an International user, you can play "Double, Double..." to complete the challenge.
4
Pop! Goes the Secret Challenge
You'll have to burst a few bubbles to earn a score of 400 in Faerie Bubbles!
5
This Challenge Does Not Exist
Get a score of:



Day 2 - November 21st
Day 1 - November 20th