Your jnAccount:
Login
or
Register
| New to Jellyneo?
Click here!
Welcome to Jellyneo.net!
Welcome to Jellyneo, the #1 ad-free Neopets help site! We offer news and tips for the popular online game Neopets. Here's what you can find on the site:
You can also register a jnAccount; it's free and lets you access special features! (Find out more!)
Pick your news: Neopets News
| Crossword | JN Updates | Daily Puzzle | GMC | Advent

November Monthly Freebies
Posted by Jen
Posted on November 1, 2018, 12:00 am NST
We hope you've had a spooktacular Halloween and unlocked the Halloween site theme moments ago if you still needed it. As we're now in November, it's time to collect your
monthly freebies
!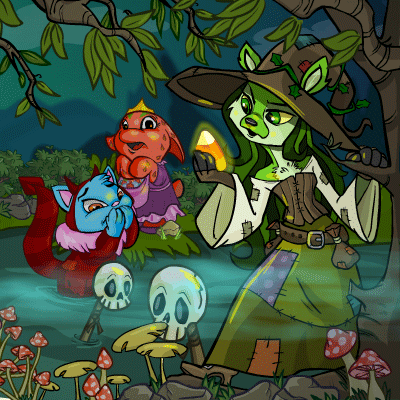 Collect your Freebies »
Donations!
As we said last month, we've reached our goal for 2018 but are still raising funds to cover any unexpected hosting costs and to reduce our fundraising target for 2019. If you'd like to donate check out our
Donation page
. As a wee thank you, if you donate you could earn one of these trophies for your cabinet!
Donate to Jellyneo »
Trick-or-Treating Locations
Posted by Dave
Posted on October 31, 2018, 12:01 am NST

Trick or Treating has begun! Check out the below locations to claim a goodie bag from a fellow citizen of Neopia. You have until 11:59 PM NST on October 31st to claim your five goodie bags.
Locations:
Lampwyck's Lights Fantastic
Giant Jelly
Lunar Temple
Healing Springs
The Crumpetmonger
You'll receive one of the matching bags below:
Opening your goodie bags? We'll be updating our
Trick or Treat bags guide
throughout the day! So, if you get an item we're missing please
send it in
!
Neocash Cards on Sale
Posted by Dave
Posted on October 30, 2018, 2:27 pm NST



We've received word that Neocash cards are on sale from
ScratchMonkeys.com
. The sale is offering 10% off of the $15 and $25 cards. (Selling for $13.50 and $22.50 respectively.) The discount price runs from now until tomorrow, October 31st at 11:59 PM NST.
If you wanted to get Neocash on the (relatively) cheap, now would be a good time to do it!
Visit ScratchMonkeys »
Korbat Day Roundup
Posted by Herdy
Posted on October 26, 2018, 10:14 am NST
A new colour is now active for Korbat Day!

Toy
A new clothing set is also now active:




TNT Community Updates 25/10
Posted by Herdy
Posted on October 26, 2018, 5:52 am NST
TNT staff member Hardtotame has held another Q&A session on the
Site Events
Neoboard yesterday evening. Here's a recap of what was said.
Avatars
On fixing the quality of recent stamp avatars:
I did talk to them, and I have word that they'll make time for it so you don't have to wait too long for the fix. Thanks for the updated page, I will pass it on as reference.
On the idea of using old MSN/AIM icons as new avatars:
we have discussed this before at work, but we never actually got to the point of identifying which ones to use for what actions. Thank you for suggestions page, I'll have someone look through them and identify ones we'd like to go with.
On the idea of an avatar for the Mystery Picture Contest:
I'm not really taken with the idea.
Items
On the idea of increasing the frequency of r100 items stocking in shops:
I really don't know what it takes to alter the frequency at which r100 items restock. This one's going to have to join the other items on the backlog for a programmer to learn more about and then take a decision on when he has some time.
A different user then suggested that the r100 restocks are actually broken, so HTT had more to say:
Oh, so you're saying it's a bug? Well this alters my answer to vitorplemes slightly, because items classified as bugs do get more priority than suggestions to change the way features work. However, it's still going to go into the backlog and it will have to sit there until someone finds the time to get to it.
On releasing the broken Grumpy Old King prizes:
the only update I can give is that the guy that will be working on it just got an extension on the deadline of his current project, so I'll try and see if he can make time for this in that gap. As for dates, I'm not going to venture there.
On the idea of buffing Battledome items restocking in shops:
We did in fact consider this and it is an idea that we liked. The discussion was more specific to weapons in the Hidden Tower, though. Upgrading weapons across shops is a much bigger undertaking and I think it would depend on how the HT weapon upgrade goes. That said, neither of this is on our immediate plans, it's just one of those things we do want to do.
On re-releasing the old Petpetpet granting Random Event:
We've got a few other missing Random Events (Tooth Faerie, Spring Gift Basket) that I've asked the team to look into. I'll add this one to that list.
On the slated re-release of old stamps:
No updates on either front. This is one of the projects we'd shortlisted from our backlog to take up next, but since then we've had several other priorities come up. (We've had a few Program Managers assess the way we work as a company, and we're changing a lot of our processes and the software we use to manage our work, so there's been a lot of sessions around that. - Hopefully our projects will move a lot more smoothly and predictably once all this is sorted out.)

We're focusing on stamps in particular because of the recent release of the stamp avatars.
On why Neoschool Supplies still exist:
Themed Neoschool supplies are released for people interested in collecting them for their galleries, mostly.
Pets
On the possibility of there being a new pound purge soon:
I'd say that depends on how old you are!

This is a decision that has to be made at a higher level, and it's not a simple one because it will take up several resources, so I can't say.
On releasing the pets on pound_release:
I did try to do some independent research into how it's done, but couldn't find anything. Now I just have to wait until a programmer can check and provide some insight into what we need to do to get this going again.
On allowing users to change capitalisation on their pet names:
I don't know whether changing the capitalization is any different from changing the name as far as our database is concerned. I can ask binary_supagoo and see what he thinks.
On wearables for babies, specifically Altador Cup themed ones:
If you're thinking of trinkets that would fit in a baby custom and are AC-themed, that's doable. But if you mean team-specific outfits for babies - that's a LOT of work for a very small subset of players. I wouldn't hold my breath for it.
Features
On releasing Lutari Island via the main site rather than mobile:
This is something that we'd love to do, and we have discussed several ways of doing it, but it's not even in it's planning stages, so nothing soon.
On updating the Coming Soon page:
This isn't something we do over here, but I'll reach out to the ones in charge and see how we can keep that page more relevant. I know there's a lot we're not too keen on revealing/promising too much in advance so we'll have to figure out what level of detail we're willing to go into and then take it from there.
On upcoming site events:
GMC, the Advent Calendar and the Dream Pet Giveaway are all on the schedule.
On timers being off on certain site features (specifically Kadoatery in this case):
I don't know whether the two are connected. I did add this issue to our backlog, but since noone's actually looked into why it's happening, there's no saying whether there'll be a fix or not.
On the idea of designing a feature where users could 'solo' Neopets (i.e. no buying/selling or interaction with other users):
This is the first time I have even thought about this, and I'm pretty sure it would be the same for the others as well. Moreover, what we think about this right now may not be relevant to Neopet's reality 'way down the line', so I really can't say anything about this.
On the idea of a Gold Ban on the Caption Contest, similar to the Beauty Contest:
About the Caption Contest, I don't really follow the competitions, so I cannot say at this point. I can pass the suggestion on to the ones in charge.
Other Questions
On discussing how many people now work in Bangalore on Neopets:
I'd rather not :)
On users suggesting HTT is breaking promises for posting her board a
whopping 4 minutes late:
I could go into a very personal explanation, but I'm not comfortable doing that so I'm just going to apologize and leave it at that. I'm sorry.
On meet and greets similar to Comic Con in the coming year:
No tentative dates for meet and greets in 2019.
On flash game conversion, and if it will all happen at once, or in batches:
It will be a few games at a time.
On increasing the Trading Post NP limit:
I cannot say.
On a delay in the High Score Table script awarding prizes:
I've got this bug on our backlog.
On whether or not players will be able to redeem old KQ codes once it returns:
I have reminded the higher ups that this is a concern, but we haven't made a decision on it either way yet.
On the recent Premium Collectable Cards being broken:
I will have someone look into the broken images.
Are you referring to the same one mentioned above? If yes, I will. If you're talking about the users who haven't been getting their cards, I have gone back and added all the extra information from the last Q&A into the ticket I previously created for it, and I asked a colleague to take a look at it.
This was the final slated Q&A session HTT has announced for now. We'll keep you posted if she announces any more!