Your jnAccount:
Login
or
Register
| New to Jellyneo?
Click here!
Site Updates
Pick your news: Neopets News
| Crossword | JN Updates | Daily Puzzle

Wardrobe Wars - Round 45 Results!
Posted by Rylon
Posted on April 10, 2017, 7:58 am NST
The results of the latest
Wardrobe Wars
competition are finally here! Did your entry make it on to our
Wardrobe Hub
? Winners, keep an eye on your cabinets as you'll be receiving the new
Wardrobe Wars Champion!
trophy in the next few days! We'll be back in May with the next round!
While you're in
Wardrobe
, why not check out our
Modeling Department
to see if you can lend a hand with any of the item previews we're missing. We'll give you
points and trophies
for your jnAccount while you're there!

Wardrobe Wars - Round 45
Posted by Rylon
Posted on April 1, 2017, 10:52 am NST
We're back for round 45 of Wardrobe Wars! If you're unfamiliar with this contest, this is Wardrobe Wars, and we take submissions from you to be featured on the
Wardrobe Hub
!
What do I need to do?
Register for a jnAccount on our main site.
Head on over to our Wardrobe App, and start customising your pet!
When finished, save the outfit, using the appropriately-named "Save Outfit" button and copy the link for the next step. (And rename your outfit to match the theme.)
Visit the Wardrobe Wars entry submission form and fill out the three required fields. (via Google forms)
Submissions will be open until the 7th at 11:59PM NST, after which the entries will be reviewed, and those selected will be uploaded to our carousel on the 10th! Winners also receive the shiny trophy at the top of this post. You may submit as many outfits as you'd like.
NEW THIS MONTH
: We're trialling the use of Google forms for entry submissions, so please let us know how it goes in the comments below!
Submit your entry! (via Google forms) »
This month's theme is
Neopia World Tour: Krawk Island
, so get your eye patches and pawkeets ready!
If you happen to come across an item that should be in Wardrobe but doesn't appear, please
submit a bug report
so we can look into it.
Best of luck!

Next Neopets Mobile Game Revealed
Posted by Dave
Posted on March 31, 2017, 8:44 pm NST
UPDATE:
April Fools! (Pssstt, Jumpstart if you're reading... a new mobile game would be great! Mobile Key Quest anyone?)
We've received some very exciting, exclusive information on a brand new, unreleased mobile game for Neopets that has been in development for the past few months! This is the first mobile development since
Ghoul Catchers
was released back in early 2015.
The new mobile app, titled Neopets GO: Balthazar's Revenge, is an AR (augmented reality) game that allows you to join Balthazar's Faerie Bottling Inc. and walk around in real life capturing faeries for
Balthazar
. It appears to be inspired by the popular game,
Pokémon GO
.
App Store Description
Read more details in the app store description provided to us below:
Ever since Faerieland crashed, Balthazar's been getting more angry about those pesky Faeries living next door -- and now he's finally snapped and is taking his Faerie catching business global! Balthazar's Faerie Bottling, Inc (BOTT) is now hiring! Help Balthazar bottle those Faeries and make the skies of Neopia clear again. Maybe he'll even reward you for the trouble!

Features:

PLAY AS A NEOPET
Select your favourite Neopet species and go to work for Balthazar's Faerie Bottling, Inc!

EXPLORE NEOPIA
Travel across whimsical Neopets-themed maps while you search for those pesky Faeries!

MULTIPLE FAERIE TYPES
Capture Faeries from each of the six main elements, along with some rarer Faeries like the Tooth Faerie or Battle Faerie. Beware! Some Faeries are stronger than others, and will need special bottles to contain their magic!

VISIT BOTTSTOPS
Balthazar's set up offices of his company, Balthazar's Faerie Bottling, Inc, all over Neopia! Visit them to refill your bottle supplies after a long day capturing Faeries!

USE PETPETS
No Faerie can resist the sound of a Petpet! Use them to lure more Faeries to your location! You can get Petpets at special Petpet Trees littered throughout Neopia -- but act fast! Other players will be looking to get those Petpets at the same time!

JOIN TEAMS
Nothing helps productivity like a little competition! Join one of the departments within Balthazar's Bottling Company and compete with each other! The team that captures the most Faeries each month wins a special prize from Balthazar himself!

EARN REWARDS
Balthazar's as generous as he is menacing! Help him capture Faeries, and earn virtual rewards to use on Neopets.com! Just head over to your nearest BOTTstop and exchange them!
In-App Screenshots
We've also been provided with some screenshots of what the game will look like (click to enlarge):
Platforms
The app is being developed for both iOS and Android.
Beta Testing/Release Date
We've also been told that the beta test of the app will begin within the next couple of weeks. If you're interested in testing the new app, more information will be posted on Neopets when it's ready--and we'll make sure to post when it's up and available, so check back often!
Excited about this new game? We definitely are! Let us know what you think in the comments and any ideas you have for the app so that we can pass them along.

Share Your Daily Dare Progress!
Posted by Dave
Posted on March 23, 2017, 9:33 am NST
With the
Daily Dare
making a reappearance, our
Daily Dare Stats
service has been updated to have a 100% increase in Chadley!
What's it do?
With our Daily Dare Stats service, you can keep track of your wins here on Jellyneo, and share them with others by creating your very own stats image, which you can post on your lookup, petpage, shop, or anywhere!
We've vanquished AAA from our stats page, so now it's Chadley and Abigail featured front and center. (And Lulu, too, if you're playing along with her!)
Get Your Daily Dare Stats Image »

Happy St. Patrick's Day!
Posted by Dave
Posted on March 17, 2017, 12:07 am NST
May luck and rainbows be coming your way today!

Join the JN Staff!
Posted by Dave
Posted on March 11, 2017, 3:44 pm NST
We are looking to add fresh faces to the Jellyneo staff! As of today, we have positions open to help with our NeoQuest Guide and for our Content Department. You can find all of the details on our
Join JN page
.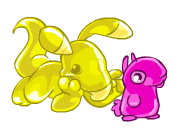 All positions at JN are volunteer, and you get to help a great group of people run the most visited Neopets help site. Our Content applications are almost always open, however, we are only accepting NeoQuest Guide applications until Friday, March 31st. So get on it! :)
See All the Details »