Your jnAccount:
Login
or
Register
| New to Jellyneo?
Click here!
Site Updates
Pick your news: Neopets News
| Crossword | JN Updates | Daily Puzzle | GMC | Advent

Latest Item Database Updates
Posted by Dave
Posted on May 28, 2017, 7:28 pm NST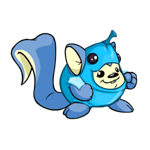 It's been a few months since we've posted about updates to our
Item Database
! Below are the major new changes that have been keeping us busy:
Wishlists: Petpage Coding
We're very excited to announced that you may now
generate
an HTML version of your wishlist to post onto your Petpage on Neopets.
You can find the "Petpage Code" functionality on the
main wishlists page
, down at the bottom by the Import and Create buttons.
In addition, you have access to generate code for each individual wishlist in the "Manage" navigation when managing each wishlist.
This feature is still new and in testing, so if you have any feedback (or run into any bugs), please
let us know
.
Generate Code Now »
At the Petpet Puddle
You may have noticed that
all petpets
in the database now have an "At the Petpet Puddle" section on their item details pages. The purpose of these sections is to tell you how to obtain that petpet at the Petpet Puddle—or to tell you it's not paintable at the Puddle.
Here are a few examples:
Wishlists: Contact Information Update
In early January
, we added the ability for you to post your Neopets username on your lists so that other users could reach out to initiate an NC trade. (And if you haven't already, we highly recommend you add your contact information, which is available to toggle from your list's Settings page.)
Since then, we've made a few updates:
You can now add contact information for any type of list. It does not have to be Neocash related.
We closed a few loopholes that allowed users to mark their list as having contact information, when we didn't have a username to provide.
We also now hide lists that do not contain contact information from each UFT/Seeking page for Neocash items.
Negg Point Value Guide
We've added a new
negg-themed guide
to our database that highlights the current values of the neggs you may trade in. We take it one step further as well by calculating the "cost per Negg Point" and then sort them by the cheapest values, showing you which neggs currently give you the most bang for your Neopoint.



You can find
the guide
under the "Content" dropdown menu in the Item Database.
Visit Now »
Neggery Purchase Guide
In addition to the negg value guide above, we've also added a
Neggery purchase guide
that highlights the current market values of the neggs you may purchase at the Neggery on Terror Mountain, compared to how much the current going rate for Negg Points are. Unsurprisingly, it's usually not worth trading in your Negg Points to redeem Neggs!



You can find
the guide
under the "Content" dropdown menu in the Item Database.
Visit Now »
Minor Updates
Below are some of the smaller updates that we wanted to call out since some of you have made these requests:
Price Checkers: There's now a "Hide Images" option on all of our price checker tools.
Gourmet Checklist: The Gourmet Foods Checklist Tool now has the option to filter results by which food shop it comes from.
Wishlists: There is now a "check all" checkbox for the remove and obtained columns on the Manage Items pages.
Wishlists: We also added the option for you to delete all of the items from a list at once, but keep the list itself. Find the "Delete All" function at the bottom of the Manage Items page.
Bug Fix: A few users have reported having issues with the parts of the Item Database run by Javascript, specifically with their ad blockers blocking our scripts. We've taken some steps to fix that and make it less likely for our non-ad-related scripts from being blocked.
Previous Updates
Miss our previous announcements? Check them out below:
1/21/2017: Wishlist Import tool, Neodeck images, and printable search results!
1/11/2017: Neocash Seeking/UFT Lists and Printable Wishlists.
10/23/2016: Create wishlist with checklist tool results, Boring/Yuck labels on the Book/Booktastic/Gourmet checklist tools, TCG set categories, Cooking Pot Recipe sections, Price Checker tools, Neocash special categories, Petpet Matcher, and NC Trade Finder.
You guys are the best!

I'm guessing this is supposed to say "now" and not "not":
There's not a "Hide Images" option on all of our price checker tools.

As far as lists without contact information, once in a while the JN username is the same as the Neo username, and I contacted a few people through those lists, so I'm not sure why those lists have to be hidden. But at the same time I don't understand why those people don't provide the contact unless they are just not active any more and weren't here when the updates were made.
@purplebin: Good typo catch!

Our goal with hiding lists that don't have contact information is to incentivize those people to add it. And to be clear, "hidden" just means you need to click a button to see them. The ones with contact info listed will show up on top now instead.
Wow, you guys did a lot of work! I'm really digging the Negg Point Value Guide.
inkpot
, 05/28/2017, 11:18 pm NST
really appreciate all the work you guys do! these updates are awesome!

however, i have one question: what's the point in providing contact info for non-nc wishlists? at first i thought maybe it was updated to where you can see how many users are seeking a specific np item (as is it w/ nc items, so you need their contact info in order to either suggest a trade/sale or gift) but that doesn't seem to be the case...
If only JS/TNT would work as hard at improving Neopets.... Thanks Dave, and to the rest of your hard working Staff Members.
Thanks for the updates and the great tools!
dacio
, 05/29/2017, 7:16 am NST
Great updates! Already posted my WL's on my pet's petpage
Hmm, apparently, if you post your WL on a petpage, there's no way to indicate which items you've already obtained. I had a WL with twenty items, ten of which I had already gotten and thus had a gold checkmark on them. But when I posted it on my petpage there was nothing indicating that I already own them.
Maybe in the future you could change it so that obtained items appear with a gold checkmark in petpages too?
@inkpot: It was a request we frequently got to allow contact information on NP lists. We don't have any plans right now for facilitating NP trades like we do for NC.

@dacio: The way the checkmarks work on JN won't work on Neopets due to the code restrictions. We'll need to think of a different way to display them.
cat
, 05/30/2017, 12:25 am NST
Thanks for the updates!
The Negg price guide is interesting, I guess this means I'm better off selling my point neggs then cashing them in.
Also thanks for the petpet color guide, particularly the way to restore default colors.
I don't suppose there are any plans for a faster way to move items from one wishlist into another? Because right now unless I'm missing something if I want to move an item from one list to another I have to go to the list I want to move it from, open the items I want to move in new tabs, delete the items I want to move from their current list and then switch to their tabs and add them to the new list. It's a hassle is what I'm saying.
cat
, 05/30/2017, 12:30 am NST
Also for the Rock petpet, I could have sworn something was said at one point about the thing not being paintable Tyrannian because it was Tyrannian by default (but they designed a Ty version before someone caught that), is Gray really its default color?
Great job on the updates!! I have a tiny request. Can you guys add a feature to wearables that tells us what zone it goes on?
@cat: You are indeed missing something.
You'll find the "Move Items" page helpful. It's not linked from the main wishlist page. Instead, click on "Manage Items" for the list you want to move items from, and then click "Move Items" in the top navigation. Follow the instructions there.
@cat: The original Rock petpet is indeed Grey. You can verify this by visiting the Petpet Puddle and looking up all Grey-coloured petpets: http://www.neopets.com/pool/petpet_colors.phtml?f_color=19 The Rock appears there, which means if you use a Grey PPPB on your Rock, it'll turn back into its original colour.
You're probably thinking of the fact that TNT has said in the past that if a certain petpet (or Neopet) species is from a particular world, they likely won't get that world's paint job. But they've violated this quite a bit over time.
@porcelainlollipop That's available in our Wardrobe (and searchable by zone there too), but we'll consider bringing some of that information over to the main Item DB!
will
, 05/31/2017, 1:03 am NST
This is all fantastic stuff, thanks! Keep up the great work!
@dave - Speaking of the "Move Items" page, is there any chance it could allow you to choose the quantity to move instead of just being all-or-nothing?
@will: That's something I can add to the to-do list.
I love them! Thank you so much!
There are 18 comments above. Why not post yours?