Your jnAccount:
Login
or
Register
| New to Jellyneo?
Click here!
Neopets Puzzle Adventure Review
Hello, and welcome to Suzuka's review of Neopets: Puzzle Adventure! As you may remember, we posted a little while back that we had received copies for reviewing, and this is the first of the reviews! I played the Nintendo DS version of Puzzle Adventure, so some of the information in this review may be specific to that version.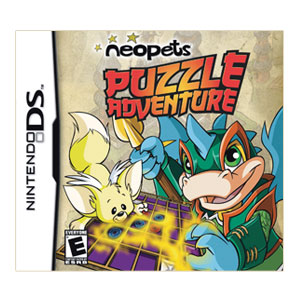 About the Game
Official Name: Neopets Puzzle Adventure
Publisher: Capcom
Platform: Nintendo Gameboy DS, PC, and Nintendo Wii
Release Date (US): November 25, 2008 (DS & PC), December 18, 2008 (Wii)
Suggested Retail Price (USD): $29.99 (DS), $36.92 (PC), $39.99 (Wii)
Genre: Puzzle
ESRB Rating: Everyone
Neopets.com Tie-ins
The game connects to the Neopets website in several ways; the plot itself takes place in lands familiar to most Neopians, with several recognizable characters spread throughout the game. The tie-in most players are looking forward to, however, is the Virtual Prize Codes, or VPCs. Once unlocked, the codes can be redeemed on the website for prizes, including exclusive items and a site theme!
Prize Codes
Each version of the game has several prize codes you can unlock, but they are unlocked different ways in each version. In the PC version, they're unlocked through basic gameplay, but the DS version has different requirements for unlocking the codes, as listed below. In order to unlock all the prize codes, you MUST play the game in Story Mode; for those who are just looking to play the puzzle, you can do Battle Mode.
Acquire 10,000 total XP. [XP = Experience]
Acquire 45,000 total XP.
Acquire 80,000 total XP.
Acquire 2,000 XP by placing one token.
Finish a multiplayer game of Battle.
Control all four corners of Battle in one game.
Complete all side quests and all main story quests in Story Mode.
Control all four walls in one Battle game.
Win 30 games of any minigame.
Win a game by converting all enemy tokens.

The codes can be redeemed here once they have been unlocked. You must redeem ALL the codes in order to receive the site theme!
Gameplay & Plot
The game begins by having you create a character - you have the option to choose from several Neopets Species, and each one is available in six colours - the standard four, as well as pink and purple. You then set your character's gender and name, and are ready to begin.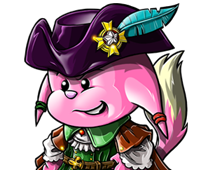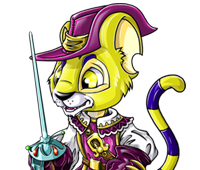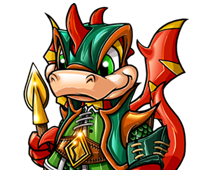 Who will you choose?
The story begins at the entrance to Shenkuu, where your character runs into Linae. You then end up running around Shenkuu, "Battling" opponents while attempting to assist all the members of the crew of the Cyodrake's Gaze. I won't spoil the rest of the plot, but suffice to say you'll be traveling around Neopia (be sure to pay attention to the spectacular scenery backgrounds - it gives a great feel of the place), battling all sorts of opponents in an attempt to save innocent Neopians and set things right. Occasionally, different mini-games will pop up instead of the regular battle format, but generally the format is rather simple and linear. Don't hurry through the story, though - enjoy it at its own pace.
Summary
All in all, Neopets: Puzzle Adventure is exactly what it aims (and claims) to be. It is a relatively simple game that leads casual players on an adventure throughout Neopia, and rewards you with rather nice prizes. The graphics and gameplay are nothing revolutionary, but they also don't aim to be. I was especially impressed with how smoothly the developers transfered the standard Neo images over to DS - while the actual moving character was rather pixely, the rest of the images were quite smooth. The background locations, especially, looked just as they do on the site. The only graphic standard that ever bothered me was the text - I don't know what it was, but at times it distracted me from being drawn in to exactly what the characters were saying.
If you're still trying to decide on whether or not to purchase the game, I can vouch that it is a game that is easy to pick up and put down, and is a good choice for casual-gamer fans and character buffs (like myself - Remnok, Eithne, and Amira... ah! Hard-core gamers and puzzle masters should remember that a good portion of the target audience is pre-teens and early-teens, who should find this game a nice addition to Neopets lore. While the price tag may seem a little steep (I'm not sure how they generally choose to price games, but I think $24.99 would have been a more appropriate price for the DS version), I would caution against buying this game used, as each cartridge only contains one version of each prize code.
Edit: According to mjlarson123, "I have completed all three versions of the game and the codes are not stored on the game itself, but on the hardware. So the caution about renting the game is unfounded. Actually on the DS version, if you complete the game and get all 10 codes, you can take the game cartridge and put it into another Nintendo DS and get a whole new set of 10 codes without playing the game again. On the PC version, if you install the game on another computer via the backup disc, you can get another set of codes by finishing the game again. I haven't had the opportunity to test which way the Wii version works yet, but I will within the next day, or so. I can also say to stay away from the Wii version unless you are absolutely intent on getting the code set from it. The game is an exact copy of the PC version, except for the longer load times, and fuzzy graphics. If you think the DS version should have been $24.99, instead of $29.99, then the Wii version should be $19.99 instead of $39.99!"
Update: "I tried the Wii version of Neopets Puzzle Adventure on a different game console and it works similar to the PC version. If you play the game on a different Wii, you can get another set codes."
I'm going to refrain from using a star or grade rating, so I'll end by saying that, overall, I enjoyed Neopets: Puzzle Adventure. While I think there are definitely some things that could use improvements, I'd be happy to go out and purchase a sequel game. It adds to Neopets lore nearly as much as any plot, and does so without the need to introduce piles of new characters, choosing instead to flesh out characters that many Neopians are already familiar with. It's not a game that I can focus on for hours at a time (I'll stick to Final Fantasy for that), it is a nice little puzzle to pick up during a car ride or when you have some down time. If that sounds like your kind of game, then by all means - go for it!
Help us improve!

Did you find what you were looking for on this page?
This article was written by: Suzuka