Items That Give More Items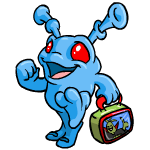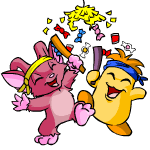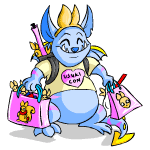 There are items in Neopia that, should you use them, actually give you more items! Whether it be a goodie bag that you can rummage through for toys and sweets, or a lunchbox that you can open up to find a tasty sandwich and a piece of exotic fruit to munch on, there are a number of items that do this. Below is a list of the various items that contain surprises, along with a listing of the items you can potentially get from them.
NOTE: You will not get all of the items listed, unless otherwise stated in the article; usually, you only receive a couple at random. If you open an item and receive a prize not listed here, please get in touch and let us know so we can add it. For trick-or-treat bag prizes, please include the name of the bag from which you received the item.
Birthday Goodie Bags | Booster Packs | Crackers
NC Mall Giveaways | Neggs | Packed Food | Pinatas
Stockings | Trick-Or-Treat Bags | Usukicon Bags | Miscellaneous Others







Acara Goodie Bag | Cybunny Goodie Bag | Eyrie Goodie Bag
Krawk Goodie Bag | Lupe Goodie Bag | Quiggle Goodie Bag
Opening these goodie bags will give you one balloon, one blower/kazoo, one cupcake, and one toy:
| Back To Top |





Balloon Birthday Goodie Bag | Orange Birthday Goodie Bag
Striped Birthday Goodie Bag | Yellow Birthday Goodie Bag
Opening these goodie bags will give you one balloon, one cake, one nova, and one whistle:
| Back To Top |


5th Birthday Goodie Bag
Opening this goodie bag will give you one balloon, one blower, and one hat:
| Back To Top |


6th Birthday Goodie Bag
Opening this goodie bag will give you one blower, one candy, and one hat:
| Back To Top |


7th Birthday Goodie Bag
Opening this goodie bag will give you one balloon, one pinwheel, one tambourine, and one candy:
| Back To Top |


8th Birthday Goodie Bag
Opening this goodie bag will give you one candy, one hat, one necklace, and one toy:
| Back To Top |


9th Birthday Goodie Bag
Opening this goodie bag will give you one hat, one lei, one lollipop, and one toy:
| Back To Top |


10th Birthday Goodie Bag
Opening this goodie bag will give you one cake and one plushie, as well as the chance to win a wearable bonus prize:
| Back To Top |


11th Birthday Goodie Bag
Opening this goodie bag will give you one cake and one plushie, as well as the chance to win one of three wearable bonus prizes:
| Back To Top |


12th Birthday Goodie Bag
Opening this goodie bag will give you one cake and one plushie, as well as the chance to win a wearable bonus prize:
| Back To Top |


13th Birthday Goodie Bag
Opening this goodie bag will give you one cake and one plushie, as well as the chance to win one of three bonus prizes (a wearable or a Springabee):
| Back To Top |


14th Birthday Goodie Bag
Opening this goodie bag will give you two to three of the following items:
| Back To Top |


15th Birthday Goodie Bag
Opening this goodie bag will give you one to three of the following items:
| Back To Top |


16th Birthday Goodie Bag
Opening this goodie bag will give you one to three of the following items:
| Back To Top |


Neopets 17th Birthday Goodie Bag
Opening this goodie bag will give you one to three of the following items:
| Back To Top |

Neopets 18th Birthday Goodie Bag
Opening this goodie bag will give you one to three of the following items:
| Back To Top |
This article was written by: noileh