Your jnAccount:
Log In
or
Register
| New to Jellyneo?
Click here!
The Lost Desert Plot
Jellyneo's Lost Desert Plot Coverage
Completing Your Tablet
Yup, you've been waiting for this, and here it is.
Getting Started
You can now begin completing your tablet! To start, go visit the Fortune Teller again. She will tell you "I see ancient pharaohs laid at rest."
This indicates that you need to play a game of Pyramids. Once you "Collect Points", you'll receive a parchment. For now, you only need to concern yourself with the column with one dot, as this is your map to the first tablet piece you're after.
Reading the Parchment
Each column should contain a color splash, a symbol, and a shape. Those indicate what door you need to visit in the Temple. Hopefully you mapped it out! The color splash is the color door, and the shape is the shape of the door. And of course, the symbol is the symbol above the door. Remember, you only need to look at the column with one dot! The others are useless for now! For each new tablet piece you look for, you need to add one more dot. (So for piece 2, look at the column with 2 dots, etc.)

For example, if one of my parchment's columns looked like this:








I would be looking for a door that looked like this: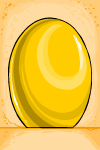 Once you've visited that specific door, you should have a dirty tablet piece. Take it to Donny. Have him fix the tablet piece. You might be unlucky, and he may break it. You'll then have to get the piece again. If he doesn't break it, then you now have a piece of your tablet!
To insert a piece of the tablet, go back to the Fortune Teller. Visit the Mysterious Tablet and click the button to add your piece. Once done, you will need to visit the Fortune Teller again for her second clue. (This is absolutely crucial. If you don't visit the Fortune Teller again, she won't know you found another tablet piece!) You will also need to do the above process for every tablet piece.
Parchment Locations:
Parchment 1 - Play a game of Pyramids and Collect Points.

Parchment 2 - Play a game of Snow Wars. (Easiest on Opponent 1)

Parchment 3 - Bet and feed a Poogle in Poogle Racing.

Parchment 4 - Catch something in Underwater Fishing.

Parchment 5 - Make a wrong guess in Potato Counter.

Parchment 6 - Spin the Wheel of Mediocrity. Then, spin it again right away. When he says to come back later, you'll get the parchment.

Parchment 7 - Pull the Lever of Doom (Be sure it steals 100np!)

Parchment 8 - You'll get some numbers from the Fortune Teller for your next clue. Enter them at the Kreludan Mining Corp.

Parchment 9 - Click on Prince Jazan's head at the Deckball Championship page.

Parchment 10 - Go on a Tiki Tour.

Parchment 11 - Play a game of Fetch, find Faerie Dust, and lose the game. To have a Faerie Dust game, just refresh the page where it tells you the item.

Parchment 12 - Wish for 'Hieroglyph Fragment' at the Wishing Well
Congratulations! You've labored through all of that hard work and you finally have your completed tablet! To find out how to read your tablet, click here.