Your jnAccount:
Login
or
Register
| New to Jellyneo?
Click here!
Igloo Garage Sale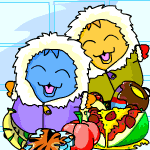 Welcome to the Igloo Garage Sale! Both Mika and I, Carassa, look forward to having you here! Basically, we want to move to a warmer climate. It's super cold up here on Terror Mountain, and we want a change. However, our attic has so much stuff in it, we've decided to sell it to all of Neopia! And we sell it to you at a bargain!
We sell all items up to R89 (Rarity 89). Anything above R89 is left to the Neopian Shops to sell. We act like a Neopian shop but with four differences:
1) We don't haggle. Just click on the item you'd like and hit "OK".
2) We usually restock between :37 - :47 seconds every minute.
3) We have a limit of one item every few minutes. You can't repeatedly buy during the same restock, give some other people a chance!
4) We only let you buy 10 items per day, after that you'll have to shop elsewhere.
Neopians also seem to love the codestones, faeries, pinatas (for the avatar!), and Mysterious Valentines Day Cards we sell here. They're all mega cheap, too!




That's really the ground rules and what we do here! Remember to buy some more after you're done!
Looking for a guide to our game?
Help us improve!

Did you find what you were looking for on this page?
This article was written by: Terry