Your jnAccount:
Login
or
Register
| New to Jellyneo?
Click here!
Submit a Question
If you'd like to have your question answered in our editorial, then submit it below! You can ask about Jellyneo or Neopets, and we'll do our best to help you out.
Frequently Asked Questions
Before submitting, peruse this quick list of questions we sometimes get asked, and we've either answered or don't have a good answer for:
How do you guys find unreleased Neopets news? -- Simple image URL manipulation some of the time. The rest is staying a secret.
Can I do this on my side account? -- Check our side account guide.
What are the chances of...? What is the percentage of...? -- If the question has to do with an element of the site that involves luck/chance, then we will not know exact percentages and rates. Nobody except TNT will know.
What does [insert item name] do? -- Please search Jellyneo's guides, the Editorial Database, and the Item Database first.
You need to add/edit/remove something to/from JN! -- The editorial is not a place to submit bug reports or ideas/suggestions/comments. Please use the appropriate form on the Contact Us page instead.
Lastly, we are not The Neopets Team (TNT). If you encounter a glitch on Neopets, or have suggestions/comments for the Neopets site, please submit a ticket through their help page.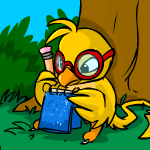 Before you start typing your question, have you checked the
Editorial Database
to see if it has already been published?
Wondering who's going to be answering the editorial? Check the
Site Updates
section. Just look for the most recent post about the editorial to figure out the upcoming editor!
Submit Your Question