Your jnAccount:
Login
or
Register
| New to Jellyneo?
Click here!
The JN Editorial
Mid-Week Edition
Published: August 15, 2007
This is a special mid-week edition! We've just received so many questions that we needed to create an extra issue to get to them all! This is a super-packed issue with a whopping 40 questions! (Usually we only do 20-30. :P)
When and why did TNT make the Hidden Tower only viewable by 4 month old accounts and higher? ~ wiccan_wolf
This is actually the first we've heard about this. If I had to make a guess, I'd say about the same time that TNT made rarer pets in the pound restricted to only 4+ monthers. For those wondering, click here for the Hidden Tower.



Hmmph, less then 4 months old? Only seasoned Neopets players can buy from me!
For certain icons, or battledome opponents that require refreshing on a page to get, when I refresh, nothing happens O_o, what should I do? ~ Liz
Keep refreshing. It's all random. You'll get it eventually. :D
Are sponsor clicks against the rules? I still have some confusion about this :) ~ sweetesapex3
No, they shouldn't be. If TNT has created a link on the site for sponsors, and it gives you Neopoints for clicking it, it's not against the rules. It also shouldn't matter if you get the link from a petpage, as if it were, wouldn't you think the petpage owner would be frozen? However, *turns into the real editorial* it is against the rules for you to click those links on your side accounts. So be forewarned!
why do you think tnt doesn't want to admit that jelly world really exists? ~ haineo
We just really don't know. Please, click here and spread the word!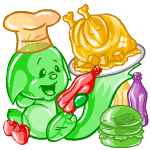 Jelly World exists! How do you think I've become so rich selling jelly?
What is with Dice-a-Roo? You have it listed as a game and the NT had an article on it on the front cover! And it sounds cool by your guide! Please help! ~ rocky0mypup98
Is your account under 13 years old? Dice-a-Roo and other "gambling" games are not able to be viewed by under 13s in all countries (and I believe in Australia the age is even higher).
Hello. I don't know if you guys would know this, but just in case, I'll go ahead and ask it. I have a sponge lupe on my side account thats not converted. I was wondering if I painted him would he be automatically converted? Thanks! ~ nytimes
Yes, any pet that gets painted, morphed, labbed, whatever, from here on out will be in the new customizable form. The unconverted pets are only available if you had the pet before TNT updated.
do you think later in the future on neopets we can actualy put video's on our webpage ( on neopets ) ~ smizell2
I wouldn't be surprised if TNT will someday allow you embed Neovision videos on your petpages and such. I doubt that any other types of videos (like from Youtube) will be able to be posted.
Where do the petpets go that disappear when using the petpet lab? ~ a_b_c_111
They get zapped by the DELETE FROM query of doom. :(



Noooo! Anything but the DELETE FROM query of doom!
I know this has been asked many times over, but I haven't seen it in awhile. Whatever happened to NeoSchool? We have the shop for supplies, Neopedia articles on teachers, and even new clothes for school (ok, so maybe not). Will the subject ever see the light of day again? ~ neomosnter
No, I doubt we'll see it in the near future. :( But, coming from someone who stocked up on at least 2 of each school supply item, I do hope something useful becomes of our school supplies. :P
How long has neopets been working on clothes nc mall redraws ect.? ~ Samiam831
This is a very good question, which Dave believes has an exceptional answer.

To start off, the whole customization process has been a very long and arduous task taken up by TNT. They've literally been working MONTHS on it. Just imagine having to redraw every single pet, and then making an 80x80 image of every single piece of clothing that may go with a painted pet. Still can't picture it? Well, imagine an enormous poster about 30 feet long and 4 feet high. On that poster is a picture of EVERY neopet color combination. That was basically their to-do list since January.

The poster is located on a wall in TNT HQ where they basically stamped off every single pet as they were done upgrading it. It stretched along 3 very long cubicles. So, to all of those whiners and complainers out there, stop saying TNT are a bunch of lazy bums who don't do anything. It's quite the opposite. They've been working those bums off like heck, and we're quite sure that they're still going. Patience is a virtue, and some of you need to learn that. Stop complaining about what isn't released, and start enjoying what TNT puts up into the news everyday. You might not like it all, but in a given week, there's got to be at least one thing that you enjoyed. Remember, TNT needs to cater to millions of people. Just because you don't like that new game or item or feature and think it was a "waste of time" doesn't mean that someone else hasn't made a shrine and is now worshipping it as Dave types!

Thank you very much for listening, it's been a pleasure. (Oh, and this is directed at ALL of the people who have complained about TNT's laziness ever since the big change. This poor user just happened to ask the question. :P)
Hey JN. I think you guys rock! Okay, i posed this question three times that i can recall to the neopets editorial, and never received an answer. It's basically a question about the real life TCG's. Does TNT still make them anymore, because i can't find them in stores, and online, amazon only sells them in boxes of 36 packs, like the store's would've goten, had they actually been in them. I'd like to know once and for all, if for no other reason than to dispel the "TNT aren't making them" inflation of vpc items i've been seeing. You wouldn't believe how much some of the things have jumped up, just cause of a few rumours! O_o ~ amber_hawk14
It's not really a matter of TNT making them, it's if Wizards of the Coast (the company that makes the cards) is still making them. From my guessing, the Neopets TCG wasn't too popular, so they've cut back from mass creating the products. However, you can still find a nice supply of the base cards and the Haunted Woods booster on various internet sites (Amazon, eBay, etc.) along with your local stores if they carried them. Despite this, some of the older expansions are probably in rather short supply. I haven't seen a Return of Dr. Sloth booster pack in a rather long time. :(

So to answer your questions, some of the older expansions are probably close to non-existing, but the newer ones are a bit more readily available. (Also, you can check out the Wizards site to see if there's a store near you that carries the Neopets TCG. (Be sure to select it in the drop down.)
Will you create a page with links of the tutorials of the games? (Eliv Thade, Surfer, etc.) Thanks! ;] ~ rafah93
You can find a listing of all of our guides on the All Guides A-Z page. :)
What is the best way to be successful in the stock market? ~ Marmesho
This isn't a surefire method of becoming a millionaire via the Stock Market, but we've always heard that if you buy at 15np a share and wait, the stock will eventually rise up.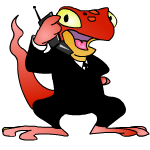 The golden tip: Sell low, buy high! Err, wait a minute...
Hi jellyneo! Listen, I hadn't put down my hobbies before the new layout, and now I can't seem to find where to put them down! I looked on all the links on the 'my account' label. I don't want a blank space on my UL, so can you please tell me where to put them? ~ mubu89
You can edit your hobbies on the User Information page. For future reference, this page is located by going to the My Account drop down, and selecting "Edit Profile".
Do you know if TNT will be coming out with a new type of paint brush sometime? Like Ninja, Yooyu Ball Player, or Shenkuuian would be pretty neat. And some paint brushes are getting boring so I think they should come out with more! ~ evildarkchocolate257
As you may have read in the editorial 2 weeks ago...


We will say, though, that if we work everything out, our first new paint brush is scheduled for October. Ohhh, SPOILER! It's not Shenkuu, so what could it be?! ~ Editorial 303
So there may or may not be a new PB coming soon. :) There's a 5 page discussion topic in our forums about possible options if you want to check it out. ;)
I've always wondered, but do you know if neopets will make the other clothes wearable? I've always hoped they would because some of the clothing is very nice and cheap. (By the way, nice site you guys got running!) ~ meio5
Well, the Squid Hat just recently became wearable. So yes, TNT is not opposed to making old clothes wearable. Perhaps we'll put up a poll to ask people which piece of old clothing they'd like most. It'd be a good way to get TNT to notice. ;)
How many questions does neopets get in the editorial, every time I send in a question it never gets answerd and I've snet in about 20 questions! ~ kitty_lullaby118
We've received over 500 questions alone in 2 weeks. Multiply that by the insane number of people that Neopets has compared to us, and it's very unlikely that your question will be published! (Also, TNT tries to answer general questions that everyone asks. Just because you didn't get your username next to a question doesn't mean your answer isn't in there!)
Why Geraptiku never was inclued as a Altador Cup team? ~ davejks
Because no one actually lives in Geraptiku...? You can't have a player-less team! :P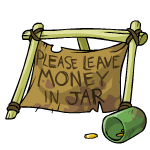 Not a very skilled Yooyuball player, eh?
Is there any quick link to the Fun Images/Blogs/etc on the site after the update? I can't find one. ~ casty321
Yes, there is. Click on the Pet Central tab. On the Pet Central Main page, in the middle box, there's links to Fun Images, Backgrounds, Blogs, Music, etc.
Other than NC Mall, is there anywhere else you can get clothes from? ~ BVortex
Yup. In our Items Database we have a special Wearable page. Simply select the species (check the No NC Mall items box if you so wish) and then all of the clothes that your pet can wear will be displayed. :)
Hi! I'd like to know what happens if you feed a Magical Tomato and Pepper Omelette to your pet. Thanks! ~ master_dragon_1
A Magical Tomato and Pepper Omelette does absolutely nothing. Don't waste your NP on expensive food!
In the Dailies of the jellyneo portal why does it say altador and it takes u to where all the statues are? ~ uzamaki_naruto4
This link will only take you to a daily prize page if you've completed the Altador Mini-Plot. (Hmm, that section needs a redo someday. :P)
Do the people who write into the editoral section on Neopets really think they'll get in just by writing "You Rock TnT!!"? But then again a lot do get in...maybe it works! You Rock JellyNeo!! ~ daisymelly
Maybe they do.

I don't know about Neopet's editorial policies, but our ego is easily inflated. Simply insert "You Rock" A into Question B, submit via Form C, and then wait for the editorial to be released. :P
So I planned ahead, bought highly caffeinated soda, and managed to up all night in order to be awake between 12am-4am NST and win some trophies (Mootix Drop, Hungry Skeith, and Igloo Garage Sale were my goals). Sure enough, I managed to get myself on all 3 high score boards. However, when 4am rolled around... still no trophies on my user lookup. 5am.... I'm still on the score boards, still within the trophy divisions... but no trophies. Now that it's the middle of the day, I've fallen off of the score boards and gotten quite frustrated wondering... what happened?! ~ b3qui3tanddr1ve
A bit late, but according to great people at Avatarlog, the trophy process was changed last month, and it stuck to the same schedule this month. Quoth:


Game Scoreboard Resets are tonight! If nothing has changed from last month, the scoreboards should go blank at 11:50 pm NST tonight (the 31st), and the first batch of trophies will be awarded 24 hours later, at 11:50pm of the night of August 1st. ~ avatar.starried.net
Also, if you have an account over there and you want to keep it, go and confirm your membership! They're deleting any old/inactive accounts on August 31st. /public service reminder
I've heard about Neoquest 3-D and I've tried to get to it but it doesn't work. Help! ~ matratchoclate
Neoquest 3-D can be played by going to Meridell, visit the Castle, and then clicking on the largest hanging tapestry behind Kayla, the little red zafara selling potions. (Only available in the HTML version of the map!)
Hi! I have recently had the pleasure of getting an item from my friend. However, I was on an internet browser that didn't give me the ability to accept the item. Later, when I had the ability to accept the item, the event of course, was gone, as I had clicked it earlier, and I couldn't find my way back to the event page to accept! What is the link, and how do you get there? ~ peabodyandsherman
You can reach your Item Event Log by going to your Inventory and clicking the Item Event Log link from the "Jump to" list of links. (It's in between Item Gallery and Customise!)
Can those NC Mall items be sold by other players of neopets or are they "not trade"-items? ~ From Finland
They are not able to be sold, traded, auctioned off, put up in a late night poker match, or otherwise removed from the account in which they were purchased on.



(no trade)
Hi, I was commenting on the news, and I left and then came back 5 minutes later, and half the comments were deleted! Can you tell me why? ~ bambam92195
Occasionally we'll do a mass sweep of the comments if they're really out of control and spammy. So, as long as you help to contribute to a spam free and rule abiding list of comments, they won't always get cleared! (Dave personally tries to delete the offending ones, block their IPs, and keep the good comments, but Terry is more sweep-friendly. :P)
What are NeoCircles? I know they don't exist anymore but I just wanted to know what we were missing out on. ~ kitty521994
Wow, Neocircles. Now they are old school internet. Basically, a Neocircle was a group of sites that would display links to the "next" site on the list, thereby creating a circle of sites. They aren't as prevalent as they used to be, as Web 2.0 has basically taken over. TNT took them down because they were old, outdated, and it was hard to monitor what sites would be in a Neocircle. So in short, you're not really missing out on anything!
Neopets recently updated their layout. Will JN ever redo the layout? ~ alphabet345
Perhaps one day. Hmm, our birthday is coming up next week...
Any idea what the Lenny Library will be? ~ mjspice
Not really. :P I'm surprised no one has been complaining about this not being released either! From the description on the Pet Central page, it just sounds like a more fictional non-reference version of the Neopedia. There's no indication if it'll be written by TNTers or Neopets users, though.



In Jellyneo's description of the Lunar Temple, the last line is "For guessing, or calculating incorrectly, you will still get a prize, granted not as good with one exception: You want Rainbow Piles of Dung." Okay, why do I want Rainbow Piles of Dung? What good is it? (I'm finding if I put it in my store, it sells in under two minutes, even faster than neocola tokens.) Why is Rainbow Dung desirable? ~ odetojoylalalala
It's colored dung! Why wouldn't someone want that? I mean, just thing how much thought someone had to put into what to eat to produce such wildly colored excrement!





Ahh, the regular person's artistic masterpiece.
Okay, what's up with the "Are you a human being?" thing on the 'report an error' page? Are you saying that there are nonhuman life forms on Earth who go on Jellyneo? ~ shintaroyoshimoto
We were getting a lot of spam, and Terry and Dave just couldn't eat that much spam in a given week! So, we had to do something to stop it. (They were getting sick of the stuff anyway. Not enough fiber.) Look out in the future for other forms getting the "Are you a human" treatment. We'd like to spam-proof them before the spam bots find them.
Has anyone ever died in a Neopets plot? ~ reggieman721
Yep. Galem died. Usurper was about King Coltzan's murder. Lord Kass also mysteriously went poof. No proof of dieing, though I suppose.
Hey Jellyneo *throws rock found at the Neopian Times editorial*, first of all I want to say a BIG thankyou to you for helping me so much with neopets! And I was also wondering, if a paint brush becomes retired, will it eventually mean the pets that colour will change? Just wondering because of the last ediorial, where you said pets painted rock changed when it became retired. Thanks! ~ mysti_lilac614
You're quite welcome for the help. :D As for the paint brushes, the only ones that do not work are the Glass, Stone, and Lutari paint brushes. The rest of the retired paint brushes will all work just fine. (Some of them aren't even truly retired!)

Now excuse me as I go pass out from receiving a rock to the head.
Where Can You Get A Lutari Paintbrush? ~ michiah11
You can only get a Lutari Paint Brush if you sign up for Neopets Mobile. The paint brush doesn't work on your pets, though.
I was wondering about the Pet Directory. My Xweetok is currently listed as blue; however, she has just been painted Ghost, so I'd like her listed as a Ghost Xwee. I don't really want to give out my email, but is there any other way to take her off? ~ fortunecookiegirl
If you find any pets, yours or someone elses, that is listed as the incorrect species/color, simply send in a Bug Report with the name of the incorrect pet and we'll get it fixed ASAP. :D
You guys at JN are great! I have a question about the pet database. When you add a pet to the database, do you HAVE to add one of those banners or is it optional? ~ wizardwizard456
Nope, those are completely optional. It's only a shameless way to advertise JN on Neopets. :P
Are you gonna make a Defenders of Neopia 2 guide? ~ baconplease
We already have one! Click here to get to it. :D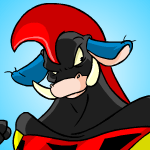 Hello, I'm Judge Hog and I officially endorse JN's Defenders of Neopia guide!
Is the neopets movie going to be about jelly blobs of doom? 'cause I saw on IMB that it will be called The Lost Tomb: a neopets adventure. ~ rosalindipity
Unless there's a Lost Tomb of Jelly, I don't think so. That little paragraph on the Jelly Blobs of Doom game page is a HOAX. There is no jelly movie coming. :P Click here for the IMDB Neopets info page if you're interested.