Your jnAccount:
Login
or
Register
| New to Jellyneo?
Click here!
The JN Editorial
Issue 27
Published: April 13, 2008
Just another weekly edition of the JN Editorial!
I've been playing Neopets for almost 2 years and I never EVER learned what 1337 was.Now,what is it?? ~ loradream
1337 stands for "leet", which is short for "elite", which means super cool, the best at what you do.
If I submit a question that invokes a form of circular, paradoxical logic, will you refuse to answer "yes?" ~ Matchu
Yes... err, no... I don't know. :P
Are you guys gonna have any rare item code/paint brush/morphing potion/magical plushie/avatar item(FQD,ZDAP,ETC.) give-aways soon? ~ howedrew
Nope, sorry. :( But we are planning on having a summer customisation contest to show off your pets. :D Who knows what the prizes will be for that, though. (Maybe you could donate some NP :O)
Why does TNT have those terrible random events that could change your pet's colour? ~ cofusm
They have those types of things? We were always puzzled why TNT had these other awesome, totally cool events that could change your bland, boring pet into a cool, rad color without paying for a paint brush!

It can really go both ways. Good thing Random Events are so random!
Do you think TNT will ever add pin protection to the closet? I know that there are some expensive wearables and I would like to think my stuff is safely locked behind a pin just in case something happens. I've been trying to ask on the neopet's editorial but they would rather answer stupid questions or questions that have been answered a billion times. ~ nikki_ninja
It's possible some day, but we can't tell you when. :( I'm sure if enough people requested it, it would happen.



Nooo! With pin protection, I'll never be able to refresh my wardrobe 42 times a year now!
What happened to Neopets' neocam? :( ~ meercatristonhopets3
It died/stopped working. :( It's given us a great 7 years of capturing the faces behind TNT, along with their nicely decorated HQ.



Why do you use the alien aisha as your services icon? ~ paandtr
Because the Alien Aishas are the coolest kinds of Aishas around. Plus, they're pretty finicky when it comes to making sure that your account is all validated and signed up for certain things and such. We need that kind of finickyness around to keep everything in order.



Oh no. Someone just tried to post a news comment without validating their account!
Hey Dave and Terry, *tosses some jelly donuts your way* lol, could you possibly find out if the new Neoplushies and card sets will be sold in Canada? I have purchased some of their older merchandise at Walmart and we don't have Target here. Also where is the background shop located? Thanks! ~ harriot_porter
We've heard some rumors that the new merchandise will be available in different stores other than Target by this fall, but we can't say whether or not there will be availability in different countries just yet.

As for the background shop, Mystical Surroundings, check out Qasala. ;)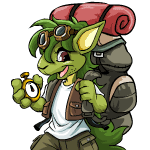 I know, I know! I set up shop in such a random place!
Has March 3rd ever been an actual day? Or has it always been "Cancelled due to lack of interest"? Thanks, and thanks for the great plot coverage! All hail Sloth! ~ the_unknown1993
March the third received all the glory in the world until the fateful year of 2004 reared its ugly head and decided to no longer celebrate it. :(
I saw the video for Petpetpet habitats and all I can say is, oh my gosh, I can hardly wait. This game looks fun. I wanted to know if anyone found out more about it. I want to know if I will have to buy anything with real money or neocash. Can I use neopoint? Is this going to be a free game or a computer game you buy? ~ smudgeoffudge
It does look like something pretty cool, and will most likely be similar to how KeyQuest and World Of Neopia will be played.

As for more details, we haven't heard anything new recently about it. It's possible that the Habitats will have "paid tiers", meaning you can play for free, but you might need to pay for extra stuff, just like KeyQuest. (This isn't confirmed though, so don't all you Neopians get your undies in a bundle and start freaking out on the Neoboards!)

To anyone who missed it, check out the Petpetpet Habitats news post for more details.
I noticed I got into the editorial last week... (Yay!) So I was wondering, how many times has a person ever gotten into your Editorial? This will be my 4th! *cough* -throws you cookie- MUAHAHAHA! ~ kellyroxmysox_
Hmm, we don't keep track of how many questions you've got put into an editorial, but we can tell you that one person has asked a whopping 29 questions! (But only 6 of those questions have been published.)
About the item database when your renewal expires can you renew it on the same day its will be nominated to be deleted? ~ yoshi_sonic_90
You can re-activate your My Wishlists service at any time by visiting Re-Activation page. Every once and awhile, we're going to be deleting older users who have not used/updated their wishlists in awhile so that we can free up space in the database. :)
How much space in MySQL does your Item Database take? :P ~ Wolxu
The Item Database alone eats up about 210 megabytes of space. It may not seem like a lot, but for a database, that is a large chunk of data. :P (There's currently over 1.7 million rows of data we're keeping track of, which the main problem versus space.)
How come on the 'Submit an Editorial Question page' the kikos paper never runs out? ~ mrbrucettesdad
We make sure he is supplied with as much paper he needs, and we calculate it precisely. Considering that he uses approximately 2 pieces of paper every 5 seconds... *does some maths* Multiply the 24... divide by the 5... aha! He uses approximately 12,623,040 pieces of paper a year, which equates to 25,246 reams a year! You should see us accepting the weekly paper deliveries at Dave's house.



It's true. They do stock my supplies quite well.
Was the recent plot the item listed under coming soon as "Neopian Justice is Served"? Just curious because they haven't updated that page in awhile ~ theequus
We aren't sure. It doesn't seem like it would be since that has been there since last year, and planning for the Sloth plot did not start until way after that. Most likely an idea for a feature that TNT never got into practice. :(
Was the JN premium April Fools joke a stab at neopets premium? That would be excellent. *Hisses at anything on neopets that is obtained through real money for virtual benifits* ~ 111kyttibaby
Nah, it was just a joke to get people all riled up, because we know you all would be thrilled if we really did start a jnPremium service. (Raise your hand if you thoroughly read the T&C! :D)


Dave: It's a shame I was only a joke. :( Rosie drew me so well!
How long did it take you to make the site look this good? I like to design petpages, and I was just wondering how much effort it took. ~ philw5679
Hmm, what's the amount of time since August 24, 2004? Because we're still working on new ways to perfect and better JN. ;) (It's a never-ending job, really. Especially when we have innovative competitors! :P)
Ok, I'm really confused. The last issue of the NT was SWARMED with neoschool stories. I neomailed one of the authors, but she was no help. I was just wondering if Neoschools were really re-released, and if they were, if you could post a link for it. Thank Ya!! ~ cul8er_bye
Why yes! You can sign up for classes right here! Harhar, the NT writers got you for April Fool's Day. :P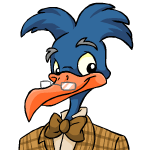 Don't overload yourself during the first semester!
I couldn't help but ask... What did the JN staff do for Easter in the office, if anything at all? Chuck easter eggs at each other? :P ~ raven51997
OMG, you think we have an office? :P That's pretty cool.

Unfortunately, we don't have an office. :( We all work at our individual computers across the globe! But having an office would be cool... (We might actually get things done on time!)
Which Mystery Capsule do the Green Leafy Wings come from? Any of them? The Item Database doesn't specify and I wanted some clarification. :) ~ Luches
They are only available from the Blue Mystery Capsule. ;)



I'm only 500 NC at the NC Mall!
Ok, so I quit neo and self froze my account. I came back because of my obsession with the site. I sent the form to unfreeze my account. Will I get it back 100% ? & if yeah, how long will it take? Thanks. ~ omg_hun
You will most likely get your account back if you have adequate proof that the account is yours and the duration of time that your account was frozen isn't too long... I'd say something over a few years? It can take from less than a week to over a month, depending on how fast TNT Email Support is working.
In the game avatar section, it says you need 550+ points to get the "Ace Zafara" avatar. I got 614 points, but no avatar. I looked at the game guide page and it said you need 700+ points. So how many points do you need? ~ mylabbieabby
Durp, we forgot to update the Avatar DB after the game was updated. It's fixed now! The game guide is correct; the number of points needed for the avatar is 700! (It's pretty easy to obtain now. You know that it's true because even I can get it. :P)



I require more points but I'm easier go get!
When we ask an editorial question does it go into a file so you have a database of questions asked? So say if I asked a question when the editorial 27 wasn't out yet, if it didn't get answered should I ask it again? Or just hope it gets answered in the next one? Thanks, JN ROCKS! ~ joshrocks7890
Yep, all of your questions are stored in a backend database until we can read through and pick which ones to answer for each edition. We try to balance it out by answering older questions along with newer ones that cover current events in each issue. Not every single question will get answered though, so if you have a more personal, ungeneral question, it may be better to ask us through the Contact Us page. ;)
Hey, I love the site and Dave, I think you are a mastermind with everything on here, lol. Anyways, I recently bought a site from dreamhost, and I'm currently in the works of setting it up, but since this is my first real host, I'm just starting with php and so on. so... I was wondering if you could make a Tutorial on how to set up accounts so people can register and create an account on your site? I've looked all over the face of google, and I can't really find what I'm looking for, just a bunch of junk. btw, I do know basic php and i know HTML, JAVASCRIPT, and CSS very well, so i know the what nots, just I'm not sure on how you set up this bit with php. Thanks guys, and like your promotion code, you guys do rock! :P ~ Domanator223
Setting up an accounts system is a pretty complicated manner, and a single tutorial would be impossible to write. :P You have to just learn PHP, and as you build on what you learn, you can start to develop your own accounts system.

If any of you Jellopians want to learn PHP, I highly recommend purchasing a copy of PHP for the World Wide Web, 2nd Edition by Larry Ullman. He's a great author, and his books helped me learn PHP pretty well. (Want proof? Look at JN. :P)
Why is hard to get some avatars then it is to get others? ~ pittykitty77
That's the challenge of the game! ;)
Do you think there is a possibility that we will have to start paying to play neopets after they change to virtual world? I ask because I was asked if I would be willing to pay for my daughter to play on some internet gaming sites for kids and neopets was in the list of sites. ~ senbri
Firstly, let's clear up some of the nasty rumors flying around. Neopets will NOT be converting 100% into a virtual world. The World of Neopia we talked about was simply an additional feature to the Neopets website that you'll most likely have the option to download. The website of Neopets that we've all come to know and love won't be going anywhere in place of something else. ;) Viacom and TNT knows that the website works, so they aren't going to be taking offline anytime soon.

As for paying to play, we're pretty sure that there will be several pay options and levels that you'll be able to fork over some real life cash for in the new Neopets virtual world due out next year, but we don't know any of the specifics yet.
When AAA daily dare prizes come out are you going to take down the page were you can make your own score banner? If yes do we have to remove it from were we put it? Please anwser ~ yoshi_sonic_90
We've actually just recently implemented a new "delete this service" feature. The number of images we have takes up a ton of room on the server, but we don't want to delete them without your consent! We've also shut off the ability for new users to make the stats images. No point now until next year! (So be real careful when you decide to delete the image... you won't be able to remake it. Hint: Save it to your hard drive just in case.)


Looks, it's Dave's pitiful final score. He didn't even get to finish. No prizes for him!
I have been looking up and down, leaving no leaf unturned, yet I can't find a Pirate Gnorbu Morphing Potion anywhere. Has TNT just been lazy and hasn't released it yet, or am I just a blind bat? ~ amilie_bumblebee
According to the Item Database, the Pirate Gnorbu Morphing Potion is a rarity 99, so iit's going to be super hard to find (and probably pretty expensive). I'd recommend just going for the Pirate Paint Brush if you already have a gnorbu, or go for a cheap, basic gnorbu morphing potion with the paint brush. (Yellow is relatively cheap.)