Your jnAccount:
Login
or
Register
| New to Jellyneo?
Click here!
News Archives
This page shows the available archives of our Neopets news. To start browsing, select a month below.
« Return to month listing

Polka Dot Day Roundup + More
Posted by Ian
Posted on April 10, 2015, 5:47 pm NST
Colour:

Polka Dot Tonu

Toys:


SCHEDULED DOWNTIME:
Sunday, April 12th, starting at 8:30 PM NST for several hours.
Some of you may have also noticed that Stealthy Gelerts have been fixed! No word on if people who already painted have gotten PB clothing yet or not. Also not known if Pastel Gelert, Strawberry and Water Chombies, and Elderly Female Shoyrus will be fixed soon or not.

Downtime Reminder: Tonight @ 8:30PM NST
Posted by Dave
Posted on April 12, 2015, 5:03 pm NST
UPDATE:
Neopets is back online!
Just a reminder that Neopets will be going offline for maintenance tonight around 8:30pm NST. It is unknown how long the downtime will last, as the only specifics posted so far have been "a few hours". We'll let you know if TNT announces more information.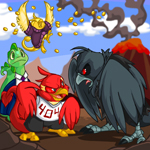 Entries for our
Build-a-Species
competition have closed! We will be spending the next two days posting the competitors and getting them ready for voting. Take a look at
who entered
.
We'll post a notice when voting goes live. :)
See the Entries »
PS: Enjoying the Game of Thrones season 5 premiere?
So are we.

Retired Spring Pretty in Pink Mystery Capsule
Posted by Ian
Posted on April 13, 2015, 11:26 am NST
A brand new capsule is available in Future Fashions, this one is doling out retired spring items!

View Our Guide! »
If you know if any items not listed in the guide, please send in a bug report or let us know in the comments!

New Ghoul Catchers Levels
Posted by Dave
Posted on April 13, 2015, 12:35 pm NST
The
Ghoul Catchers App
has received an update that adds 40 new levels in the Lost Desert and Terror Mountain, among other fixes and features. The update is currently available on Android devices via the Google Play store only. We expect it to hit Facebook and the iOS App Store soon. (iOS updates typically take longer due to their review process.)
Here's what's new:
THE NEUCLOOP: Meet this aquatic Petpet and its brand new boosters: BLOCKER BUSTER and INK SPLASH
HIGHER EARNINGS: Earn more NP past level 40! One star will earn you 500NP, 2 stars 850NP, and 3 stars 1350NP
NEW ITEMS: Earn two items for every 10th level you complete after level 40
NEW GAME MODE: Challenge your mix-and-match skills in a brand new game mode
A FIX for Neopets and items not being rewarded to users' Neopets account
LAG FIXES: The game is speedier than ever!
We'll be updating our Ghoul Catchers guide shortly with the new information. In the meantime, if you see anything missing from our guide, let us know!
Download Ghoul Catchers »
View Our Guide »

Grey Day Roundup
Posted by Ian
Posted on April 13, 2015, 6:11 pm NST
Food:


Gift:

Plushies:



Tribal Mystery Capsule
Posted by Ian
Posted on April 14, 2015, 10:41 am NST
A brand new capsule has arrived in Future Fashions for the spring season!











We need a lot of models for these items, so please come and help out by
submitting a pet
! In case you didn't know, if you're logged into your jnAccount, you can earn a nifty trophy for your trophy cabinet by modeling. Model enough and you can upgrade that trophy!
In addition to this capsule, there are also two other items available in Future Fashions as well.



Krawk Day Roundup
Posted by Ian
Posted on April 16, 2015, 10:59 am NST
Colour:

Woodland | Sketch
In addition, some of you may have noticed that it appears that the so-far unannounced Elderly Female Shoyru has been fixed over at the Rainbow Pool!
No news yet on the Pastel Gelert or Strawberry and Water Chomby, but we will keep you posted if these get fixed!
Call for Baby Kougras <60 Days:
Know of any baby Kougras less than 60 days old? We need some fresh ones for our avatar solution. If you know of any, please submit via a
bug report
! Thank you. :)

May Premium Card
Posted by Ian
Posted on April 17, 2015, 12:41 pm NST

Kougra Day Roundup
Posted by Ian
Posted on April 21, 2015, 5:41 pm NST
Colours:

Transparent | Water

Lutari Day Roundup
Posted by Ian
Posted on April 22, 2015, 2:15 pm NST
Colours:

Dimensional | Wraith