Your jnAccount:
Login
or
Register
| New to Jellyneo?
Click here!
News Archives
This page shows the available archives of our Neopets news. To start browsing, select a month below.
« Return to month listing

Illusen Day Roundup
Posted by Ian
Posted on March 16, 2015, 5:17 pm NST
Wearable:

Food:

Grooming:


Free Ghoul Catchers Power-Ups
Posted by Dave
Posted on March 17, 2015, 8:16 am NST
As most of you probably know, it costs $0.99 of real money for any of the extra power-ups or map unlocks in Ghoul Catchers. Thanks to user Korfin10, we've been notified about the Google Opinion Rewards app!

The app is a free download from Google that will occasionally offer you short surveys to complete. In exchange for your answers, you can earn Google Play credit that you can use to purchase apps or, in the case of us Neopians, power-ups on the Ghoul Catchers app.
Download Google Opinion Rewards »
This is ONLY available for Android users. We're not aware of any Facebook or iOS equivalents. (But let us know if you find any!)

Gothic Easter Gram
Posted by Ian
Posted on March 18, 2015, 6:24 pm NST
A brand new gram, this one easter themed, has made its way into the mall!
View our Gram Guide! »









We still need a lot of models, so please help us out if you can at our
Modeling Section
!

Unreleased Gumblesh Colours
Posted by Ian
Posted on March 19, 2015, 1:28 pm NST



Faerie | Starry

Scam Alert: Fake Ghoul Catchers App
Posted by Dave
Posted on March 23, 2015, 3:46 pm NST
If you are an Android user interested in the new Ghoul Catchers app, beware of fake apps in the Google Play store.
Unfortunately, not all Android devices are compatible with the new app. As a result, the real Ghoul Catchers app is hidden from those devices in the Play store. An enterprising scammer is taking advantage of this by publishing a second "Ghoul Catchers" app that is more widely available to different devices, hoping to trick Neopians into downloading the fake app if they do not see the real one.
Pictured below is the scam app:
If you have downloaded this fake app, do NOT log in with your Neopets password. If you have already downloaded it, remove it from your device. We also recommend
changing your Neopets password
immediately if you entered it in the app.
In the future, you can play it safe by only downloading the app via the Google Play link we provide on our download guide:
Ghoul Catchers Safe Download Info »

Chomby Day Roundup
Posted by Ian
Posted on March 23, 2015, 6:57 pm NST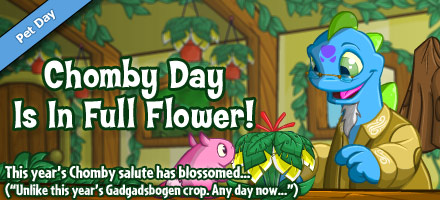 Colours: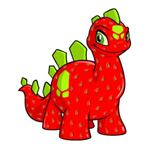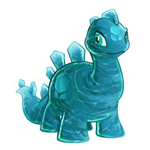 Strawberry | Water

MiniMME22 Has Morphed!
Posted by Ian
Posted on March 24, 2015, 8:38 pm NST
MiniMME22 has finished morphing and hopefully you should have all the appropriate items in your inventory!
View our MME Guide! »





We still need a lot of models for these items, so if you can help, please head over to our
Modeling Section
and submit your pet!
Due to the issues this MiniMME was having earlier today, if you don't have all the items you think you're supposed to get, please be sure to send in a ticket to TNT.

Ghoul Catchers Prize Update
Posted by Dave
Posted on March 25, 2015, 8:23 am NST
We've been getting quite a few reports of Neopians getting the backlog of their prizes from Ghoul Catchers, both items and Neopoints. If you didn't receive your prizes when first playing--check your inventory and on-hand Neopoints.
Another trick that has been reported is to play level 20 or 40 again to receive the item prizes you're due.
If you're still out points, make sure to
submit a ticket
so support can help you out.
And don't forget to check out our...
Ghoul Catchers Guide »
We're still writing bits and pieces of it, so please do send in any tips or tricks (or questions!) you have for the game.

Possible New Spring Event
Posted by Herdy
Posted on March 25, 2015, 3:31 pm NST
The wording in today's
new features
is a little vague, but it seems like TNT may have just launched a spring event.
It is that time of year and once more we are celebrating the Festival of Neggs, but with a new kind of hunt! Spring into action and find Topsi the Cybunny to collect a few festive springtime prizes. If you're lucky, you might even come across a few baskets of goodies to get you through the season!
It's unclear at the moment if Topsi is hiding on a specific Neopets page, if it is a new Random Event, or something completely different. Stay tuned for more updates, and if you find anything, be sure to let us know in comments!
Update:
Neopets has clarified a little on their Facebook page:
We'd be happy to help get you on your way! Topsi is hiding on certain pages of the site. He will be on a different page each day of this event so keep an eye out for him. When you find him, you will be able to choose from an array of prizes that he has packaged in festive and colorful Neggs!
In other words, it is operating like a standard Negg Hunt but without a central hub page. The Facebook page also claims the event is already active - not starting at midnight.
Festival of Neggs 2015
Posted by Kumar
Posted on March 26, 2015, 2:21 am NST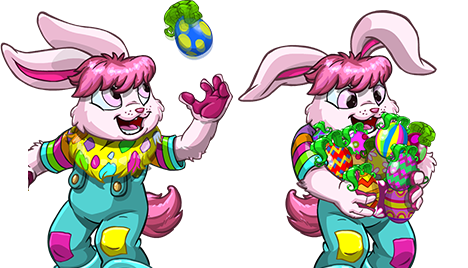 It looks like the Festival of Neggs has started today, with Topsi hiding some neggs and baskets around Neopia. We are currently working on a guide to help you find the neggs each day during the event.
Festival of Neggs Guide »
Things to Do:
1) Collect your basket.
The negg basket is hidden randomly around Neopia. You just need to roam around Neopia until Topsi pops up. It should be easy to find (think super common random events). See our guide for suggestions. There is currently only one basket available.
2) Collect your daily negg prize.
Topsi is offering a negg per day for you to open for a prize. Our guide will have the locations. You may go back and collect prior days. It's unknown right now if there will be a bonus for collecting all on release day.