Your jnAccount:
Login
or
Register
| New to Jellyneo?
Click here!
News Archives
This page shows the available archives of our Neopets news. To start browsing, select a month below.
« Return to month listing
New Goodie Bag in Mall
Posted by Kumar
Posted on December 8, 2014, 9:39 pm NST
A new free goodie bag has appeared in the
NC Mall
in time for the Christmas period. To claim it, you have to go to the "New" category and click "Add to Cart" underneath the Goodie Bag.


Raindorf Goodie Bag


Holiday Gift Bag Garland
As it only awards NC items, you are allowed to claim this bag on your side accounts.

Unreleased Christmas Petpets
Posted by Ian
Posted on December 11, 2014, 2:34 pm NST



Bubblebee | Avabot






Zumagorn | Donksaur | Taweret

Wocky Day Roundup
Posted by Rylon
Posted on December 11, 2014, 2:45 pm NST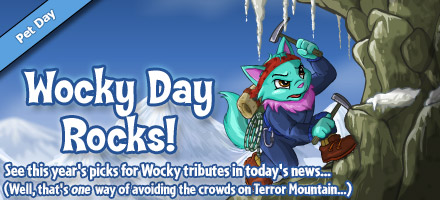 Colours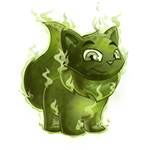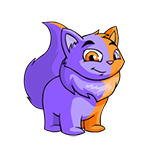 Swamp Gas | Split

Clothing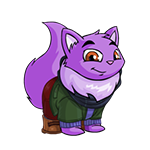 Unreleased Petpet
Posted by Ian
Posted on December 12, 2014, 11:04 am NST


Mutant Powtry

Christmas Goodies!
Posted by Ian
Posted on December 12, 2014, 11:44 am NST
Christmas Vandagyre:

Holiday Dream Neopet Giveaway
Posted by Rylon
Posted on December 12, 2014, 1:36 pm NST
The
Holiday Dream Neopet Giveaway
has returned! 55 lucky Neopets will be painted their dream colour and species on December 25th! 15 of those chosen will be Vandagyres, so hopefully more colours will be released in the coming days!

You must enter by 1:59 PM NST on Friday, December 19th.


You can only enter on ONE account. It doesn't have to be your main, but you can't enter on more than one account or you will be disqualified!


If you win, any customisation items your Neopet is wearing will be placed into the closet automatically after the transformation.


If you select an unconverted Neopet to enter, the Neopet will NOT stay that way should you win the giveaway. All winners/transformations will be converted.


Fifty-five winners in total will be randomly selected and will wake up to their dream Neopet on Day of Giving morning (December 25th). The winners will be announced in New Features.

New Dyeworks Items!
Posted by Rylon
Posted on December 12, 2014, 2:18 pm NST
Nine new items have been added to
Dyeworks
in time for the holidays! These items will be available through January 5th!



























Don't forget
: bonus points are still being awarded when you
model
any Dyeworks item!

NC Event: Gift Basket Centre!
Posted by Ian
Posted on December 15, 2014, 12:12 pm NST
TNT will shortly be unveiling another Christmas NC Event: The Gift Basket Centre! We'll have more details soon, but here's a brief glimpse of the event's
FAQ
.
What is the Gift Basket Centre?
The Gift Basket Centre is a place you can go this holiday season to donate a gift basket of NC items to needy Neopians. To get started, you'll need a Roll of Basket Wrap for each set of three NC items you want to donate. Once you've donated, you'll receive a donation receipt, which you can spend at the Gift Shop.


What is the duration of the Gift Basket Centre?
The Gift Basket Centre will run from December 15, 2014 through December 31, 2014. You can join the event anytime during that period by picking up a Roll of Basket Wrap from the NC Mall.


What type of NC items will I be able to donate?
You will be able to donate any type of item that is classified as NC.


I accidentally donated an NC item, will I be able to get it back?
Please be very careful when selecting items to donate. Unfortunately once you confirm your donation, it cannot be returned to you.


What type of reward will I be receiving for my holiday NC donations?
For donating each set of three wrapped NC items, you'll receive one donation receipt. Bring that receipt to the Gift Shop and select your reward for helping out a Neopian in need.


How many NC items do I need to donate to receive a prize?
You will need to donate 3 NC items using one Basket Wrap. For each donation of 3 NC items, you will receive one Donation Receipt.


How many Donation Receipts do I need to claim a prize item in the Gift Shop?
The items in the Gift Shop are available for different amounts of Donation Receipts. There are items available in exchange for 1, 2, 3 or 4 Donation Receipts.


Is there a time limit as to when I need to spend my Donation Receipts?
Yes, you must spend your donation receipts at the Gift Shop before the prize shop closes at the end of the event on December 31, 2014.


Will I be able to gift a Roll of Basket Wrap?
Yes, the Roll of Basket Wrap functions just like any other NC item and will be giftable with a NC Gift Box (one item per NC Gift Box). Rolls of Basket Wrap, as with all NC items, cannot be sold or traded.


Will I be able to unroll a Roll of Basket Wrap on my side account(s)?
Yes, you can unroll and use a Roll of Basket Wrap on your side account(s).

Charity Corner
Posted by Dave
Posted on December 15, 2014, 8:14 pm NST
There's a toy drive going on in Neopia! Granny Hopbobbin has opened up shop in the
Charity Corner
to gather toys from generous Neopians. You can do one of three things: donate NP items, donate NC items, or adopt a Neopian for the day. (Or do all three!)

It'll probably be important that you Adopt a Neopian each day of the event. It's unclear if there will be a final bonus prize of some sort--but it never hurts to always do these daily things! (
UPDATE:
The first "day" for the Adopt a Neopian portion did not last past yesterday, so it seems unlikely that there will be a bonus at the end for adopting all the daily Neopians since TNT almost always lets these things extend to be a day and a half if they're important for extras.)
More details on our guide below:
View our Charity Corner Guide »
Also, plenty of items from the NC portion will now need to be modeled for our Wardrobe! Get
modeling
so you can grab some modeling points. :)

Unreleased Charity Corner Avatar
Posted by Herdy
Posted on December 16, 2014, 2:27 pm NST
UPDATE:
TNT have updated the FAQ - you will now only need to complete 8 of the 17 days in order to qualify for the prize.
For those wondering what the special reward for Adopting a Neopian for
15
8 of the 17 days in
Charity Corner event
is, well we might have the answer. This unreleased avatar has cropped up:

It is unconfirmed if this is the bonus reward
mentioned in the FAQ of the event
or not, but it is worth completing all days you can to be sure:
Do I get anything for participating in the Adopt A Neopian programme?
Not only will you get a unique prize per each request (once per request), you will also receive an additional reward for completing at least 15 8 of the 17 quests.
Thanks to OhGeorgiaPlease for pointing this out.