Your jnAccount:
Login
or
Register
| New to Jellyneo?
Click here!
News Archives
This page shows the available archives of our Neopets news. To start browsing, select a month below.
« Return to month listing

What's this?
Posted by Dave
Posted on July 20, 2011, 8:28 pm NST
We're going to see if you can figure this one out. We'll tell you what it is tomorrow, or maybe Friday... or perhaps this weekend.
UPDATE:
Yep, it's another Wishing Well Avatar hint. :) We've been trying a bunch of things on our own since we got the clue, but alas, nothing has come about. So, Neopia, have any bright ideas?
Remember, "6" is also another official hint. For more info, read up on our
Wishing Well Avatar
page.

(It's a souvenir we received from jnCon.)

Krawk Island Disappearance
Posted by Nynex
Posted on July 20, 2011, 9:59 pm NST
A new
ad banner
is floating around the site. If you click on it, you will be taken to
this
page.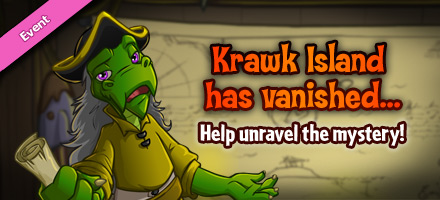 The island has been reduced to the small dot we
saw last week
, and a new
Neoboard
has been created.
Until recently, this was the spot where Krawk Island could be found. A few days ago, however, a large set of what's being described as claws or tentacles encircled the island, and the small plot you see now and the shanty that rests upon it are all that remain.
You may venture
inside the shanty
to meet a Krawk on a mission--help him find Krawk Island before it's too late!
We have added "Krawk Island - Searching the Seas" to the
preset dailies list
.
Our recap of the event, including the prizes you can win through searching, can be found in our
Krawk Island disappearance article
.
What happened to Krawk Island? All of my favourite locations and games are missing!

Krawk Island has mysteriously disappeared, and we really aren't sure what happened to it. One day it was there, and the next day, *poof*! All that was left was a tiny speck. This seems to be a pretty large mystery, and it will take some work to figure out what happened, so stick with it! There are sure to be rewards at the end for the most helpful and dedicated Neopians.

I am assisting with the search for Krawk Island, but I wasn't able to search all of my available sectors in one day. When I come back, will I still be able to search those sectors?

If you miss a day or cannot complete the search in all of your available sectors, you will still be able to search those sectors on another day. However, we have a feeling that there will come a point at which you will no longer be able to search sectors. So pay attention and come back often. Also, keep in mind that if you complete all of your searches every day, there may be an even more handsome reward awaiting you. That is, if we ever find Krawk Island at all.

What do I get for unlocking a Locked Treasure of Mystery Chest?

For each Locked Treasure of Mystery Chest that is unlocked with a Mysterious Skeleton Key, you will receive an exclusive NC prize. You can only receive each prize once, so if you unlock all of the chests, you will receive all of the items.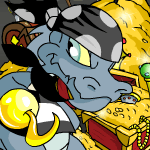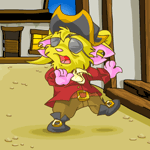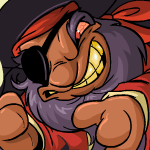 No Island Found!
"Quick eye test: how many fingers am I holdin' up? Wrong! Zero, that's a hook! Cap'n's blind, swabbies!"

Comic-Con Freebie Wearable
Posted by Illusioniste
Posted on July 23, 2011, 11:35 pm NST
Go to
Grundo's Warehouse
and enter the code
COMICCON2011
for a free item,
Steam Defusing Goggles
!
This item is a wearable and No Trade, so you can redeem the code on your side account(s).

San Diego Comic-Con: Did you stop by the Petpet Park and Monkey Quest booths? Are you planning on visiting the Neopets one (Booth #4113) on July 24th? We would love to hear your stories and put the photos you took up on JN! Contact dave (at) jellyneo.net if you are interested.
Dr. Sloth Auctions:
Deciding it would be more profitable than a lemonade stand, Sloth is raising funds by auctioning off a
Kyruggi Stamp
.
Click here to bid!

Last Day to Search the Seas
Posted by Dave
Posted on July 28, 2011, 12:36 pm NST
Arr, today be the last day for you to search the seas for signs o' Krawk Island. So get in ter your ship and start
searchin'
!
For full details on how to search for islets (and pick up some freebies in the process!), check out our
Krawk Island Disappearance guide
. It's not too late to start!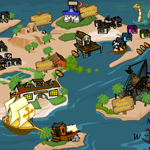 LOST: One island full of pirates. REWARD: Pirate Booty!

Caption Contest 1217
Posted by Nynex
Posted on July 28, 2011, 2:36 pm NST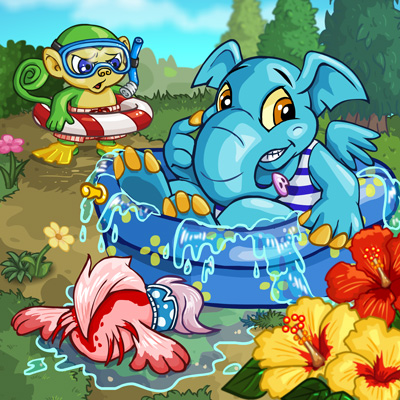 One size fits all portable pools!
Summer Sponsors:
Sponsor activities often give away Neopoints and free items. Don't miss out on all the sponsor events by checking out our
30k Sponsor Guide
. We have lists for the
Smurfs giveaway
,
Hawaiian Punch trivia
,
Capri Sun Live Band Show
hidden instrument locations, as well as guides for some easy NP earning sponsor games. If you are saving up for something big on Neopets, check out the
50k a Day
guide. It is updated each month after the game ratios change, and is an easy way to maximize your NP earning while playing games.

Meerca Day Goodies
Posted by Nynex
Posted on July 28, 2011, 2:51 pm NST
Meerca day is coming on August 18th!
Plushies:



Faerie | Desert

Blumaroll is Back
Posted by Dave
Posted on July 28, 2011, 6:17 pm NST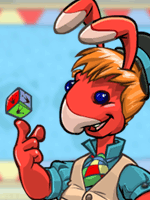 In case you missed the update on Tuesday,
Blumaroll
has rolled back into the
NC Mall
! Dice packs start at 200 NC and are available in 1-, 5-, and 10-pack denominations.
For a full rundown of the prizes and wearable previews, check our our
Blumaroll Game Guide
. (And if you've played, make sure you see if we need any models for your prize!)

Krawk Island Disappearance - Island Retrieval Starts
Posted by Illusioniste
Posted on July 29, 2011, 12:07 am NST
You've been finding islets for the past week and now you can begin towing them back to form the larger Krawk Island.
Gavril
will give you a new chart at the
solitary shanty
. Then you will be able to partake in the retrieval process (our recap of that is
here
).

Don't get seasick on me!
Yarr matey, have ye seen these new smilies fer the
Neoboards
? They be addin' a touch o' pirate flair to yer posts!




*boatswain* *cabinboy* *cook* *gunner*

Christmas Yooyu
Posted by Nynex
Posted on July 29, 2011, 6:12 pm NST
Although Yooyus are
exclusive
prizes
from the
Altador Cup
, this petpet is making an appearance during the off season. We're months away from Yuletide; perhaps it just wants to celebrate Christmas in July! Yooyus cannot be painted, so what is this little guy doing here? An upcoming prize?

The perfect AC gift!

Treasure Keepers Coming to Open Beta
Posted by Nynex
Posted on July 31, 2011, 8:51 pm NST
Neopets' new Facebook game, Treasure Keepers, went into
premium beta testing
on June 16th. Testers were given the ability to play the game up to level 20, while giving feedback on gameplay and reporting technical glitches. You can see more game screenshots
here
.
While tending to your shop, you meet new characters that ask you to collect items for them.
What luck, I have found it!
To finish a quest, you enter an adventure board game. As you travel along the board, you collect items, coins and encounter monsters to battle.
Excuse me, do you happen to know the way to the Palace Gardens?
Keeping a petpet by your side can help you in tricky situations during adventures. They can help you solve puzzles or even battle a monster.
But be careful not to get too weak, or you might have to flee from a monster to keep all that you collected.
Sorry! Didn't know that was your sandwich!
After collecting items, you can sell them in your shop. You can also spruce up your shop with new wallpaper, flooring and many decorative items.
The premium beta testers have been having fun, but the Meteor Games Treasure Keepers staff have announced that the game will be in open beta soon.
Neopets: Treasure Keepers Open Beta Coming! - Firstly, thanks to all of you in the Closed Beta for your enthusiastic support for the game! Your feedback, suggestions and optimism has been extremely important to the developers and we thank you for all your efforts. We truly couldn't have done it without you.

Development on the game has progressed significantly over the past few weeks and we're pleased to announce that very soon, the game will be entering its Open Beta phase and will be opened to the larger Facebook community. We've added new features, additional quests and more adventuring opportunities. We can't wait to share these exciting updates with you!

As part of that change, we will be deleting all player data that has been accumulated during Closed Beta. We'll have more information upcoming posted here as to the timing and specifics, but we wanted to give everyone a head's up as soon as we knew.

As an extra special thanks for your help, the developers have put together an exclusive package of goodies for all Closed Beta participants. What will be in the package? Maybe some super special wallpaper? Maybe a statue to place in your shop? Maybe a...?

Well...we can't tell *all* of the secrets in Neopets: Treasure Keepers just yet! Just know that no one outside our Closed Beta players will ever have access to these exclusive treasures.

Look back here for more announcements in the coming days. Thanks again for your help and support!

-The NTK Team

Yes, this means that all of your progress will be destroyed and you will have to start over.
All my hard work flushed away?!?!
But wait! Closed beta testers will be receiving a special package! That will hopefully reduce the pain of having to start anew.
*pokes package*
Although we don't know when the game will be in open beta, we will keep you informed when it happens.
You are not prepared!